Introduction
Have you ever dreamed that one day you could direct your own porn? I mean REALLY direct you. You get to call the shots and even get to decide how the girls should look like. And guess what? You even get to have POV Cybersex with the girls all you want! Here in 3DKink. You get to do just that. If you're also a fan of modern 3D animation, then I guess you have reached your final destination. This website offers you options to build your own sex slave in ways you can only imagine. So if you're longing to fuck your own Barbie or any movie star for that matter, here's your chance. However, it doesn't only end there.
There are a whole lot more things you can do in this site that would totally save you from boredom. You might even be surprised how you manage to do this much activity inside a simple internet browser. But of course you would need a pc that's has at least 1GB or ram and an OS that's at least a Vista. Once you have those minimal requirements, all you need to do is install the plug in and then you are good to go! A good internet connection also has its advantages. You'll get better buffering and loading time for your 3D girl. But not more than average speed is enough. So enough of the technical stuff. It's time for me to show you what this site has for you.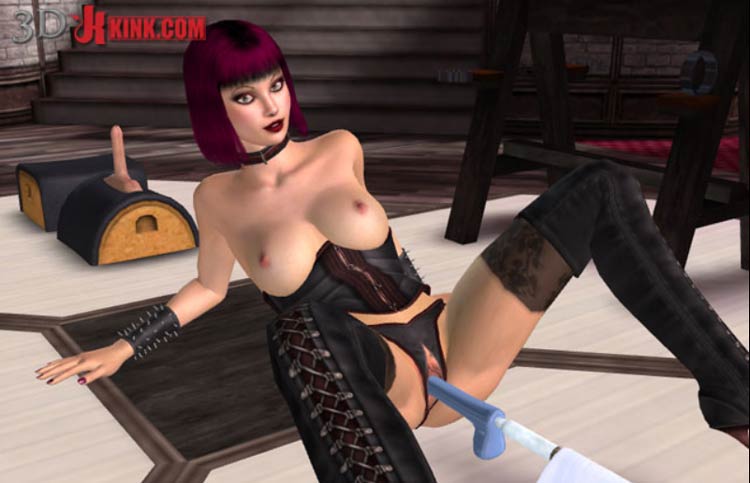 Technical
In the homepage, you'll see this huge video being played over and over with these 3D girls doing fucking scenes and also some Dom sub stuff, I even saw one drilling a dildo from one girl to another. Now these are what you're gonna be getting. Girls that are truly life like and are about to do your bidding. The site by the way has an amazing color design of black and red. Very cool at that.
Also, if you visit the Gallery, you'll see more previews at what you're about to get from this site, because the gallery is stocked with screenshots taken from the member's 3D girls collection. As you can see, these girls are so damn sexy. Some are even copied from well-known anime characters. Now looking at all these samples might make you wanna start ahead and make your own, but as good as the customizations system is, if you haven't had any experienced designing your own virtual sim.
Then I suggest you go through the tutorial first. But if you've already played games like the sims or other RPG games that involves character customization, then you're all set to go. When you enter the Create Your Own Page. You'll see there a lot of customizations options. It's really impressive how numerous these options can be. But that's how optimized the engine is. So you can start off by shaping up the body size, or start with eye colors, it's really up to you. Shaping up the butt shape also affects the sexual performance by the way. Actually a lot of these customizations will be affecting the sexual performance some way, but I'll just leave that part blank so you could explore it yourself. Now if you're done shaping up the body and eye color, hair style and other physical stuff, you can also start choosing what she will wear.
I'm also quite impressed by their choice of costumes. The developers must be really good fans of anime because some of these costume are spot on copies of the actual anime costumes. Really nice touch there. And also don't forget that you don't have to settle with only one sex slaves. You can have as many as your heart's desire. After making your sex slaves, you can proceed to playing games with them, fucking them POV style, or having them fuck each other, or even bring them to locations that the game has already prepared for you. There are a lot of stuff you can do on this site so getting bored should be on the last part of the list!
Flicks & Chicks
If there's one thing I really love about this site, it is the voice acting. Well it should be enough to have the girls have sounds of getting fucked during POV but that's not the only thing they did. They even synced the voices to other activities, like when she's playing with a dildo, when you play games with her, or even if she's just waiting around for you.
I also like the skin. Once you're done playing with the girl, you also have the option to record what you're doing so that you can watch it later. The quality of the videos you record are really high. You can even download them and show them to your friends. The system is well improved, if I say so myself.
In Few Words
In this website, almost anything is possible. The 3D images and characters are so well made that watching it is almost as legit as if it was meant for a movie or an episode. The voice acting was really well thought of. I also appreciate the smooth navigation system around the site.
Pretty easy to find yourself around it since the site is not that complicated. But of course, taking the tutorial gives you x-factors that could give you an advantage in navigating. The design of the website is very nice and the content of videos are decent as well. I would easily give this site a 10/10 and recommend it to all the viewers out there. 3D Kink has really surpassed our expectations and deserves a good pat on the back!