Introduction
Alison Tyler has been on a long, long road and has done a lot of fucking along the way. If you want to see this 6 foot Amazonian strut her stuff and show you how dirty her mind can get, I'd suggest you come right on in.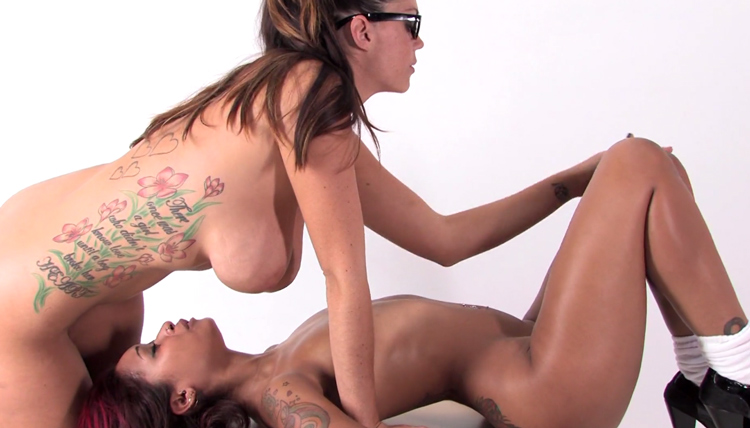 Technical
The garish pink on black of Alison Tyler surrounds her video and photo collections like a sickly sweet coating of toffee on an apple. The page layout is jam packed with all of her content that it is practically bursting from the seams. There is also a bio section to the side of the page, telling the reader some information about Alison's vital statistics, like Date of Birth, Home State and of course, the most important statistic of all, the size of her prized assets.
Navigation is pretty simple with extra sections for accessing the Bonus materials and scenes as well as subscribing to the PUBA network to access the full site. As with other PUBA sites there is little separation of video and photo content, which is a bit of a shame, but at least the layout keeps the different scene media together, so If you'd like to switch between photos and videos for "Soap Opera drama between lesbian lovers" then you will have no problems at all. Overall the site is clean and well structured, with a seemingly infinite amount of content to peruse.
Flicks & Chicks
Alison is a beautiful 6 foot something, dark haired queen with breasts that make you feel like you could fall into them and never get out again, though living in a bosom like that could never be a bad thing! Alison sucks and fucks her way through a veritable who's-who of co-stars, at times taking the giant cock of Bruce Ventura, while other times totally eating up ever last inch of Samantha Rone. Deepthroat, Girl on Girl, Anal, Facial are all just a small selection of the lengths Alison Tyler is willing to go to please.
The scenes are professional and so are the actors and actresses, working in such close quarters and bumping uglies with some very beautiful people. Most of Alison's videos average about 20 minutes in length, but there are some exceptionally short and sweet ones (around 3-5 minutes) and some even sweeter long ones (around 25-30 minutes). The quality of the scenes seems to be pretty consistent and High Definition is definitely the standard that you want to be seeing Alison's curves in. There are an inordinate number of videos on Alison's site as she has clearly been working hard, but in all I would estimate a few hundred videos in total.
The membership plan is done through the PUBA Network and at the minute they offer the basic package of 5 Day, which is such a good deal that I may have to take it up myself! In addition to Alison's site you also get access to the full PUBA network, so that is a pretty amazing deal really. After this package they offer 1 month for and then 3 months. The payment can be made through PUBA's secure payment system and promises anonymous billing for their customers.
In Few Words
If you don't mind a personal story getting in the way of your self pleasuring time then Alison could be a grower for you. The site offers a great deal of content through its affiliates and high quality videos as well as diversity that should cover all of your bases.