Introduction
Demure Ladies presents exclusive soft porn content. If you have a fetish for amateur display of sex intention without really getting down to nudity, this site has a way of capping a lid on where the heat gets. Meet the countesses, the princesses and the queens in their wild tricks and shy revelations beneath their frock. You get an extra treat of sensual excitement that comes with stylish boots, pantyhose, straps, designer panties and suspenders that these classy ladies don as they live their lives casually around their homes.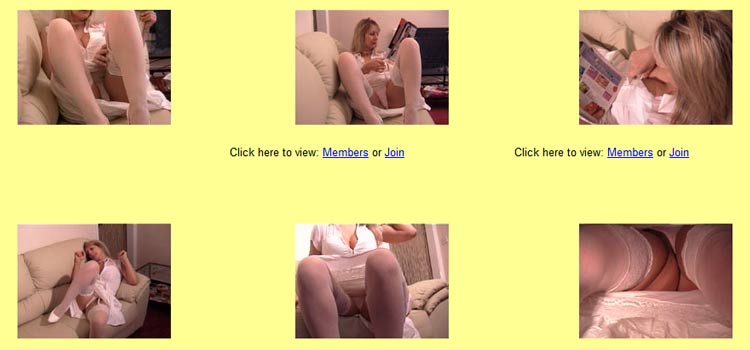 Technical
The site provides surprisingly clear views for its size. The content on the first page and the rest are displayed against a yellow background. This strategy has the effect of making the captions appear much clearer. I was also impressed at the simplicity and uncluttered layout of the site. There are no disruptions; no ads no premature presentations. Everything is kept discreet. I was allowed time to get curious and anticipate. I checked in and peeked at the inner content. What I like is that the site is mobile friendly, interactive and loads fast. I was able to view the various video clips of the exclusive amateur models in my car as I sat in traffic. I was a also able to download the videos in WMV. They are available in WMV format that plays back in HD form. There is no mention of webcams or bonus sites on this site but it is understandable because their content is exclusive and rare. You get a chance to watch a lot of videos or view and download countless pics under the same subscription.
Flicks & Chicks
I was particularly struck by the display of modesty in the way these models are dressed. I soon discovered, though, that this is a clever trick that ensures a slow but sure gradual rise to ecstasy. Matters became apparent when I met the beautiful mature countess. There is no telling what this mature model of from the noble society can do to make you fall off the cliff. I admired her regalia. I call it regalia because it is. She first appears in a hat complete with expensive silky lacy blouse, skirt and strapped shoes. Her noble demeanour is apparent. I was turned on fast and steamy when the countess decided to take a seat on the sofa with her legs spread out for me. Wow! I didn't believe that I had the privilege of ogling right at the knickers and soft, tender whitish brown thighs of the beautiful countess. She suddenly throws me a glance that catches me in the act. I could not tell what she was thinking but when I naturally blinked first; I came back to a rich clear view of her bosom; her lacy bra, her countess nips jump out of her bra. The she decided to drop the ultimate sensual bombshell in the session. She climbed on to the sofa and spread out to reveal her sexy knickers. I could see the silky pubic hair peering out of the perforations in her panties. The room was getting too hot by then. I decided to flip to the next scene.
In Few Words
Demure Ladies presents a unique niche of adult entertainment that features amateur ladies who show you quite a bit of goodies without wanting to look like they are doing it for money. In fact, the site makes a statement of denial that they have no pornographic content; this compliments the behaviour of their amateur models; "do it but don't admit that you did it stance." Overall, the site offers great soft porn entertainment at great rates and in HD display. It is the kind of platform you go to when you need a moderate dose of sensual action.