Introduction
The Gay Sex Exposed is yet another porn site, where you can enjoy a compilation of hardcore sex with gorgeous twinks, going through one another like there is no tomorrow. These guys are a cute, sexy, and the things they do are outrageous and exciting. The main niche of this site is gay porn, preferably performed by boys under 25. Also, the videos are served as they were actual amateur scenes, but as you browse around, you will notice that these lads are full-scale professionals. Back in the heyday of the site it was updating regularly, and since its launch in the Gay Sex Exposed built a collection of more than 470 hardcore scenes. These videos have a length of circa 20 minutes, and they all offer a full intercourse: there is kissing, caressing, blowjobs and lot of ass-pounding in them. The site still claims that there are daily updates, but the counts don't seem to change, and the dates are either inaccurate, or they did it on purpose. No matter what, the site has a good collection, and the sexy videos inside worth a try. You don't have to go far if you want to get your hands on some bonuses either. There are multiple gay porn sites included in your membership, and they become available for you when you get a normal membership (not the trial). All sites you get are covering the same main niches, but the videos are shot in a way so they cover different fantasies. Mostly twinks are the stars in them so if you have a thing for fresh boys, you have neat collection to explore. The scenes seem to be only semi-exclusive, so you might have seen them on other sites, but the overall value of this collection is high on its own account.
Technical
There are some really high-quality thumbnails listed on the home page of the Gay Sex Exposed. The tour offers you only those, so you better check them. Fortunately, they usually represent the quality of the actual video too. Once you are in the members' zone, you can start exploring the site's content and the bonuses. To do so, the Gay Sex Exposed offers you a menu under the site's banner, which offers the usual options for you. The overall look of the site is good and though it's not really overwhelming the members with navigation tools, you can easily find you way around. The quality of the videos makes it evident that these are not home videos, only some of the guys are fresh meats. For in-browser viewing the site offers you HD or an SD quality stream, with a really good playback. Downloading the files is possible too, there are two PC versions (720p is the maximum) and there is always a mobile format. More than 1,200 photo sets are available, and most of them are independent of the videos. You can save these galleries in zip format.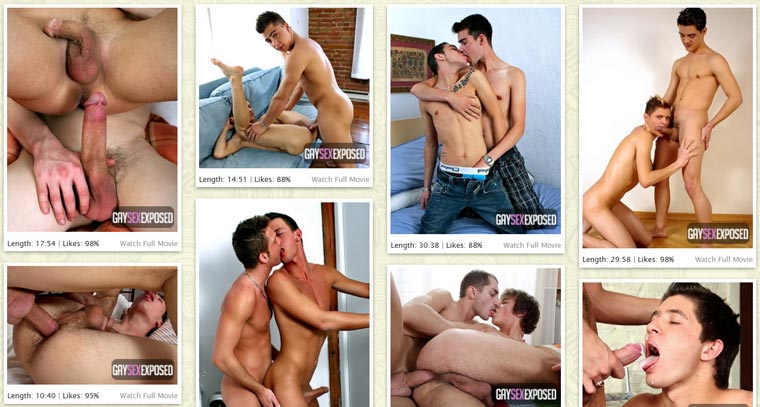 Flicks & Boys
The Gay Sex Exposed has a definitive collection of nasty porn, with hot gays who are just going to get through a heavy drilling. These lads are handsome, well-hung and eager to show everything they have. In the videos of this site, you can enjoy a definite collection of hardcore sex, and while the guys are at it, they will make you want to get in their pants. So far it seems that there are only professionals, or at least semi-professionals on this site. Depicting the level of expertise of these guys is hard, and though most of them have more than one video behind his back, there are twinks among them, who seem to be only debuting in this business. In case you are looking for the big type man, you will feel a bit unfortunate, because these guys are not exactly that: they are the ultimate twinks, with nice, tight body, a juicy ass with a wet hole in the middle; and they are so soft, you can pick up them with half hand. Who needs any other guy, when you can jerk off watching these cuties banging each other? The videos of the Gay Sex Exposed are quite arousing. Though the site seems to want to make you believe that these are actual videos of couples, they are too good in quality, the places the guys do the nasty is clearly a studio-apartment, and the sex is just too nasty to be amateur. Nevertheless, these fresh faces have an aura that makes you believe that they are just lads who came together to cum together. Every video features long blowjobs and rimjobs, and when the guys' asshole is wet enough, after some fingering, the top sticks his boner deep down it, and then start drilling. It seems that some of these guys are not versatile, so you can see them doing only the same things: either they are the top, or they are the bottom. Nonetheless, the sex is amazingly hot, and with cum spraying all over the place from both lads' cock, the scenes always have a cathartic end.
In Few Words
There are sites which are recommended because they have big collection of boring mainstream porn, with overplaying and faking. And there are sites like the Gay Sex Exposed, which doesn't update daily, but has a stable collection of hardcore porn, and the sex in them is nasty and quite exciting. Though this site doesn't seem to update too often, if you join, you get a good collection of hardcore twinky-porn to enjoy, and with the included sites, you get so much more. If you consider the overall value of videos you get for your membership here, you will eventually come to the conclusion that this site totally worth it.