Introduction
Sandra Shine Live is an adult entertainment site that is tailored around the sparkling beauty endowments of Sandra. It is graced with some of the prettiest girls you will ever meet on porn sites. Its content, though bold and assertive is a blend of both soft porn and hardcore stuff. There are plenty of girl-on-girl scenes and more. Sandra features a diary of her shows so that you can become an active user and checkout her schedules in entertainment. If you yearn for a site that features models who could win a beauty pageant anywhere, then this is just the site for you. In fact, the show starts right from the landing page.
Technical
The layout is great. There are clear categories including pictures, backstage scenes, extras, wall papers, diary and Sandra's girlfriends. You are also treated to a number of photos in which Sandra and her other playmates pose in breath taking outfits; short skirts, minis, sexy lingerie and nude embraces; with sex partners. The color theme is remarkable. I like the dark purple background that gives you an impression of a stellar site with equally premium treatment. One might say that the landing page is a little crammed but the images are hot. I couldn't help staring at Sandra's nude photo in which she poses nude; with most her features in the full feast of the cameras and the audience. The site is perfectly accessible via mobile devices. It loads at reasonable speeds and is quite interactive. Although I didn't see a search tool incorporated, the layout and the links to the various categories work just fine. Streaming is possible but you won't stream the whole video. It is a sort of preview that prompts you to download if you wish to savor the full flavor. The only irony I found with the site is the fact that it features no live cam shows. The name suggests something else. I was compensated with bonus views though.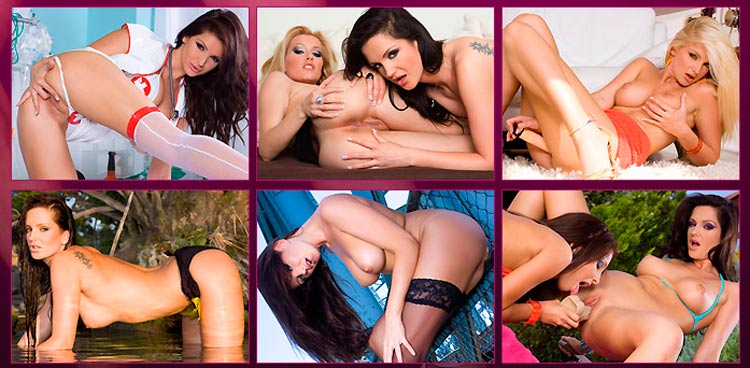 Flicks & Chicks
This site looks great. You are treated to a breathtaking caption of Sandra right from the moment you land on the site. The model, who is the carrier of the site, poses nude with tight nips, staring at you. This caption captures the user's imagination so much that you don't notice you are taking more than normal span glimpses at this marvel of creation. Sandra Shine Live provides you with exclusive content of the Hungarian model with her girlfriends in action. Sandra is undoubtedly the most striking of the models I've met anywhere. The models stunning beauty tempts you to subscribe to her service; albeit to be counted among those in contact with her in some way. Most of the girls presented on the site are featured in varying scenes in lesbian encounters or just posing for you. They are all tall gorgeous models. They sport red and pink and red lingerie in most of the scenes. They unveil their tits that can only be full and supple. I got my lips on several of those as I watched these beauties entangle, kiss and fuck right before my eyes. Most of the photos and videos feature the welcome ingredient, Sandra herself, in the element. The videos are frequently updated; at least once every week. The content on Sandra Shine Live is exclusive to her work. She produces her own photos and videos. There are 160 videos scenes on this site. Each of the videos has playback span of 24 minutes. You can download the content in a zip file. The latest videos are available in higher bitrate. Sandra has a respectable reserve of photos in her galleries. With over 120 pieces, I had sufficient content to enjoy for quite a while. There are several bonus sites you can access once you subscribe to the Hungarian models entertainment plan. Some of the other sites you will access include Cruising Girls, Stocking Live and Sandra Shine Bonus.
In Few Words
Sandra presents the best of the models on the adult entertainment scene. You are treated to exclusive content you won't find elsewhere. The site is fairly simple but filled with the right stuff; especially for those of us who enjoy watching gorgeous women in the nude. Subscribing to this site is definitely worth your while and money.