Introduction
Student Sex Parties is a porn site you should definitely visit especially when you are into girls in their early twenties. The site offers loads of videos shot by a same-minded individual. They are the type of individual who do not mind skipping classes just to party hard or have awesome orgies.
The website is incredible and you will know it right away the moment you visit the site. It is full of fresh girls and boys who love fucking everywhere. This site is definitely full of videos with a loud and noisy group of chicks that cannot get enough of wild orgies. You should definitely see the videos on this site to understand better why it is an incredible porn website.
The videos are available for download and streaming. That's not all! The videos are good quality and filmed in various locations so you won't get bored. Although, it is highly unlikely that you will get bored watching the videos considering the craziness of the girls and guys in the orgies.
This site is practically the one-stop-shop of wild orgies videos. And as the site name implies, you have a site full of girls who skip class just to bring you videos that you can watch until you jerk off and completely satisfied.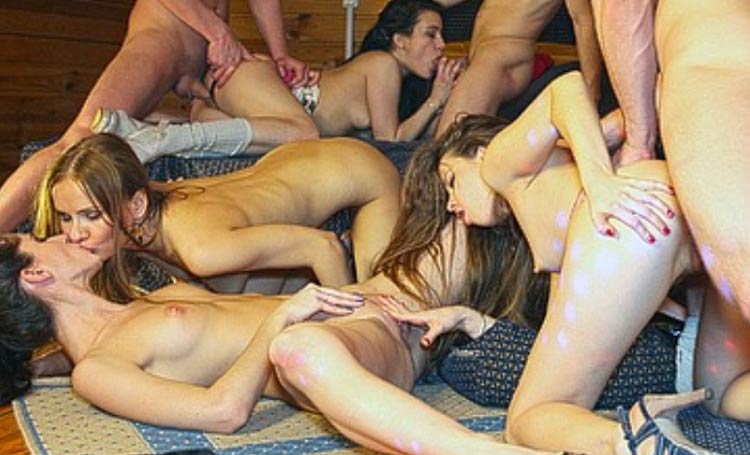 Technical
The website of Student Sex Parties is quite plain but has the necessary features that you will certainly enjoy using. This site is built to provide adult entertainment minus the usual problems of other porn sites. In short, you should expect the best entertainment that a porn site could deliver to its members. With the site simple layout, you can easily navigate its content even if you will just use the basic search tool.
The home page has the menu, which displays the videos, models, and link to the joining page.
In the video section, you will find 95 party videos that you can download and stream. The most recent videos displayed on the home page while the rest you will find in the video section. These videos are DRM-free, which means there are no restrictions to downloading them. You can download the video in MP4 and AVI format. The videos are also mobile ready so you can download with iPad, iPhone, and Android devices. What's more, they come with brief description and screenshot from the party. With regard to streaming, you can stream in your browser through the embedded flash player. Streaming is fast and decent quality, it is never going to be an issue unless you have a lousy internet connection.
The site also has photo galleries containing over 95 galleries with 550 pictures per set. The photos in the galleries are downloadable to a Zip or you can just view them in a slideshow. The quality of the images is decent and perfectly viewable that you will not have any reason for complaint. The size also varies but you can download or view the images up to 1,066 x 1600.
Student Sex Parties also features a model index, wherein you get to see the girls on the videos and galleries. The model index provides information about the girls, including stats, clips and links to their videos. In this section, you can choose the video you want to see via the girls faces and body rather than browsing the videos index.
There is also bonus sites that give you more content to check out. The bonus sites provide you with access to other websites such as My Pick Up Girls, Cash for Sex Tape, Porn Traveling, Chicki Porn and Hard Fuck Tales without extra cost. These additional websites are just as awesome as this site, so they are definitely worth checking out.
Flicks & Chicks
Student Sex Parties offers downloadable videos of hardcore sex filmed in different locations with sexy girls and guys. When you sign up for membership you get access to great orgy scenes and hot girls going down on cute guys with rigid boners. The girls that you will find on this site are wild, open to lesbian action and hard cocks. So, if you are into these kinds of action then this site is for you.
The site has over 400 girls so there is no doubt that you will find a girl that suits your taste. These girls are horny, wild and know how to rock a man's world. The Russian girls and boys enjoy parties after classes, but most of all they love fucking everywhere. You will see them fucking inside and outside their dorm, clubs and bars. The sex-minded chicks does not mind skipping class as long as they get to fuck like there is no tomorrow.
Student Sex Parties is a website for porn enthusiasts, party animals and those who want a site full of noisy and loud party people. The site delivers what they promise as shown on their videos. You will be in for a good time once you sign up for membership as the girls and guys on this site offer the best fucking scenes.
In Few Words
In summary, this website gives you what you expect which is wild orgies, crazy parties and fresh Russian girls and guys. The site is full of girls and guys who love fucking everywhere. They also enjoy partying with people who are into this kind of parties. So, the site has plenty of awesome scenes that you can download or stream.
Aside from high-quality content, the site also offers access to other websites. The bonus sites certainly bring added value to your membership. And most importantly, it brings you additional content to browse and enjoy. At Student Sex Parties, you can have the best of time without leaving the comfort of your home, thanks to the site awesome content.