Introduction
UK's first website dedicated to showcasing transsexual models, UK TGirls, has a great overall layout and great selective content, meant to satisfy even the pickiest of visitors. It is the melting pot of presenting models from all over the country with the occasional tourist touch, bringing also variety besides the usual English Rose. This website is meant for the pleasure seeker who has excellent taste in British transsexual erotica.
Technical
The features and design are reminiscent of the England atmosphere, where the three colors: white, red and blue blend together to create the best experience and a user friendly environment. The first thing that meets you on the landing page of UK TGirls is a set of changing photos that portray delicious UK posting models, followed by a short description of the site and the latest updates.
UK TGirls is built to be as easy to use as possible and maximize the level of entertainment experienced by the user first hand. It is extremely easy to find what you are searching for and stay were the content meets your taste.
The "Most Popular Section" at the end of the website is very useful in finding the top notch girls you are looking for. It has a very intuitive star ranking system that allows you to know how other people appreciate the content before even entering on the desired page.
The layout is beautifully placed and easy to follow, with great interloping visuals and great use of the webpage space, with smooth navigation between pages and crazy cool attractions at every step of the way.
UK TGirls is perfectly optimized for mobile use and can be accessed from everywhere in the world.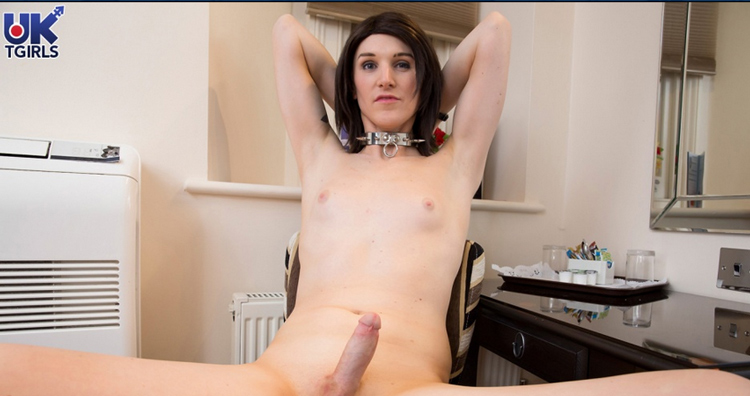 Flicks & Chicks
The girls are selected only from UK, but that doesn't mean you won't get the now and then tourist wonderer. Even more alluring is the thought that UK is the melting pot of many nationalities, leaving UK TGirls with a wide pool of models to pick from to display.
Here you can find types ranging from cute household ladies to punk impersonators.
Every model has her own dedicated page with an original description and personal story background. Here you can find quality photos of the model and a video clip, ranging from 12 to 16 minutes.
All videos and pictures are HD and meet heightened quality standards, ensuring that only superior content reaches your eyes. Besides that, there is also an avalanche of exclusive content and transsexual life insights available for every subscriber.
To subscribe to UK TGirls, you can choose from a membership plan that ranges from one month to a year. The pay methods are secure and provided by the website. You even have the choice to pay in bitcoin. By becoming a member of UK TGirls you automatically gain access to a wide array of benefits that include: regular qualitative updates, HD quality videos and full photo sets, UK Club and Bar Details regarding the transsexual local community and compatibility with all media devices.
In Few Words
If you want access to UK's only transsexual oriented site, with hundreds of professional models waiting eagerly to please your most intimate desires, quality content and valuable insights, well, this is the place for you. Here you will find everything from debutantes to experts and from delicate little minxs to punky girls and more. UK TGirls is the best choice to finding exclusivity and taste.