Introduction
Getting into the army is always a hard decision to make. It demands confidence, passion and lots of discipline. The Anal army is a very special kind of army where girls are expected to have all the previous mentioned skills, but not to fight an enemy with guns and bullets, but to give pleasure with their asses and sluttiness. Welcome to the army.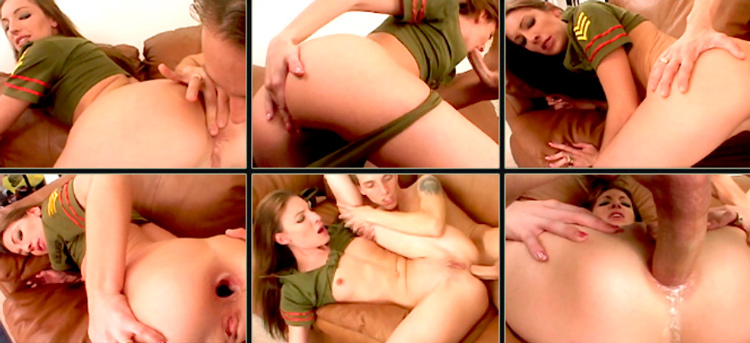 Technical
Anal Army is exactly what it says it is. I like the very militaristic design. From top to bottom, the site is full of militaristic imagery and of course, sexy sluts. The designers have done an amazing job, creating a simple and user-friendly interface to go along with the fantastic content that the site offers.
From the moment you log in, you will see that everything is very neatly organized in columns, with lots and lots of thumbnails that give you a little preview of what you will see once you click on them. The menu tabs will help you navigate the site with ease. All this choices in design are very welcomed, as many other sites just bombard you with countless useless graphics making it difficult to navigate.
The color pallet offers a lot of greens, staying true to the militaristic concept the site was built on. These dark greens make everything look not too flashy, so that the girls and pictures become highlighted.
Anal Army is a mobile friendly site. That means you can still access the content on your smartphone even if you're on the road or at the other side of the world. The browsing experience is consistent. I have used this site on my Huawei Y6 II and I believe it's compatible as well as with most android phones and iPhone.
Flicks & Chicks
Anal Army does not make distinction on nationality, that means that its members come from all over the world, the only requirements is that to join the anal army you have to be an anal whore, and that is exactly what these girls are. You can see on their faces just how much they love to be fucked endlessly though their buttholes. The girls are not only beautiful with gorgeous faces, amazing tits and delicious round asses, but their personalities are just as alluring. Layla Jane and Britney Madison are some of the top acts, ready to show you their militaristic sex styles.
All videos are available in gorgeous Full HD 1080p resolution, and they have an average running time of 20-25 minutes. You can download them as mp4 files and watch them in your MP4 player or stream them in-browser. Videos are added regularly so there's something new to look forward to week in week out.
There are more than 200 thousand videos and just as much HQ pictures in the fabulous image gallery. The membership plans start with the simple 3 Day Trial and end up in the fabulous 3 month membership. As a bonus to your subscription you will receive access to ten more sites full of amazing quality content, it is a great deal.
In Few Words
Anal Army is the best army of hot and slutty girls ready to do anal sex wherever and whenever you want. The site is full of amazing content and the price is just a bargain that you should seize right now and join it!