Introduction
Remember your heydays, when you used to peep into the windows of that really hot older woman's bedroom just to take a peek at her when she comes out of her bathroom all wet and fully naked? Or how about when we fantasized about our friend's hot mom? How we always wished she would seduce us and give us our first lessons in having sex. And you know that they will be amazing in bed because of their years of experience. If all of this is your fantasy, then guess what, there is a website created keeping this especially in mind, just for you. And that is BackRoomMILF.
So, what is this BackRoomMILF? BackRoomMILF is filled with amateur sexy MILF women who are all hot and horny and ready to get down and nasty. This is a website brought to you by the very famous Bang Bros network. This network is very popular and all the websites within these networks have amazing content and an extremely high standard. This is also the case with BackRoomMILF. The standards are at par. All the videos on BackRoomMILF follow one premise. All these videos are the audition reels of the women who are looking to cash in some major bucks with the help of the porn industry. So yeah, you figured it right, these are amateur women. They all are a 100 percent fresh in the market.
Every video on BackRoomMILF has the same premise. These women come into the back office of Bang Bros network. They come to audition to become a porn star. Behind closed doors, they sit with a man behind a camera for an interview. Upon answering a couple of questions about themselves and why they are interested in becoming a porn star, they begin to start the real interview. That is the sex part of it. Initially, these sexy older women are apprehensive because they have never done this before. But as time passes, they start to get a little comfortable and begin to disrobe for the camera man. They start by pleasuring themselves and move on to obeying whatever the camera man asks for. They go down on his cock and blow him for a long time and then spread their legs to show off their pussy so to let the man give them a real hard pounding. We are absolutely envious of this camera man's job! These amateur MILFs will also get kinky by using some sex toys. So even if these women are not hired, the bang bros network decided to make this website and put up these audition tapes for us to watch instead of letting them hatch in some cabinet. And boy are we glad about that!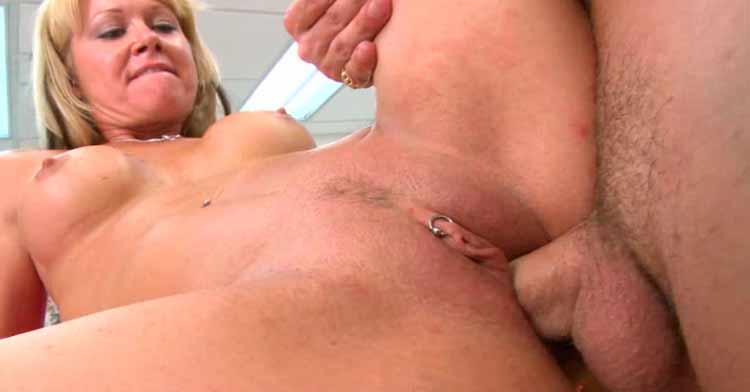 Technical
One look at the layout of this website and you will fall in absolute love with it. The layout is super cool looking as well as very trendy. The website has a very laid back and a casual touch to it since the content on the website is very casual and real too. It does not have a very perfect looking layout. We love how random the design is on the tour page. Sometimes so perfect that even look too manufactured. The colors used on this website are not something that you will normally find on most porn sites. So, the colors they have used on BackRoomMILF are white with just an edge of wooden brown. These are not what you usually find on all your porn sites, but it is kind of cool. Most of the content is basically on a white background but the wooden edge accentuates the website.
What we think you will really love is the tour page on the website. On the page, right away you will find an abstract hand drawn image that looks a lot like a notepad doodle which we love. The website name BackRoomMILF is highlighted majorly. Right beside this are a couple of photos from the photo shoots of the women during the interview. These MILFs are all naked and extremely sexy. Right below that you will find a list of all the audition tapes on this website with a little description added alongside it. It indeed is a very cool website and we are sure you will love it.
Flicks & Chicks
If you are looking for some serious MILF action, then BackRoomMILF is just the perfect porn site for you. The MILFs they have on their list are just the hottest of them all. These women at their age have maintained themselves damn well. You would just feel like whipping out your penis and wanking it the moment these women take off their clothes. You will be in awe when you see their videos because it is that hot. All the content on this website is amateur content. And what makes us like it, even more, is because these all are audition reels. So, you can see these women giving their hundred percent to get hired. Nothing fake for you. These women have the bodies of angels. Their boobs are so perky and massive that you would want to gorge on them all night long. And pussies so tight it will make you cum instantly.
If you wish, you can stream all the videos directly online through the embedded flash player. Or you can also download these videos in MP4 format. The recent porn movies are in full HD. BackRoomMILF has about 98 photo galleries. They can be downloaded in zip format. And the entire website can be viewed on your mobile or tablet too.
In Few Words
With the fantastic line-up of girls and the excellent service they offer, it makes BackRoomMILF so very desirable. They have some of the best MILF action that you will find on the internet. Very few can be compared to them. And all of this is at an attractive cost. Not just that, if you sign up for BackRoomMILF, you will not only be given access to this website but a whole lot other more on the Bang Bros network! So, you have your Bang Bus, MILF Soup and much more, all for your entertainment. It does not get any more cooler than this.