Introduction
Bareback She Bang is the only place where you can be able to catch a true glimpse of shemales bareback fucking without a condom. There are hundreds of shemale sites that may offer similar action but there is none that dares to show condom-free sexual encounters. One thing is certainly for sure, this is the kind of site that can make you question your sexuality. As far as the action is concerned, every toss, move and turn warrants a reaction. If you have been hoping to find a place where you can vicariously live out your darkest sexual desires, Bareback She Bang will do more than this for you. The action is hardcore and the performers do not compromise on giving you the best. If you thought shemales would not make you go wild with desire, then think again! The site generally tells the story of shemales who would trade the world for some bareback boinking. Membership of the site offers full access to three other bonus sites from the Gunz Blazing Network. This means that in addition to the 76+ scenes that are already on the site, there is a chance for even more enjoyment. The site does not get tired of bringing the best to you. While other similar sites may focus on borderline shemales, Bareback She Bang only has and horny shemales who will do anything for the sake of pleasure. A single movie generally lasts for up to 45 minutes long. Trust me, you will wish for time to stand still as you will be overly immersed in all the sexual escapades. In case you feel like you are being left behind, the site has live feeds that will always keep you posted on all the latest posts and updates. The action on Bareback She Bang is hard and fast and the site does not render any apologies on how it chooses to showcase its best flicks. Bareback She Bang has been in existence since July 2009 and ever since then, it has been a faithful source of entertainment. The site boasts of a nice collection of content and the best navigation features. Currently, the site no longer updates new content but the scenes that are already on the site are sufficient.
Technical
Bareback She Bang has tools that make the site a true delight to use. The site outlines its favorite scenes and archives scenes that feature its best performers. The site interestingly gives you a chance to rate the shemales in action. The rating is determined on a scale of one to five, with five being the most outstanding porn star. The 76+ movies that are available on the site are offered for WMV download but they can also be streamed on a flash player. With a download and stream speed of 5.4Mbps, you will not be waiting for long before you enjoy the action. In terms of resolution, there are current movies that have higher resolutions and those that are dated but have older specifications. However, DRM is not used. The picture galleries are also delightful to pass through as the photo sets hold many moments that are worth reckoning with. This part of the site has shown good growth as each picture set holds about 126 pictures in number. The 202 galleries only contain the most interesting images. Even though zip downloads are not offered on the site, there are slideshows that make finding the right picture really easy. On this site, everything is reliable and to the point.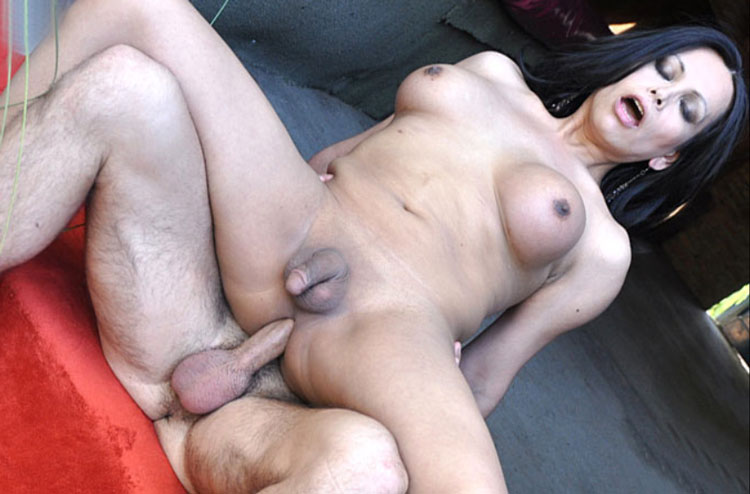 Flicks & Chicks
The shemales on Bareback She Bang are a mix of overly attractive bodies and faces to shemales that would be rated by an average two. Not all of them will excite you sexually but they will get you hyped up with their skills on set. You have to be prepared to experience utmost desire because the site does not fall short of pleasure. All the girls have proportional 'assets; from round and bouncy silicone-filled boobs and firm behinds that appreciate a lot of spanking. These girls just love being on top. Sitting on hard cocks is their specialty and they do it in a kinky manner. The site does not focus on a specific fetish but does its best to bring you general porn entertainment. As the shemales fuck a condom-free, nothing is off limits. You know what they say; raw action is always better. The shemales on this site have a 'thing' for desire that they do not want to let go. The way they are able to gently stroke their cocks as the other one is inserted deep into stroke their cocks as the other one is inserted deep into their buttholes will have you squirting in your pants. Victoria and Brad will give you the perfect action and slowly build your libido as you watch them explore each other's body. By all means, Victoria is the blondie in charge. She makes sure to let Brad know that she can give him thousands of orgasms. She sits on cock and senselessly fucks him to submission. There's nothing sexier than watching these shemales dominate. The deep tranny loving that manifests itself in these scenes will awaken your deepest desires and for forty minutes, a simple chair will appear to be the most coveted item in a fucking scene. They sit and stand on it, all in efforts to pleasure themselves.
In Few Words
Bareback She Bang's days of getting bigger may be long gone but the site has sexual scenes that are truly epic. The site still has a decent amount of exclusive content in HD quality that will give you the viewing enjoyment that you desire.
"This website has been deleted, take a look at the best shemale pay porn sites."