Introduction
Well, our dear chaps and fellow porn enthusiasts we hope you have been enjoying your latest porn site conquest with the help of our porn site reviews. We do hope that it suited your virtual palate and that you are taking your time in appreciating all its contents just like a true pornographic gentleman. Moving on to today's porn site review, we actually have in store for you a unique porn site that you may actually add in to your pornographic arsenal.
The theme of this porn site might be a common place for some, but may also serve as a contemporary thematic porn experience for others. In order to give you some sort of idea on what this porn is all about, let us go ahead and introduce to you the porn site. The name of the subject of today's porn site review is Big Tit Hooker, by just the name itself you can already deduce that this adult video site is strongly dedicated in presenting a big breasted beauty serving as a hooker getting picked up by random fucking studs with a hard cock ready for a series of hard core or soft core fuck with recent conquest on the street.
This porn site show cases some of the adult film industry's known big breasted beauties starring as irresistible hookers getting pounded by hard on studs wherever and whenever they want in exchange for a creatively dictated handsome amount of money or services as well as in greasing their way out of a very sticky situation while actually enjoying getting paid and/or paying. The bigger and perfectly shaped their boobs are the more demanding they are in the hooker and hooky thematic porn set created for them.
The flavor or niche is pretty hot if you ask us, and no matter what sort of preference you might have in a big tit hooker situation? BigTitHooker will find you or create for you a pornography that will suit your appetite for huge boobs and corresponding hardcore fucking action. One particular video which particularly tickled our curiosity is the one with Dylan Ryder posing as a so-called "hard-on worker" or hooker who is looking for a good quality tender loving care health service from a good doctor which she has willingly paid with her huge inviting breasts and one hell of a fuck.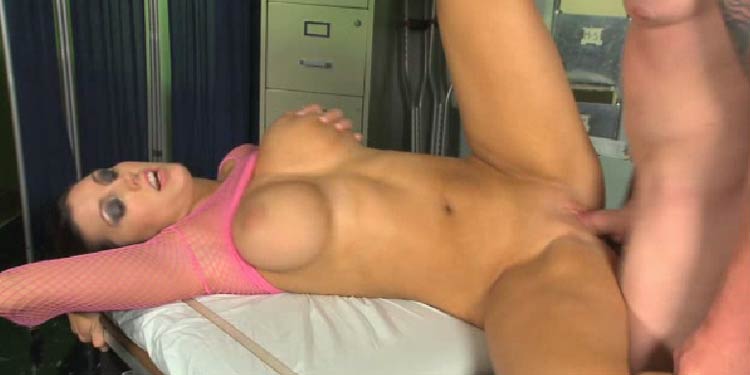 Technical
The website design of Big Tit Hooker is surprisingly strategic. The design and layout itself are pretty simple. Everything is in just one body – there are no side panels. You are not going to see any other graphic design element in the page, aside from its obvious color theme which is purple, red, and black. The color combination is pretty sensual, a perfect match to Big Tit Hooker's content.
As for the previews, like what we have mentioned it is very strategic. After the welcome banner, it's straight to the previews of their latest videos. This contains a very detailed title (which pretty much sums up what is in the video), as well as a short paragraph telling us what to expect in the videos. Aside from the big preview, you'll also find other thumbnails showing more scenes, which is great.
And that's all there is on the page! All awesome previews of their seriously hot content. Just be sure to scroll down to the very bottom of the page so you'll be able to catch the email subscription form. Be sure to sign up for that because doing so will give you more membership perks like free previews and limited offers.
Flicks & Chicks
This porn site never fails to deliver the best of big tit beauties. From their list of adult video models, you can already see how well is the quality and quantity of big breasted women in their stock. Not to mention each model's unique and alluring face making them the perfect moniker of this porn site's big breasted hooker theme.
These big breasted beauties that this porn site is what the industry truly needs in marketing this porn niche to the general public especially that most male patrons and our other fellow adult video enthusiasts are greatly influenced in choosing the people they are hooking up with every night on the perfect proportion of each beauty boob proportion and ratio.
Furthermore, the stuff and arsenal of adult videos in this site greatly compliment the very gorgeous breast gifted beauties due to its high definition resolution in every scenes and motion pictures being captured. Each and one of them tastefully optimized graphic after graphic slutty fucking action that they do in front of the camera; creating a feel of a real life fucking right before your eyes, as if there is no monitor which separates you from them big breasted beauties that we all love.
Further elaboration of the girls and the video quality found on this porn site may be a bit more redundant, and that is how you know its exclusive big breasted content is outstandingly impressive. 
In Few Words
Needless to say, our entire team has enjoyed our visit in this uniquely big breasted slut themed porn site. And that no matter we look at it, we truly find this porn site a breath of fresh air from the other related porn niches that we have so far seen online. After all, there are lots of other porn sites that would claim that all their big breasted are the best amongst their other competitors, when in fact their respective contents are no different from others.
However, with this porn site's unique thematic erotic flavor they have managed to create a sort of new bench mark into their competition making them one of the few pioneers in this particular porn genre.