Introduction
Chick Pass is an adult's only website with videos and photos of amateur girls as its main content. The website features a long list of categories in which are placed girls hotly engaged in different kinds of sex acts. They include orgies, lesbian, straight as well as masturbation.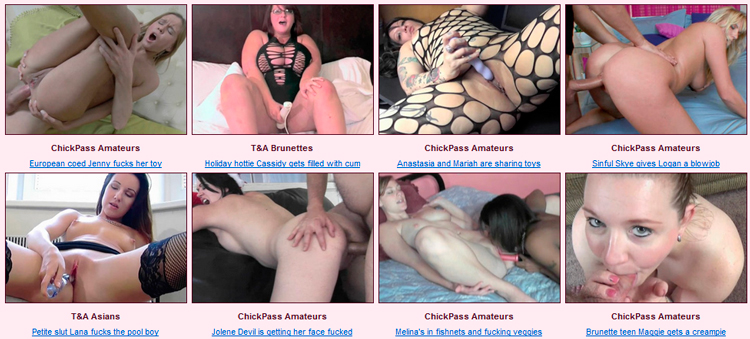 Technical
Chick Pass has come a long way since it first showed up in the porn websites scene. It has, in fact, undergone a comprehensive upgrade. A lot of the old videos and photos have already been upgraded to the higher quality than they were originally in. Likewise, the layout has been improved tremendously. For such a large site, the navigation is above expectations. For instance, the advanced search engine enables you to find the content you would like to view by use of keywords. You can even leave your sentiments on the quality of the content.
The only blot is the haphazard way in which some parts of the scenes are placed, making it a frustrating experience for the viewer to search and piece them together into one nice continuous video. The color is quite impressive with a feminine quality in the presentation. Perhaps, foreseeing the trouble a member would go through to find the new content, they have sorted it from the rest. In addition, videos and photo galleries are placed in different sections.
Flicks & Chicks
If you are the amateurs-only type, then Chick Pass is the site for you. The variety of the beauties will leave you speechless. Some sites update their content after such a long period that you would be watching the same models and videos for months, maybe for even longer. However good these videos or girls maybe, you are bound to get tired of the monotony and venture out to find something new, even if it is low quality. However, Chick Pass beats other sites hands down on this. Their content is updated several times a day. Thus, there is always something new with the breaking of each dawn. The sheer exquisiteness of the amateur girls completes the contentment of getting something worth for your money.
Some of the videos run for as long as 40 minutes, while others take only 8 minutes. Most of them are available for streaming and downloading in Full HD and in MP4, WMV and Quicktime formats. There are absolutely no limitations for downloads. The photos are in high resolution and can be downloaded as Zip files. Once subscribed as a member you are enabled to get access to all sites under Chick Pass Network. You can, therefore, view more than 3,800 videos and photos.
Some of the sites you can visit on your ChickPass pass include Redhead Mariah, Busty Lavender, T&A Redheads, XXX Florida Amateurs, Minimuffs, JupaMan Amateurs, Lusty Lina and XXX Indigos. If you would like to subscribe for a month, you pay only a toy fee. You can also pay for three months, or be a yearly subscriber. You can enjoy the site's content from your mobile.
In Few Words
No one would hesitate to recommend Chick Pass to fans of amateur porn. For a little price, you get access to some of the most spell-binding porn movies and pictures galleries.