Introduction
Established in 2009, the Cruelty Party is a somewhat old site, and in the first years of operation it was a quite viral page. Nowadays, it offers 67 hardcore porn videos, featuring sexy girls and hot parties, but unfortunately, it seems that there are no new videos coming. The good news is that the scenes are really long, and they are mostly in HD, so you can still spend long hours shaking your cock as you watch them. Another important aspect is the matter of exclusivity: these videos were shot by the sole purpose of being uploaded to this site. There is no good way to find them on other portals, and it's certain that they are available in the best quality only here. This portal is not a standalone one… if it were, we wouldn't be here today, because it would have been shut down already. The PornPros network provides the bonuses which make the site to be a considerable deal, and worthy of attention. If you give the site a chance and join, you will find a bunch of additional porn sites added to your account. The whole network consists of 22 sites, including the Cruelty Party and the flagship site of the network. The collection grows on a frequent basis, there are nearly daily updates. What you get here is more than 2,800 hardcore videos, covering dozens of niches.
Technical
Nowadays, we expect a professional porn site to look like the Cruelty Party looks. Large, crystal clear thumbnail listed, with a low amount of text. The color choice is good, and though the black rules the page, it's not shady, it's a 'good' black. Icons on the top show what more you could get, and the layout is quite simple. During the tour you can view several trailers. These are short, usually 1-2 minutes long clips, which feature bits of the foreplay, the hardcore part and the cum-shots. They are all in high quality and they are really convincing. The design is consistent with the inner pages, thus you don't have to get used to another color theme or layout. However, a menu will appear, while the unlockable sites' list remains on the very top of the page. Below the banner, the site's menu offers the members all important options to easily find their way around. Watching the videos in the browser is a good choice if you are looking for a quick fun. The best news is that if you have a good machine, you can enjoy the scenes in HD too, you don't have to save them. If you like to download stuff, the MPEG and WMV files offer HD resolution, while an SD MP4 is good for mobile devices.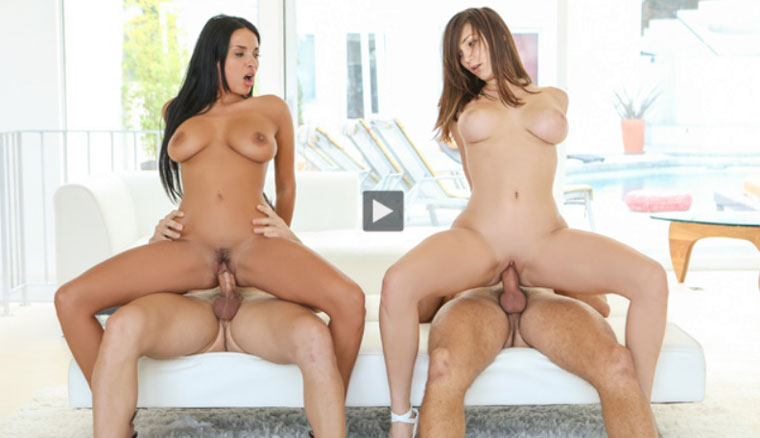 Flicks & Chicks
What happens if you get hot pornstars and starlets together, and let them party? They get down plain dirty, and they start to play with each other. And when you add a hard, long cock to them to play with, they go crazy, and suck it and fuck it until they cum. This is what the Cruelty Party offers the visitors: it's not that bad as you would expect from the name, but it's utterly hot, and just plain sexy.
These girls are all actual or upcoming stars of the industry, and if you like them, you can find them on the other PornPros sites. Thanks to the amazingly high quality of the picture, you will see that these girls are really hot, and their different approach to sex makes the collection really exciting and varied. You can find here two basic types of women: hot matures (MILF-aged) and much fresher girls. The first category isn't too common, so you should get ready to see the tightest fresh bodies on each other, taking on a big cock. It's quite certain that an experienced porn viewer will recognize some of the models, since they are mostly those hotties you can find in hardcore reality-porn scenes. Dillion Harper's nice smile and wonderful body is hard to forget, but girls like Karina White are also chicks to remember. Most of these cuties are sexy, and though they are professionals, they have that cute, natural appearance that makes them just much hotter. These girls are the type you would caress, fuck and ass-spank all day. The PornPros is really trying come up with hot stuff, and the products of this endeavor are simply amazing. It's one thing that the girls are sexy, but it wouldn't be enough if the sex wasn't so damned good. Every scene here is staged, and if you thought that one on one sex is hot, wait until you see three-four girls sharing a cock and taking turns in sucking and riding it. Thankfully, the videos are shot in high resolution, so you can see every detail of these cute wonders. Since the stage is well-lit, everything feels somewhat glamorous, and in most cases the sex is always a bit sensual. However it is plain hardcore, and the girls get a quite hard pounding when it is their turn to get banged. As you will see, this is mainstream porn, and apart from the group-sex thing, there isn't anything too heavy in these movies.
In Few Words
On the Cruelty Party everyone gets what she wants, and though the site claims that they make one guy taking on groups of girls like a reverse gangbang, in many scenes, two guys are fucking two or more girls. Nonetheless, the high, glamorous quality and the clean stages give the site that mainstream feeling you seek, while the sex itself remains hot, just as you like. If you are looking for hardcore porn videos captured and performed in professional manner, the PornProsNetwork is the best bonus the CrueltyParty can offer.