Introduction
The Dogfart network is, as its name suggests, aimed at the harder edge of the erotic world where people do 'not entirely nice' things to each other but they have fun doing it. If that's where your interests lie, and sometimes it's where all our interests lie, then you'll also have fun watching them. The network has been going for more than nineteen years so it satisfies the needs of plenty of people who have joined and gained access to the network's 22 sites and it will almost certainly be there throughout the time you're a member, if you decide to join.
Like all sites created by professional studios, using professional photographers, and models, the network has the best movies and images that skill and technology can create, in this case 4k ultra HD movies and hi-res photos, whether they're filmed indoors or, very occasionally, outdoors. Dogfart network has around 1300 hot girls, almost 4000 intense scenes, about fifty wide-ranging categories (including such niches as brides, bukkake, cougars, glasses, double penetration, and sex toys) as well as over 665,000 images.
There's plenty to choose from in the network; however, where they particularly excel is in interracial sex movies. That's their specialty and it's what they've been famous for since 1996. The network has won lots of accolades and awards down the years and they have a loyal following for their exclusive movies and images. There popularity may also be helped by there being no annoying ads cluttering up any of the sites' pages.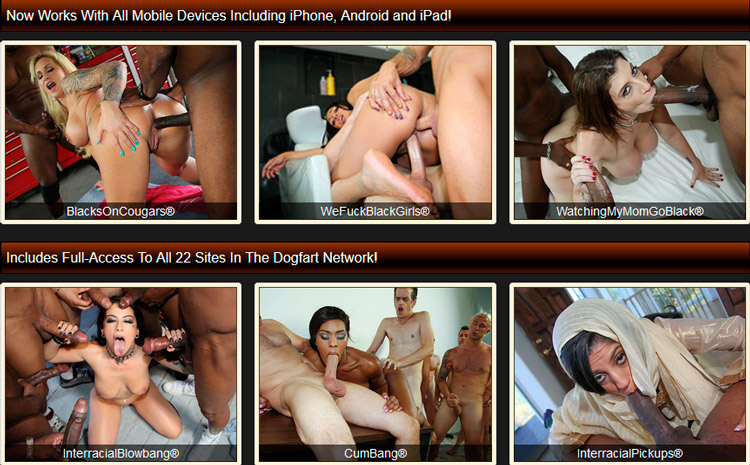 Technical
Harder porn is a fairly popular niche on the web, judging by the number of responses a search brings up. This network seems to me to be one of the better players in that category, partly because its 22 sites cover so many different aspects of this side of human nature, partly because their models (male and female) are a cut above the ordinary, and partly because their movies are so sharp and well shot.
The site's pages are laid out for ease-of-use with wall-to-wall, exceedingly explicit, images and movie trailers. A casual visitor can watch the trailers but not save the images; clicking on them only takes you to the sign-up form. For members, of course, the links are live. The network's pages include a handy search feature to help sort through all their content otherwise you'd be scrolling for days. Another great feature of the network's sites is they run on all major mobile and tablet devices so you can take your pleasure with you wherever you go – just be careful where you watch because the content is decidedly raunchy.
Flicks & Chicks
What sort of sex does the network feature? First, it specializes in interracial (IR) sex so that's a category they have down to the last sticky drop. Then, to add icing on the cake, they break out the IR genre into 50 sub-categories to make their sex scenes even more explosive. One of the most popular sub-categories, with 541 videos, is '2-on-1' where two black men pleasure a white woman or two white men pleasure one black woman. Another category the network cover in some details is 'Facials', with over 1000 videos. Dogfart's 'Fetish' sub-set has 762 scenes exploring the many wonderful ways humans like to have fun while they're having sex. A category made just for me, and it seems (based on this network's content) many other people's, is 'No Tattoos', which has 891 scenes showing beautiful naked women without a tattoo anywhere on their flawless skin. Who knew natural beauty would become a special niche sub-category? As I said, this is a professional site and the girls are professionals too and none the worse for that. It means they really are beauties and in high demand by men everywhere.
My favorite girl appearing here and elsewhere is Casey Calvert, a cutie who looks and sounds as innocent as a nun until she's asked to perform in front of a camera. Her innocent 'too good for this world' look stays with her throughout every scene and turns regular movie sex into magic. The network's sites include: Blacks on Blondes, in this case 'blonde' means white women or men rather than blonde haired folks. This site features interracial sex as it's principal theme and showcases dozens of toned hotties of both sexes enjoying the bold contrast of black and white skin when they're pressed together. Gloryhole and Gloryhole Initiations are two sites with a common theme. Men thrust their pricks through a hole in a wall and a woman sucks and licks it to orgasm. It's the anonymity that makes this kind of sex so titillating. To show fair play, the network also has 'Gloryholes and Hand jobs', a site for men who want to be brought off by other men. Wife Writing is another sexual niche interest that seems to be growing in strength on the web.
The network's version features men using felt-tip markers to write sexually suggestive slogans on their woman's body before they have sex. As you might guess, it's a game mainly played by white girls because the writing stands out better on their pale skin. Zebra Girls is an interracial Lesbian sex site that neatly captures the essence of both genres with lots of licking and sucking of nipples and pussies, as well as a generous helping of sex toys to supply the want of a prick. A final example is showcases another of my favorite desires, mature women. Blacks on Cougars is a site that looks at sex between black men and mature white women.
In Few Words
Sometimes it takes something hard to get you hard and when that time comes for you, you need to surf on over to the Dogfart network where they won't let you down. From categories ranging from anal to tattoos, and most letters between, they have a kink to straighten you out and get your juices flowing. With the best girls doing the rudest things, and so many wonderfully rude things, in so many interracial sex scenes, you'll be glad you took my advice and joined.