Introduction
Asian women are perhaps the world's most alluring and add to that a desire for sex that's all Western and what have you got? Japanese women are what you get when you merge the best of the West with the best of the East. Erito is a site that brings you that supreme mix in one glorious package. Over two hundred sexy Asian girls on one perfectly photographed site or, I should say, sites.
When you join Erito, you get five other sites, each with a special theme, featuring Asian ladies at their mysterious majestic best. And if that wasn't enough, your membership gets you access to a selection of great adult videos from elsewhere in the world and, not done yet, live webcams where you can meet and greet Erito's stars. That's good value in anybody's money. Japan is where most of the world's cameras come from so you can be sure the photography on the sites is as sharp as technology can make it.
However, Erito's movies aren't just sharp, they're cinema quality productions too and they do two updates daily – Japan is famous for hard work as well don't forget. I've never seen their videos on other sites so they're not joking when they say their content has never been seen outside of Japan and you can't get much more exclusive than that. Another bonus, for me anyhow, is the lack of advertisements on the Erito sites; having lots of signed up members makes those ugly intrusions a thing of the past.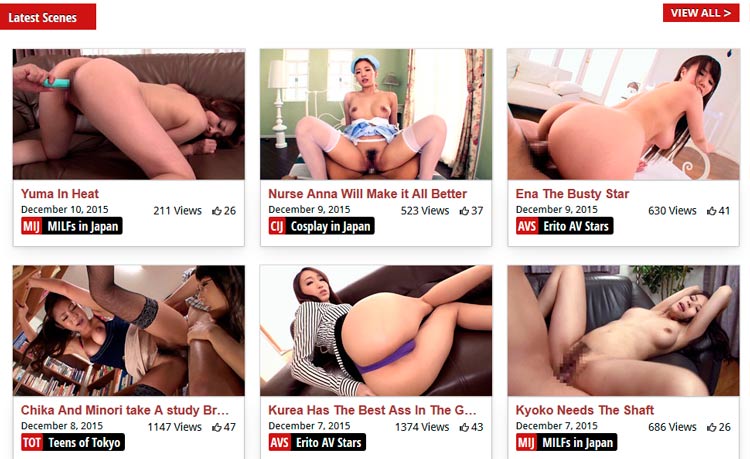 Technical
Erito's Home Page is a busy one, with mainly images but also some Gifs clamoring for the reader's attention. The header is a series of slideshow images and an invitation to become a member. Part of the header is a horizontal menu with links to Sites & Niches, Videos, Models, Categories, Bonus Content, and How It Works The next third of a very long page is made up of images from their latest releases and immediately below that are more images, this time of their Top Models. Below the top models are the site's Top Categories, and finally, at the bottom of the page, a selection of photos of their Live Cam girls, each with an invitation to click and talk to the girl of your choice. Of course, you can only do that if you're a member.
Despite how all that sounds, this is an easy site to navigate and find what you want. In case you do have trouble, the page includes a Search feature and View All buttons on each section. You should never be stuck long for something wonderful to watch. And you can watch them on your computer monitor, your mobile devices, and your tablet so you have options there too. Asian girls are popular in the porn industry, probably because men in the West think of them as demure, dainty, and deferential to the men in their lives – and what's not to like about that? However, most Asian women in erotica are Western girls and they are just a niche part of large Western porn sites. That isn't a bad thing; it's just not the best thing. Real, live Asian girls from Asia playing out their fantasies in their own environment are a whole level higher.
The Erito sites explore those fantasies in over forty unique categories, starting with Anal and ending with Uniform. In between, you'll find such themes as Pigtails and Gangbangs. How do I see all this content you're telling me about, I hear you ask. Simple! It all comes to you in quick streaming HD movies and fast downloading DVDs. And for more interactive pleasure with the models, there are the live webcam girls.
Flicks & Chicks
It isn't clear whether the girls of Erito are professional models or gifted amateurs. They are as skillful as professionals but have that fresh new look of amateurs and they are mercifully free of the tattoos and piercings we see so often on professional pornstars. The result is a site that has all the great qualities of both the professional and amateur sites. Erito has a library of nearly 1200 high definition videos, with titles that include, 'Kana Cosplay Bang' which features a model in costume (costume play seems popular in Japan, super-heroines are especially favored), 'Rika Craves Cock', which is fairly self-explanatory, as are 'Here Cums The Bride' and 'MILF Massage'.
Then there are over 40 categories, as I've already mentioned, with some noteworthy categories including: • Bukkake, the kink that Japan brought into the world, where many men cum over a generally submissively kneeling woman • Big Tits, something of a pleasant surprise to Western men who are used to seeing Asian women as pertly breasted rather than bodaciously boobed; nevertheless Erito has many such girls • Geisha (as one would expect on a Japanese site), the submissively waiting geisha niche has all that Eastern promise we in the West would love to experience for ourselves • Hairy, for those who like pussies peeking from their natural bushy foliage. • Office, where women in power suits practice blowjobs and hand jobs on willing co-workers. Another fantasy many of us like to play with from time to time • Toys, and who doesn't like to see those sliding in and out of a girl's wet pussy, mouth, or bum hole.
The Bonus Content is also a great additional feature of the Erito site. It features Western DVDs with titles like, Angry Housewives, Amateur Home Videos, Double Trouble, Juggernauts, and Nurseholes.
In Few Words
Erito has cornered the market on demure Asian girls and presents them all to us in crystal clear HD movies doing the most outrageously sexy acts, everything you've ever dreamed of and some you probably hadn't dreamt of until you looked into Erito. Personally, I'm a fan of Asian girls so this site really does it for me. If demure damsels are your cup of tea too, then join Erito and start enjoying the special flavor they bring to eroticism.