Introduction
There comes in a slut's life that they reach a point of no return. Their pussies get too used up, and their senses get used to stimulation. What can we do? They are total sluts! If you encounter a girl like this in real life, don't feel too bad about yourself. It is a fact of their nature, and no other mortal man can ever satisfy them any longer. So what do they do? Or better yet, what do we do with them? Well, we watch them of course! We use them for our porn-watching pleasure. This is what the porn site that we are going to review today is talking about. The porn site is Hardcore Power Tools, and yes, you have read it right – this is what we're going to do to the girls with sexual cravings that men can no longer satisfy. Let machines fuck them!
Hardcore Power Tools is part of the GF porn network. This porn network is the biggest girlfriend porn site, specializing in featuring user-submitted amateur porn. Their collection is massive with an eight thousand gigabyte's worth of data. If you enjoy watching other people's girlfriends, then you would spend hundreds of hours of fun in this porn network, so you better get your boxes of tissues ready! Just to give you an idea of what the network is all about, let us share with you some of the porn sites that belong to their network. These are My Alternative GF (if you'd want to take a look at hot emo ladies getting fucked), Public GF Videos (for user-submitted amateur porn videos of girls getting down and dirty in public), and Squirting GFs (for those who enjoy watching pussies that squirt), just to name a few. It's too many to mention here, but if you want, we encourage you to take a look at their porn network to explore their more than twenty-five porn sites.
We bet that you are already excited about joining their network, so we will not prolong your intrigue anymore and move on to share the different membership plans being offered by Hardcore Power Tools which will also give you access to the GF porn network. There are only two main ones, and one trial offer. For the trial membership, it comes with a minimal fee and it will give you one day of quick access – you would be able to take a look into all of their sites already. For the two main membership options, there is a one-month membership and a three-month membership. According to the Hardcore Power Tools website, the most popular membership option chosen by their loyal members is the three-month one because it is also the option that provides the best value for your money.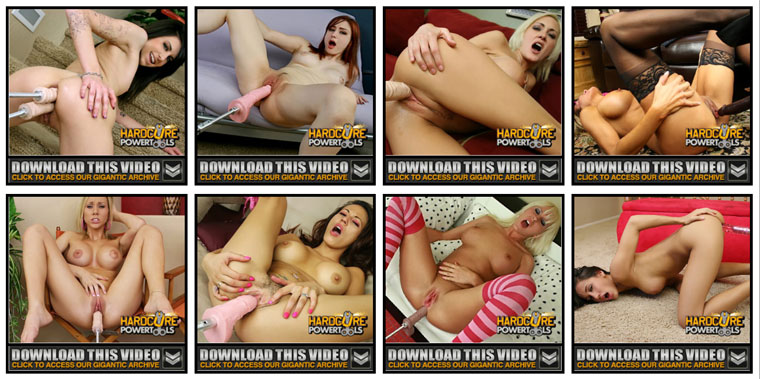 Technical
Hardcore Power Tools has a very interesting yet simple layout. It is very visual. Upon landing on the homepage, a big banner will welcome you. It contains four big pictures of the hottest ladies hooked to fucking machines. Beneath that, you will see different thumbnails showing screenshots of their different videos. These thumbnails are very simple as well; they don't have any title, just a button that will allow you to download the said video.
We are very impressed with the image quality of the thumbnails, though. Just by judging the thumbnails itself, you will already see the high-resolution quality of the videos that you will be able to view on their website. You should not worry about streaming and downloading the videos as well because the porn site Hardcore Power Tools also have fast servers to ensure member satisfaction.
Flicks & Chicks
We just love the girls here in the site. The Hardcore Power Tools porn site did not specify a certain girl type or nationality; hence, there was a good mix of different types of girls to choose from. And we just love porn sites like that because we are not being limited to the type of girl that we are going to see. For instance, you want to watch brunettes right now, then you may do so. And after a few days, when you have a sudden change of heart and you're in the mood for a blondie, then you may watch one as well. We also like two more aspects that we have seen that all of their porn stars have.
First, all of them are sizzling hot. We know that the GF porn network specializes in amateur porn, but the girls in the Hardcore Power Tools porn site are all professional ladies, and all of them are just plain beautiful. As for the other aspect, we like how feisty they are. They really came prepared to get fucked by machines. Of course, getting fucked by a man is a lot easier. A man can adjust in order to position his cock better inside, but machines are cold-hearted. They would just keep pounding no matter what position you're in! Plus, let us not get started on the speed. Man, those machines can really pump! We're not sure how many thrusts they can make in a minute, but we're guessing plenty! More than an average human being can.
In Few Words
Overall, we enjoyed our visit in Hardcore Power Tools. We enjoyed the concept. We loved the girls. The membership plans are all affordable, and the quality of the videos that you can get to stream and download is great. We couldn't ask anything more in a porn network, or any other porn site for that matter.
We totally recommend joining Hardcore Power Tools especially if you enjoy the niche that it caters to. Be prepared for a wild ride ahead because the girls here – along with the pounding that their pussies can endure may shock you. You have already been forewarned.