Introduction
This is the place where you can see parties, wilder than you ever imagined. The scenario here is based on a girls' night out the idea, either for a bachelorette party, or maybe a birthday party, an unforgettable vacation and so on. This is an assortment of the sexiest, hottest, craziest sex frenzies where girls break every limit. If you thought men are obsessed with sex, this visit will forever change your mind. Perhaps this is because these videos do not look the least like porn movies but rather tapings of any party with the regular next-door girl. That is until her desire grows and takes her mind away.
So, if you ever wondered what girls do on their nights out, this is your chance to find out and enjoy an exclusive show where amateur women, both fresh or milfs hang out in large groups at strip clubs, bars, mansions, hotels etc. and have some awesome girly fun with the guys (strippers). Who could resist a group or women in a party mood, getting naked and fooling around with each other and fucking hot strippers? For a fan of amateur porn movies, this is heaven. There are so many girls to enjoy, all in the same movie, struggling almost with one another to get a piece of the handsome strippers dancing around.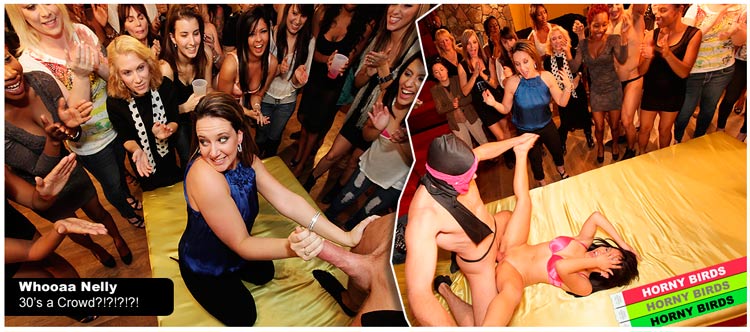 Technical
To get access to the content, you must simply register as a member. The registration fee is quite reasonably priced and you can even save cash if you decide for the three months or the yearly plan. The monthly membership costs $29.99 while the three-month plan is $59.99. The longer you decide to stay at the party, the better the deal you get: the 6-month plan costs $59.70 while the 12-month membership is a one time charge of $119.99. There is also a two-day trial available for only $1.00 if you want to take a sneak peek at what how the girls are having fun. Not only that you get access to awesome parties where everyone has a great time, but you also get access to the entire Reality Kings network that will totally make the membership worth getting! That means full access to well-known premium quality websites like Bikini Crashers, Pure18, Exgirlfriend porn, Mike's apartment and of course, the one and only Reality Kings and other approximately 40 websites featuring the same exceptional quality of content, incredibly hot girls and the real and live feeling that only Reality Kings network provides to their members.
There are a good number of videos on the site, and with a $20.000 prize for the winner vid, more entries can be expected. The good part is that even though this is amateur footage and the video formats differ, the quality is surprisingly good and they all stream perfectly fine on the embedded flash player on the Horny Birds website. As for the photos, they're commonly quite massive with more than 500 in a set. The pics are available either in the gallery or as a downloadable single archive file. The images themselves are in high resolution. They do not look like a studio photo shoot, that's true but instead, they look natural and unplanned which gives a feeling of authenticity making you feel like you are in the room, with the girls, watching them end pleasuring you while they are having a great time.
Flicks & Chicks
All the videos are shaped around a girls' night out or party, or some other special event. They go out, laugh, listen to music, dance, talk about the random girl stuff they usually do until the guys come into the scene. That's when everything heats up. In the beginning, there is only close to no action and barely any nudity from the strippers. But as the strippers throw off some clothes, the girls get more and hornier and start playing the game. From gentle touching, caressing and peaking, they move to jerking the guys off and even throw away all their precautions along with their clothes. That's the precise moment when the party turns into a real orgy.
What makes all these videos special is the "SUBMIT YOURS" section that really shows how these movies are made. The site promises a prize of $20,000 for the top submitted movie. You can see bachelor parties, birthday parties, vacations, and class reunions that turn into mind-blowing porn scenes. It all looks candid, and there is no motive to consider any of the site content is anything but the real deal. This quality alone makes the site better than the majority of the sham amateur party sites on the web. You will never find here porn celebrities, no girl you have ever seen in another porn video before, here or on another website. The girls look legit and they seem to have real fun at the party, you might not even think this will turn into anything sexual (the videos are quite long and don't haste into action).
In Few Words
Like all Reality Kings affiliated sites, there is no reason to worry, safety comes first. The Horny Birds site is properly rated and completely legit, they care about their customers. They have great customer support and multiple ways in which you can get in touch if you are facing any technical issue or if you have any billing questions. There is something irresistible about getting a chance to spy out on girls when they thing you can't see them. Everyone wonders what is it they do when they go to party all by themselves. Music, good vibes, fine looking women, hot shows and finally, sex. Can a night out get more perfect than that?
"The site is offline. Please, have a look at the best party pay porn sites."