Introduction
The internet is loaded with BDSM, wild actions and kinky sex scenes to satisfy the lust of porn enthusiasts. There is a lot of porn sites offering wild fetish actions. Some are a good site but the majority does not live up to its promises. This article is a review of House Of Taboo, a fetish site that seems to live up to its promises. House Of Taboo seems to provide the needs of its members from content to pleasant internet experience. The site design is user-friendly so it is easier for you to find quickly and easily the scenes you wish to see. That is not all, you also have a lot of options as the site has plenty of videos for you to enjoy. This site updates weekly to give members fresh faces and new videos to watch.
Best of all, you have the option to watch any video on your computer or mobile phone by streaming or downloading. All the videos available in this website you can download or stream. There are over 900 movies, mostly full-length that you can download in multiple formats. Streaming is also a good option when you want to satisfy your curiosity right away. In addition, the majority of the videos are HD quality so you will not be disappointed. The site also has an images gallery, which contains awesome photos of the sex scenes and models. You will definitely enjoy browsing the galleries, as the screen grabs are clear and sharp.
As for the model index, you will find a brief bio and description of the girls as well as links to their videos. Yup! It is easy to find your favorite pornstars latest video as the links to videos that the models appear on is available that you just need to click through. House Of Taboo is a site that you need to visit as this fetish site got what you need to satisfy your hunger for BDSM and wild actions.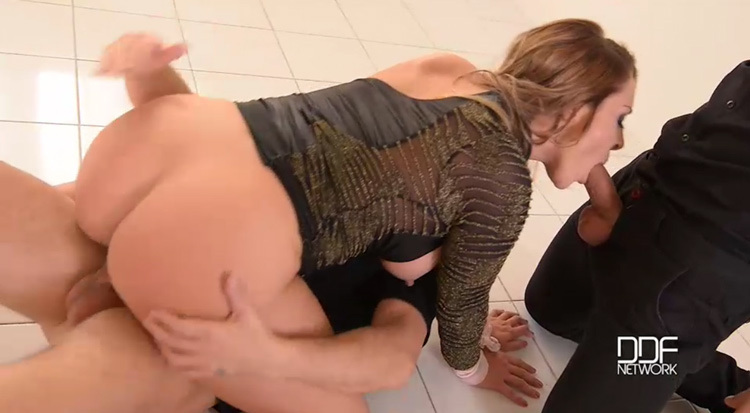 Technical
The first thing you will notice when you take a quick look at the members area is the site simple but detailed layout. Many of the fetish websites have a confusing design. Plus! Most of them just give you videos and leave you to find it. But, not this website as you will have an easy time finding what you want to see. Let us start at the homepage so you have a better picture of the site. When you visit the website, you see the most recent scenes. The site shows magazine style shots, which means good quality photos. There are girls spanked, girls wearing cat suits, strap-on, and other fetishes gears. On the top of the page, you will see the menu where you can use to get to where you want to see. You will find the Updates, Pornstars, Our Sites, LIVE, VOD and Dating button. These buttons will take you to the area you wish to browse. For example, the Updates area contains the latest videos, which you can sort by upload dates.
There are over 900+ videos to see and all good quality. These movies are available for download and streaming. And here you will find four download and resolution options, so just choose the one that suits you best. You can download these DRM-free videos in MP4, WMV, AVI and MPEG formats. As for streaming, you can stream in your browser through the embedded flash player. You will also find galleries of images in which most of them are high-resolution. The galleries and movies are on the same page. They vary in size and are available for download in Zip file. There are over 1100 galleries, which contain about 100 pictures each. Overall, the site has over 100,000 high-quality photos that you can browse and download. Some of the images are screen grabs from the movies and behind the scenes footages that you will enjoy looking at whenever you feel it is necessary. For those who love the magazine and cover photo, know that you can also download them. Additionally, for both the galleries and videos, you can add to favorites, rate the scenes and make comments.
As mentioned earlier, the site has a model index. This area of the website features 480 pornstars with a profile picture and a brief bio. The bio contains information such as date of birth, height, weight, bra size, etc. There is also links to the videos that the models appear on as well as a number of videos and likes they have. The House Of Taboo is a fetish site that has it all, so checking out the website is a good idea.
Flicks & Chicks
 The website has been delivering an action-packed BDSM, lesbian sex, watersports, anal and kinky scenes. If you are looking for hot girls and awesome sex scenes this site is for you. In this site, you will find dirty movies that will blow your mind. These movies featured girls that are into fetish gear such as cat suits, PVC ball gags, leather harnesses, nurse uniform, and stockings.
As for the pornstars appearance, these European models are beautiful and hot. In fact, you will see that most of the pornstars are gorgeous like Latex Lucy. She has a sexy body, a figure that will have you salivating. Latex Lucky is one of the top rated busty pornstars that you need to check out. Her rating is enough evidence that she is worth watching.
In Few Words
House Of Taboo is a must visit fetish and BDSM site. In this site, the content updated regularly to keep its members occupied and satisfied with their membership. So, a membership to this site is worth the cost as you get not just high-quality content but a whole lot more. Come to think of it! The site design and well-presented movies are already impressive, that you would enjoy using the site. If you are hunting for kinky action, varied sex scenes and value for your money, visit this site. House Of Taboo is the perfect place for you.