Introduction
One of the amazing websites that feature hardcore porn that you won't ever forget your entire life is I Like Handjobs. This particular porn website has lots of information, links, videos, and images that really fit your tastes. In this website, you can see a lot of amateur and professional porn stars both enjoying working on cocks.
The beautiful sluts that you can find here in the site are really amazing when it comes to helping you with dick masturbation. The girls are talented and they can give really satisfying handjobs. They will lubricate the cock that is standing mighty proud in front of them with either their saliva or some lubricant. With the right techniques they have cultivated over the years through their various experiences over giving men handjobs, you can really feel satisfied watching the videos that are posted here in the I Like Handjobs porn website.
Sending you to the peak of sexual pleasure is just an understatement when it comes to the magical hands of these girls giving a handjob. You will feel envious of the actual men they are playing with when you see their erotic handjob plays! It is even a privilege for you to go to this site because of the fact that you can get bonus content from the Extreme Movie Pass network. If you can't wait anymore to enjoy all of the things that the site has to offer, then make sure to get a membership to I Like Handjobs at the soonest time possible!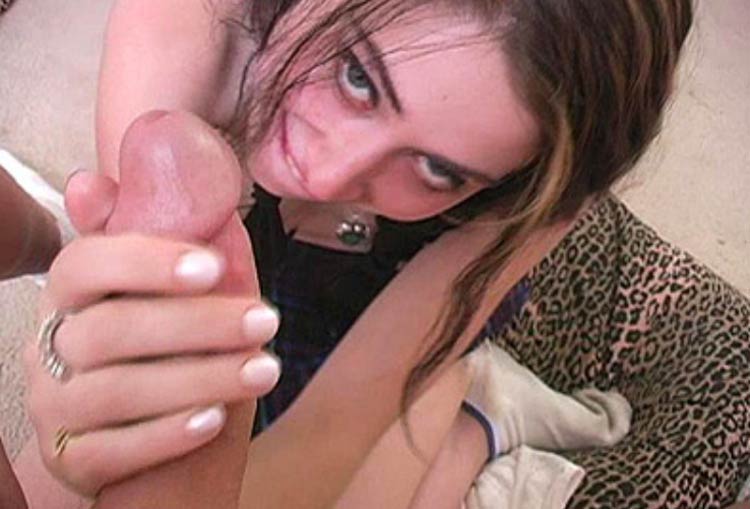 Technical
Through your membership to the I Like Handjobs porn website, you can enjoy a clean website design with a simple navigation option. You won't be seeing big banners or fancy glitters when you look at the entire website because it uses the minimalist approach to its website design. The tabs are just the common ones. There's the Home, Watch All Movies, Fetish Bonus Galleries, Your Favorites, Webcams, and Next Updates.
You should already know what the said page will show you once you click on them through their names, right? At the left side, there's a welcome message for members. Right at the home page, you get access to the list of movies that you can stream when you are already here in the site. By default, the archive is already sorted according to the date. If you are on the Your Favorites tab though, you can see the archive being sorted on default according to what is the most streamed ones. Of course, you are not limited to streaming the videos because you can download them into your smart phone or computer as well.
Most of the videos are of good quality. They come in the following formats: MP4 (640×480; 2002k), MP4 (640×480; 2002k; streaming), Windows (640×480; 1500k), and Windows (640×480; 1500k; streaming). There're more than 200 videos you can stream and download here in the site but they aren't in high definition but they are still of good quality. On average, you can expect the videos to last for 25 minutes. That duration should already be a full-length one. You won't have any limits to your downloads. They may not be exclusive content though.
Unlike the other websites that are offering handjob-themed videos, you won't be seeing any images here in this site. If you go to the Next Updates, you'll see what videos are lined up to be uploaded on the site as well as the date by which they will be made available. In terms of interactivity, there's a bit that you can enjoy here on the site. If you have finished watching a video, you are going to be asked for your rating. Of course, these are not just the only things that you will enjoy if you are here on I Like Handjobs.
You will also be allowed access to almost 70+ bonus sites which include DP Orgasm, Sex Fair, Slippery Massage, Dirty Private, Rio Bang, Spandex Porn, Sweet Party Chicks, Latin Wild Parties, Crazy Monster Cock, Wild Group Sex, Boss Lesson, Fisting Files, Pervert Clips, Flexi Dolls, Bukkake Orgy, Casting Bunnies, German Pickups, and so many more! These may not be of the same theme (which is handjobs) as the I Like Handjobs porn site but that doesn't make these websites any less valuable.
Flicks & Chicks
The chicks that you can watch doing the dirty deed here in the I Like Handjobs porn website are all ones who have the best technique in handjobs. When they make the dicks slick, they either slobber them with saliva or just pour on a good amount of lube or oil. These girls are the perfect sluts to give a cock tug. These girls come from different ethnicity so you can be sure that you have one that fits your tastes.
Some of the girls you will get to meet when you are here in the I Like Handjobs porn website include Abbey, Alexa, Angie, Allison, and Karinna. These porn stars have already starred in more than 30 videos that you can find in the I Like Handjobs porn website. As for the videos, you may think that they upload new content at least once a week but it seems like these videos are just being rotated. Nevertheless, these videos should still have some erotic content you can enjoy.
In Few Words
Overall, the site has amazing content quantity that you won't be able to finish up anytime soon, all thanks to the bonus sites. If you put aside your desire to save some still images, then this site should be worth the membership already considering that you are getting good quality videos, amazing girls, and erotic handjobs. With the I Like Handjobs porn site, you will surely have an amazing "quality me time" by just watching the girls and their techniques here.