Introduction
Gang Bang or Gangbang is a sexual act where at least one consenting adult woman engages in group sex with at least three consenting adult men. In LederhosenGangbang's case, it's usually two voluptuous shaped ladies ready to entertain and please at least four men.
All performers are German or at least half-German (usually mixed with other European lineages) and they're all dressed up in Lederhosen and Dirndls, traditional German clothing for men and women, respectively. The twist is that the women's clothing is much short and revealing in the chest and leg areas. You don't need to learn another language to know that these ladies want their bratwursts (and I'm not talking about the food!).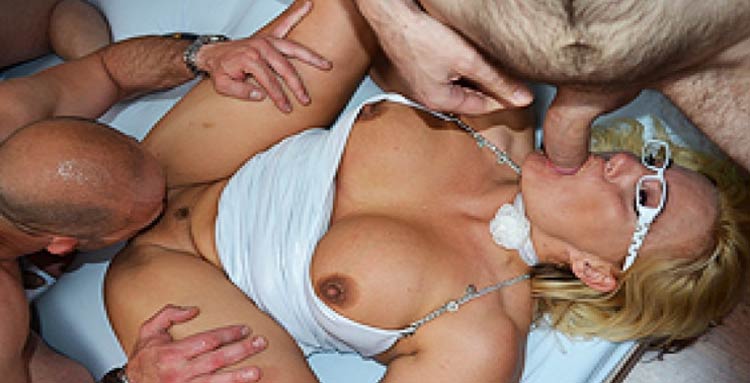 Technical
When guests open up LederhosenGangbang's website, they are greeted with a luscious and incredibly tempting preview video tiles of different scenes available for your viewing pleasure. Guests may view the video catalogue, but they cannot view them unless they log in or sign up as a member. Signing up for LederhosenGangbang is simple and easy. First of all, you need an email to register with. Secondly, you pay either through credit card, PayPal, Direct Debit (for European regions only) and by BitCoin. Lastly, choose your membership type. LederhosenGangbang is quite discreet when in comes to billing so do not worry about their names showing up on your billing statement. Your privacy is one to the top priorities at LederhosenGangbang and if you want to be 100% sure, they have a customer hotline where you can ask some questions before you officially sign up.
LederhosenGangbang members have a list of exclusive content, but as a reward, which is also the best feature for being registered member is you will receive something called a "Goldwin Pass". A Goldwin Pass is access to the company's other websites that features hundreds of women who may or may not be German, but they have a wide variety to choose from, in case you're hankering for something other than German women. Once logged in, members can see that the website isn't complexly designed because they are aware that this is an adult video viewing website and not an interactive website like social media.
After the LederhosenGangbang header, there is a row that guides you to five of the most important pages; the bonus content page, their movies, a model catalogue, your favourites and Lederhosen movies. If you cannot find what you are looking for, there is a handy search bar located at the top right corner of every page. The search bar has been enabled to do advanced search options such as finding a certain video's name, model, and date of upload, and etc.
Flicks & Chicks
Videos are shot in full ultra 4000 high definition so you can see every detail. The audio is also great, but I'm sure you're not here for the sound quality. There is a rating system and comments section on each page for the videos so the other members can find out if this is worth the watch. As a test, we picked 8 random videos and the average ratings are at an impressive 95%. Most of the women have piercings other than their ears, as well as tattoos, which may not be attractive to the least amount of viewers. Though they look different on the outside, these women have one thing in common: to get dressed in sexy outfits and do what they can to please their men.
The typical scenes in these videos are just two women, serving food and beer to their male patrons. Though they are speaking in German, you can tell by intuition what they are doing, for example, this woman asks if she could do anything else to make their meal more enjoyable. The men then start touching them in their erogenous areas, asking if they can have some sweet dessert instead. The women hungrily oblige as they are splayed on beds, tables, even picnic mats as the men enjoy their diner of these lovely ladies' "cupcake" between their legs. Everyone is not afraid to touch, share and explore each other's bodies, especially the women. They love having their share of pleasuring the men's cocks with their mouth, vagina and even their ass! Their ladies are not afraid to go a little hardcore to get their liquid rewards.
Speaking of hardcore ladies, If you have a particular lady you like in the video, registered members can view their "All Models" catalog, a picture list of the women starring in these videos, along with how many videos she has a cameo or starred in, as well as a direct link to these videos. Since the website launched last June 2016, there have been on 36 videos. Sure, the quantity of videos are lesser compared to other websites but trust me, the 36 are more than enough to get you on your hot and horny side. The videos can be viewed online with their embedded media player, but downloading in a high or low definition is also an option, an option exclusive to registered members only. The impressive quality, content and women are what garnered LederhosenGangbang from a thousand odd number of members, and since they're new, they're getting bigger and bigger by the month.
In Few Words
To summarize, registered members get full access to LederhosenGangbang's website, high quality videos that are downloadable, the ability to rate, comment & favorite these videos, and access to their company's sister websites that posts hundreds of videos of equally hungry and horny women of all types, races and fetishes. The content is more than enough to convince you to book the next plane ride to Germany and participate in a little sexy Oktoberfest… right after you learn a trick or two from these raunchy videos.