Introduction
People! I love water! But if there's anything that I love more than water, it's girls all watered up, oiled and shiny just waiting in my poolside getting ready for some cock to be drilled inside of them! Even you're heaving daydreams just fantasizing what I just told you then you're totally gonna love this site. It's called "Lubed".
For all who's new to "Lubed", it's a site that's devoted to producing wet and messy porn, and let me not forget to mention, INTENSE HARDCORE! Some of you might not probably have heard about it yet since it's a new site. But don't let its rookie entrance fool you! Because today as of 2016, it has been harboring a lot of fans lately. Lubed has totally invested its resources into producing sex videos that are wild, entertaining, wet and oiled up. Seeing the number of members, it's been having lately, I'd say they made the right choice with their productions.
So if you're into some messy action in all sorts of places that's wet, hang around for a bit and take a good read at my review. You might just find what you've been looking for around the internet. Time to take a full dive at Lubed!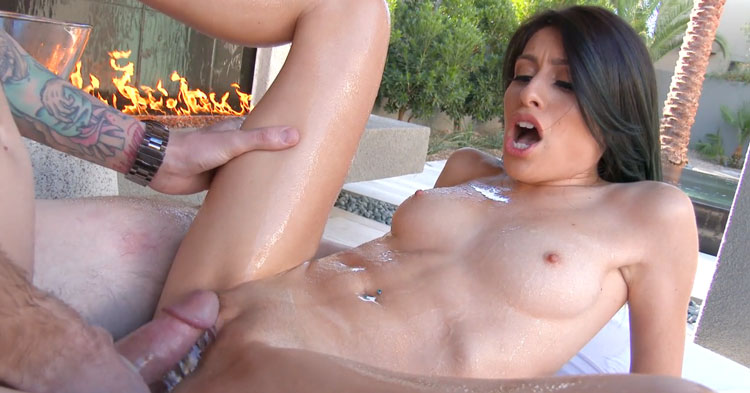 Technical
The website really looks gorgeous and sexy. It is schemed with black and properly aligned. However, what really got my attention was this huge muted movie playing right in front of me on the home screen. I don't know if this is a video or a GIF image. But it sure doesn't lack any quality. It's really a High Def image, playing through random sex scenes. It's a really good thing they did this because it would give the unregistered individuals a good idea about what they are getting if ever they decide to register.
Man, I can't stop noticing these girls sucking those cocks. But let's not get distracted just yet. If you could try and check out their models' tab, you'll see a glimpse of what these girls are. Man just look at those hot sexy girls. They look like they're ready to eat you up dude! By the way, each of these models was HAND-PICKED, Lubed didn't just choose some random girl off the bat, they seriously took a good look if these hot ladies are up to the job and lose all their dignity as they eat all the cum squirting from those bars. Another great thing is, you'll get to see a new face, or a new video every single day.
To top it off, you get to have free access to some selected porn sites too! Talk about too good to be true! This is one offer YOU CAN'T PASS AWAY. Imagine having to see these girls in new angles, new positions, new locations and getting that hardcore sensation every single time EVERYDAY! No complain about their website features. Now, what about the content?
Flicks & Chicks
I know you've seen loads of videos already by now. But guess what, Lubed videos are original, new, fresh and exclusive. So if you think you've seen it all. Lubed would be happy to prove you wrong, and I'm sure you'll be pretty happy too. Witness girls being drilled and share cocks so vigorously and fast that you'll think "where the hell have I been surfing the past 10 years". This site has porn stars whose names have already taken the porn world by storms like Megan Rain, Adriana Chechik, and Keisha Grey.
This site is also the first site to have a 4k Ultra resolution. This type of resolution can present lossless quality even if you project it the biggest big screen TV your daddy could ever buy you. But if you prefer to settle with the simple yet HD video quality you're free to choose from these four other video sizes. 1080p MP4 HD, 720pMP4 HD, 480pWMV HD, and 720p too. The videos are also downloadable without limit. So you can just stock up all these videos that you've learned to love on your laptop or mobile phone and watch them at night!
The producers are also pretty daring, so they don't shoot at your usual porn locations like in a bed or in the kitchen. These porn scenes are shot in outdoor pools, marble rooms, or even in a pedestal facing the beach. These girls would do ANYTHING or shoot ANYWHERE just to show you how they're getting fucked real hard.
In Few Words
Man, after seeing what Lubed has got. I'm awestruck to even think this site is new. For a new porn site, they really found a way to creep in of the top spot in the porn industry. The website is sleek and cool, a lot of interactive flash animations and a nice model selections page too. The logo is rad, and the extra free site feature is really overwhelming. But seeing the models doing what they do, as beautiful as they are, there's really no words to describe the orgasm you get after a satisfying hardcore sex.
The video quality is just spectacular. So if you're still looking for that one porn site that has new, fresh videos, then you have found it. Lubed doesn't disappoint in website design and features, Lubed has got one of the hottest models there is in the porn world, and they also have the best production and video quality there ever was in porn history. I won't be surprised to see this site soon challenging the top one spot in the porn industry. If you want to be satisfied and are already tired of searching. Search no more. You have already got what you've been looking for.