Introduction
Pretty Dirty is a premier porn site specializing in offering taboo sex, with a twist. Presenting videos and porn series and movies laced with plots, storylines, and dialogues, with the most beautiful and sexy pornstars pitched in to up the sex quotient, Pretty Dirty brings a sense of genuineness in its porn contents.
Pretty Dirty brings to life the sexiest, most scandalous and taboo themed porn videos that would make your day, in fact, your nights. The taboo themes and niches with awesome stories make watching these videos as erotic and thrilling as they can be. Presented by the ace porn director, Bree Mills, Pretty Dirty is one of the most lucrative porn sites on the Internet today.
There are many reasons why Pretty Dirty has been a favourite among connoisseurs, and we have included a review to help you understand why Pretty Dirty is so good and what you will gain by subscribing to this awesome taboo themed and scandalous porn site.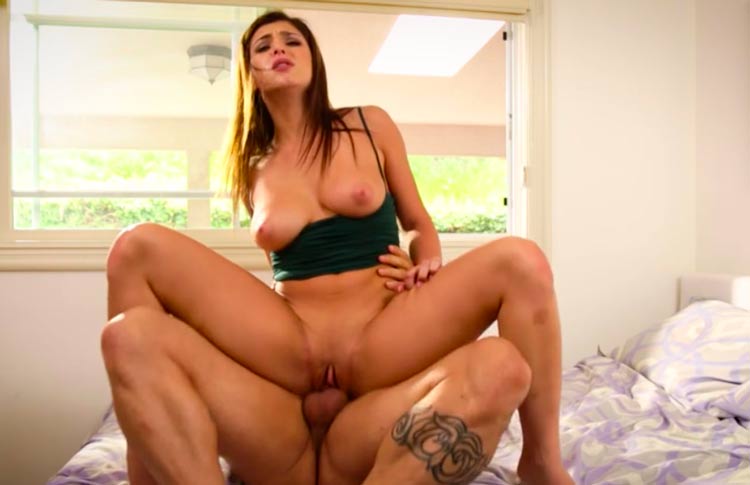 Technical
Pretty Dirty has an awesome website, pretty and dirty at the same time. Pretty, because of the colour themes, the layout, overall design and presence of specific features employed on the site. And dirty, because of the taboo and scandalous themes presented wonderfully.
What hits you when you first visit the site is the black and pink colour scheme used. Black as the background and pink as the colour for links. Well, these aren't the only colours used. You will find a shade of blue used in the trailer below the header, and grey colour for normal text. Traces of red, white, turquoise blue and yellow are splashed across the site at strategic places.
On the header, there are tabs linked to pages marked Videos, Extras, Porn Stars, Pictures and Featured Videos. A search tool to the right of the links, a member login dropdown arrow and a blue Join Now button complete the header.
Immediately after the header, there is a featured video, Indirect Relations. This is Pretty Dirty's most shocking movie ever made. Following the featured video, there are big and crystal clear thumbnails of the videos and scenes, laid out in a grid format. First, there is a list of the Latest Pretty Dirty porn videos. Below this, are the popular ones. While this is only an enticer, you will get more when you click on the videos link on the header. The search tool also comes in handy in such cases when you must search for your favourite video or pornstar. Below the video thumbnails, you will find the most popular pornstars. Again, this is only an indicative list of pornstars. You will find more of them when you click the Pornstars link on the header.
For the record, Pretty Dirty boasts of over 200 videos, which are updated every week. The videos can be arranged according to the latest, most viewed and highest rated. Additionally, one can also check out the upcoming videos on Pretty Dirty. With over 100 porn stars and 180 picture albums, Pretty Dirty does boast of an impressive library of awesome porn content. There are some extras that Pretty Dirty provides, and it includes numerous behind the scenes footages showing you how these awesome videos were shot.
Before we conclude this section, it is worthwhile mentioning that Pretty Dirty is a very lucrative site to own and subscribe to. Subscription is affordable, with a monthly, a quarterly and an annual membership plan. Trust me, the annual membership plan is the most popular, which gives you a whopping 60% savings.
Flicks & Chicks
Describing a bevy of beautiful and sexy sluts will take time, and if we need to describe the 100+ girls modeling on Pretty Dirty, it may not be possible to do it in a short span of time. However, it is worthwhile pointing out that Pretty Dirty has roped in the most beautiful, talented and popular pornstars from across the world. You may have heard about many of them too, like India Summer, Kendra Lust, Adriana Chechik, Dillion Harper, Brandi Love, Gina Valentina, Ashley Adams and much more. The sluts aren't the only ones attractive. The male pornstars can get any slut go wild, wet between her legs and go weak on her knees too.
These chicks haven't become an established pornstar just like that. They have awesome bodies, sexy legs, stupendous boobs, perky and lively nipples, flattest tummies, pinkest pussies, and roundest asses. Watching these awesomely beautiful and kinky pornstars performing for you will make your cock go hard and wild in no time.
The chicks are diverse, and come from various ethnicities and include Americans, Europeans, Latinas, Asians, and Indians too. There are blondes, brunettes, dark-haired beauties and redheads. Their smooth skin and beautiful bodies will make you go nuts watching them in their birthday suits.
Watch these sluts give blowjobs and deepthroat, take in boners into their asses and pussies, suck nipples and have their nipples sucked, and fucked and pounded in the craziest ways, and relishing warm jizz and cum in their mouths and other holes. Let's describe a video and you will realize how hot and lovely Pretty Dirty is. Watch out "What Happened Last Night." Featuring Zoe Parker, Marcus London, and Lily Adams, the scene starts off with Zoe coming over to Lily's place for a night out. After dinner, when the girls are deeply asleep, Marcus tip-toes to Lily's room and starts fondling Zoe's breasts, while stroking his cock. Zoe, pretending to be asleep, is aroused with her nipples pointing outward and hard. She allows Marcus to feel her as he pleases, and then he fucks the hell out of her, cumming on her flat tummy while Zoe licks and eats his warm cum as if it was her dessert.
In Few Words
What more can you ask for from a porn site? You have everything you want for from a porn site, on Pretty Dirty. This outstanding site has the most well-recognized and famous pornstars from across the world, they put up the most interesting shows for you and your cock, and get fucked in insane ways. Affordable to subscribe and providing tons of bonus contents, Pretty Dirty should not be given a miss. Click Join Now and enjoy glorious nights forever.