Introduction
Racks and Blacks is a site with a highly niched collection, which offers a considerable amount of content considering how specific the theme of the site is. The three main porn categories of this site which came together to form one mega niched collection are big boobs, big cocks, and interracial porn. This site is all about busty white chicks who are getting their ass and cunts drilled by black dudes with monster dongs. And the chicks who are getting ravished by the black dudes are some of the most famous busty porn stars in the world. Because which I stressed these things is to reach the conclusion of why this collection is awesome. You see, I have a theory.
The porn stars we all love and follow are most of the time faking their orgasms and moans. That's because they are so used to sex that nothing really impresses them anymore. However, when they get filled up by black cock, I don't know if they could keep it in. I tend to think that all the orgasms and screams in this collection are 100% legit.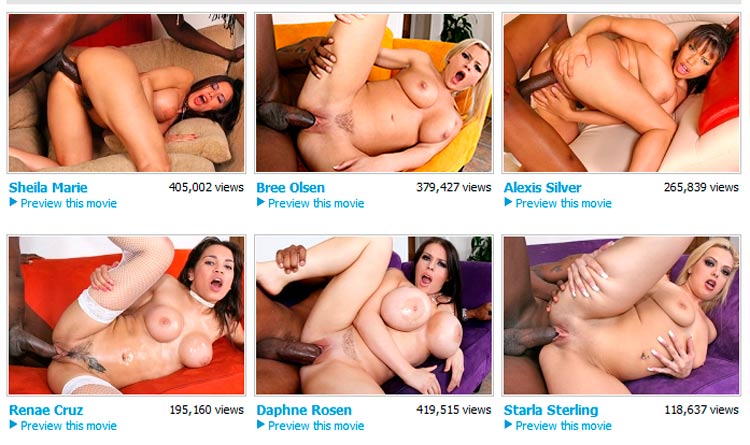 Technical
With Racks and Blacks not only that you will get an awesome porn collection, but it will also be delivered to you on a clean and well-organized website. This site is part of the Brazzers collection, which means that the design team from Brazzers is the one who was behind the design of this website. So you can expect a great loading time for both pages and videos, as well as an easy to use interface. The website only kept useful elements, thus creating a minimalist and spaced interface, which makes the touchscreen navigation from small mobile devices, such as smartphones or iPods, a delight. The browsing of the Racks and Blacks collection goes as smoothly as possible. The filters and tags of the site are well calibrated so that the results will always be relevant to your searches.
If you want to gamble on the porn you will watch during a naughty session in your bedroom, you can try the "I Feel Horny" feature of the site, which is the porn version of the "I feel lucky" button of Google. Clicking this button will bring you some random videos of this collection. You will also be able to sort the collection through the keyword, tag or model search bars. All these browsing functions put together are the working just as an advanced search tool. I talked a lot about the collection of Racks and Blacks in the introduction of the review, but there are still things left to say about it. First of all, let's talk numbers. Even if the site was launched in 2005, it only put together a collection of 109 episodes. But what the collection loses in numbers, it gains in quality.
The content of this site is directed by the same talents who put together other famous sites of the Brazzers network, so everyone who joins this site is in for a treat. Each episode of the site comes with a video and some of them have a gallery. The videos are on average 25 minutes and they include everything from deepthroat POV blowjob and foot play too hard anal and massive cumshots. However, most of the sex in this collection is one-on-one, but there are like two MMF threesomes and an FFM one. The collection features about 60 galleries and each gallery has 150+ pictures, both screen caps, and HQ photos. Everything on this site is available for download and there are no limits on that.
Flicks & Chicks
When it comes to the chicks who are performing in this collection, all I can say is "Me Gusta". I really like the porn stars of Racks and Blacks, because let's face it: I am a man and I like big boobs. I bet that it's the case for you and every other man on Earth. The only men who say that they don't like big boobs are the lying guys who got stuck with boobless girlfriends. But check their search history and you will see that they watch a lot of big boobs porn. The site features all the best models with DD boobs in the world of porn.
The most viewed 3 of them in this collection are Gianna Michaels, Daphne Rosen, and Angel Dark, while the most rated are Gianna Michaels (again), Ava Devine and Daphne Rosen. The site has a well-organized model index, where you can look for your favorite porn star or just browse the collection based on the looks of the girls. The models have personal profiles where you can find out everything about them. You can like or dislike a model, which helps the community make the rating order relevant. All in all, the 110 porn stars of this collection are simply amazing!
In Few Words
Even if the collection of this site is not that big, it still has a considerable amount of videos to keep you happy for about three months. However, the bonus coming from Brazzers is amazing. It makes the Racks and Blacks memberships a 33 for one offer because that's how many amazing sites are on this network. The overall collection you'll have access to will count more than 6,467 scenes and some of the sites in the network are still updating every week.
However, Racks and Blacks is not updating anymore and there is no news that it will start updating again, so it's really just the 109 episodes you will enjoy. Other than the size of the collection, there are no problems with this site. Its trusty, it offers discrete billing and a 24/7 customer support line. Some of the best services in the adult industry for some of the best prices!