Introduction
Sexyhub is the portal that gets you into five sites focusing on 'sensual erotica' rather than the mechanics of sex, as so many other sites seem to be. They describe themselves as 'female and couple friendly' porn or, paraphrasing, it's porn you'd be happy to share with your female partner because it's made in a way that she might be expected to like it too. All five sites are available to you for the price of your one membership and the network uploads new movies and photos every day to one or more of their sites. As well, the network also has Live Webcams where you can connect with the models in the way movies and photos can't quite do with conversation and the exchange of interesting ideas and fantasies.
Sites include 'Massage Rooms', which has a tagline of 'always a happy ending' and features male-female or female-female couples massaging each other to that happy ending in upscale massage and sauna rooms, 'Dane Jones' features male-female couples enjoying romantic sex in chic surroundings, 'Lesbea' where lesbian erotica is portrayed in the most sensual of ways, 'MomXXX' where women play with men or other women, and 'Girlfriends' with its more erotic views of girls playing with girls and loving it.
The cinematography is also great so the videos capture the sensual ambiance of the performance without losing the details, no soft focus or mood lighting to spoil the view. For the network to maintain this ambiance across all its sites, year after year, they have to keep control over production so you know their movies are made exclusively for them and this where you'll see them first and foremost.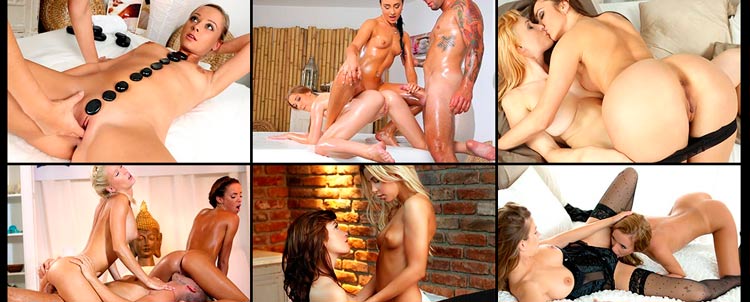 Technical
The site is laid out to be used by members rather than visitors because, although there are plenty of sexy images and links to all the network's sites on the page, the links only take a casual web surfer to the registration page. For members, it's the gateway to all five sensual sites and the live webcam site. Searching for the content is straightforward; a menu at the top of the header has links to 'Top Rated', 'Girls', 'Sites', and 'Videos'. The header has a carousel of images from each site flicking through each in turn with a link to the relevant site. Below the header, the page's collection of images are divided into 'Latest Videos', and 'Top Rated' videos, each with a button that expands the selection from the six on the page to 'View All'.
Between each section and again at the foot of the page are more links that take a visitor to the sign-up page. As porn is produced for a mainly male audience, it isn't (for the most part) particularly appealing to women so these sites, which are aimed at both women and men, have mapped out a fairly exclusive space for themselves in the porn spectrum. Within that exclusive niche, however, the Sexyhub sites deserve special mention for their overall quality of concept and delivery. Unusually for this world, they show attractive people doing attractive things to each other in attractive settings. In the porn world that makes them out there on the edge, almost weird. And you can get these idealistic movies through streaming and also unlimited downloads of videos and pictures to your PC and mobile devices.
Flicks & Chicks
The sites each focus on a specific porn niche with different categories happening within the sites. Overall, however, the most covered 'category' of sex on show is lesbian, girl-on-girl; it features on every site. If that's something that turns you on then Sexyhub and its network of sites have your 'kink' covered. Similarly, as this is a female-friendly network, pussy licking, by both men and women, is also well represented. Threesomes show up too, mainly of the two women, one man permutation but with some all-girl threesomes as well. The models are mainly creamy-complexioned or golden tanned women and men with few tattoos or piercings and those few they have are generally discreet. Allowing for that, there's plenty of variety in size and shape and hair color, as well as more important points such as breasts, which are fine to full, bottoms that are pert to rounded, lips that are neat or plump, and figures that are willowy to curvy.
Sexyhub has thousands of quality sensual videos exclusive to their sites and all made in their inimitable style, ideal for weekend evenings at home with or without a partner. If it's a winter evening you may like 'Summer Day Trip parts 1 and 2' where three gorgeous girls stroll in the country, losing their clothes as they go, before finding a secluded spot to make love. If you're watching on a summer's evening, you may want to remember the joys of ice and snow with 'In The Winter Wonderland' with its two Caucasian chicks warmly wrapped in woolen hats and coats sharing intimate moments among the snow-covered fir trees. Maybe you like to watch a woman cum until she's breathless and you can in 'Multiple Orgasms'. Or maybe you love Lesbian sex, like that presented by that well-known pornstar Lucy Li and her friend in 'Lucy Li on Debora' or threesomes as in 'George and Uma on Zuzana'.
In Few Words
Are you a fan of tasteful, languid, sumptuous movies? Do you long for erotica that isn't crude, ferocious, and distasteful? Do your tastes run to gentleness rather than bluntness? Would you like to share your erotica with your own girlfriend? If you answered 'yes' to any of these questions then the Sexyhub site and network have been made specifically for you and the woman in your life.
And, after all, sex is best as a shared experience even at the just watching level. If you aren't into sharing, the sites are still worth joining for anyone who's turned on by girl on girl action because they do it best.