Introduction
SneakySex is a great RealityKings Network porn site that features the hottest and raunchiest beauties in some of the most scintillating reality porn movies you have ever seen. The site offers intense porn video scenes that surely get you ejaculating into your pants time and again. The sluts are ready to do anything and everything to ensure that they give their men the best times of their lives, and you, the most massive rock hard erection of your entire life. They are good at what they do. They use the sexual games and naughty antics to churn out the most sensually and erotic arousing porn footages the whole industry has seen in a very long time.
The premise of the site is all about eating the 'forbidden fruit'. It is about doing what you are not supposed to do, where you are not supposed to do it. People always say that sex is more exciting when you risk being caught, and that is all that the site is about. You will find a lot of forbidden sex, sex with other people who don't know that you are fucking being in the room, cheating on boyfriends, cheating with boyfriend's friends etc. on the site. There are sneaking cheating wives and repair man fantasies who risk being discovered just to get a fresh huge monster dong to pound their needy hot tight twats. It's sneaky, hot and raunchy fucking fun, naughty, all in HD and full HD, and truly hot.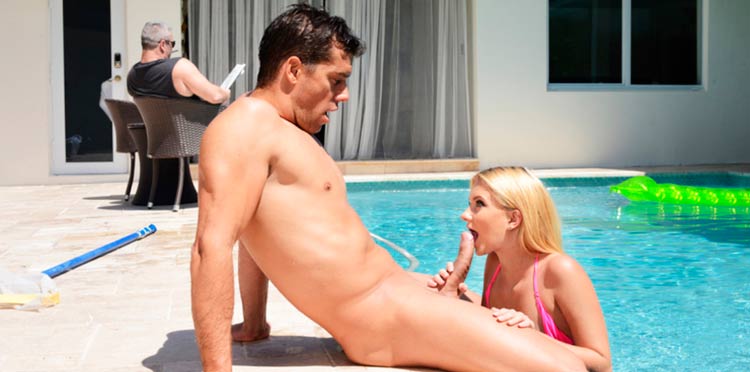 Technical
SneakySex features a slick looking tour page that does a really perfect job of making its massive collection of content appear great. The site has conveniently chosen to offer previews of all its video clips which you can access from the tour page by scrolling through pages. You can also choose to sort or filter which footage to preview by using any of the primary menu link buttons sitting just below the header from the tour page. Additionally, every model's name is a link that takes you to all the information concerning the model like rating, the number of clips the model has featured in, a rundown list of all the videos the model has participated in and so on. There is also a models index, an images section and a section for bonus sites.
The site has a video archive of about 50 exclusive HD and full HD clips for now with updates being regularly added at a minimum of once a week. This means the site will surely gather a massive library of content in no time. There are no download limits for members when it comes to how much content they can download from the site. The download can be made in MP4 or WMV file formats at the highest resolution of 1920 x 1080 @ 5000 kbps. For users that desire to watch the clips online, they can stream them onto a flash player that is embedded on the site for that purpose. In addition to video content, the site also offers around 50 exclusive hi-res image sets for your enjoyment and entertainment. The images can be downloaded as ZIP files by users who don't have much time to spend downloading the images one after the other.
The site was designed with a responsive template to ensure that it loads on devices of every screen resolution fast and fully. There is also a mobile version to ensure that even mobile device user get the best possible performance from the wonderful site.
Flicks & Chicks
SneakySex features couples that try hiding their public sex. There's nothing as hot as fucking out a pretty damsel's brains while her dad or boyfriend is in the next room and unaware. The thrill of connecting to someone while others are nearby and could interrupt at any time just makes the sex turn much hotter. Whether you are fucking the babysitter upstairs or the repair-man inside the room – you never know what could happen if you are caught. The site exposes the outcome when hot and horny couples fuck out each other's brains not without being mindful of the fact that other people are just nearby.
You will see sexy and horny blondes sucking their boyfriends' huge cocks while attending the office Christmas get together. You will get to watch soccer mums getting a taste of their very first lesbian experience sometimes in the parking lot. Just watch with great anticipation as all guys on the site try emptying their heavy cum loads before they are caught by one person or the other. The feature that makes these scenes too hot is seeing the intensity with which the sexy sluts are turned on whenever they are being fucked while there are people that could catch them close by. The raunchy sluts will silence their orgasmic screams and muffle their stimulation moans as their cunts get wetter and hotter with every second that passes.
The site offers you with the hottest beauties who are always hunting around looking for the best possible places where they can fuck. Busty and beautiful MILFs desiring some real fucking from a new man, sexy girlfriends with the perfect tits cheating their boyfriends, and banging big booty cougars searching for new monster cocks to devour, the site has all of them. Although the site has not even been around for long, it has already built an archive of exhilarating scenes that sure give you a hard rock erection in their hundreds. This should show you that there is a real promise of much greater things to come. The models are so good at what they do that, the naughty antic and their sexual games make you begin to dream of fucking them too. Well, it is possible but only when you sign up to the amazing site.
In Few Words
SneakySex features the most interesting premise of porn entertainment and truly sticks to it. The site features the most intimate couplings that are made hotter by the realization that somebody nearby could walk in at any moment. Couple this with the raunchy and horny stars, the stellar production, the adrenaline pumping plot twists, and the bonus access to a whopping 44 RealityKings network member sites and you get the ideal site for introducing porn into your sex life.