Introduction
Stiletto Girl is a site that provides entertainment for all you high heel fetish fans. The site combines the attention of the sexy heels with the stunning and breathtaking splendor of pretty hot girls who wear them. Heels have been a controversial accessory for women across the world. The stiletto turned the tide on the tale-tale sexy innuendos that heels suggested in earlier fashion. The heel officially became a symbol of sensual excitement and female titillation when the stiletto came on the scene.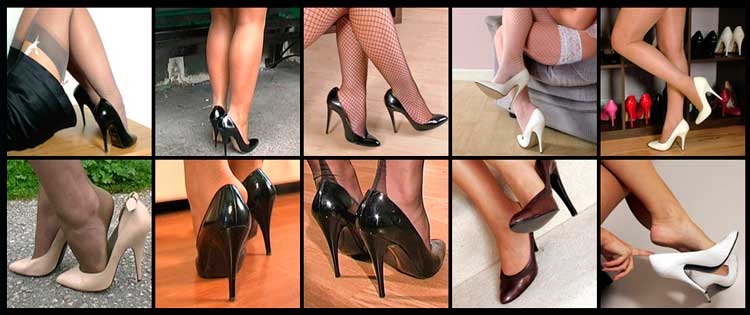 Technical
The site presents you with an impressive combination of style and tease. I love the choice of the background décor. There is no streaming on the site but you can download your favorite videos and pics in a zip file. I also wished they added more file formats so that the content can be enjoyed on a wider range of device types. There is no search tool on this site but you have a lot of other options, including links embedded in the captions on the landing page. You may also use the drop-down menu on the landing page. Users can browse using the model index listing too. I could also easily access the site using my mobile phone. The content loads at impressive speeds. You get what you see here. When you click on an item, you are led to the full version.
Flicks & Chicks
There are over 266 videos availed for your viewing on this site. Each of the scenes has a playback duration of up to 6 minutes. There are 44 galleries with 65 pics in each of them. There isn't sex or nudity here. In fact, some critics argue that this site isn't exactly a porn site in the sense of the word. Yet I still have a lot going when I sampled the scenes featuring various hot models in needle sharp heels. Sometimes having clothes on with all other suggestive items in full view is a far stronger sensual trigger than nudity. You will love the shoes and even the wearers more as you shift your glances up their legs, thighs, hips, boobs and face. Some of the girls are dressed in suggestive miniskirts. Others seat in naughty ways that tempt you to squint and peer at their panties. The stiletto stunts provide a subtle foot fetish entertainment on the platform. I think I got a lot more than I expected on this site. My craving to size up a pretty British woman was fulfilled when I met several girls on this site, in their characteristic stilettos, trying out all manner of stunts to get my cock spitting some 'venom'. Although I could not see any overt sex encounters, I had a lot of fun viewing these sexy and attractive models standing in their designer stilettos, sitting in suggestive ways with their heels conspicuously showing. Some models are lying on their beds as they lift the heels for full view.
In Few Words
The site provides unique and exclusive content that, not only celebrates the glamour of stiletto heels, but also shows how beauty and accessory can be used in complementary ways. There is sufficient foot fetish display that comes in handy for any fans with a knack and craving for nylon and pantyhose antics. You won't be touching, at least not with your hands but your eyes can touch as much as they wish.