Introduction
The porn industry has been growing lately, and what that means is that there are many more sites that you can enjoy and have fun while watching and while downloading their content. But, likewise, there are many scam sites that you would want to avoid, at all costs, and what better way to avoid a bad site than to join one that is good? Strap Attackers is an amazing site that brings to you girls who love fucking guys in the ass with a strap-on. Not only do they fuck, but they also get fucked, so get ready for a whole lot of amazing hardcore action.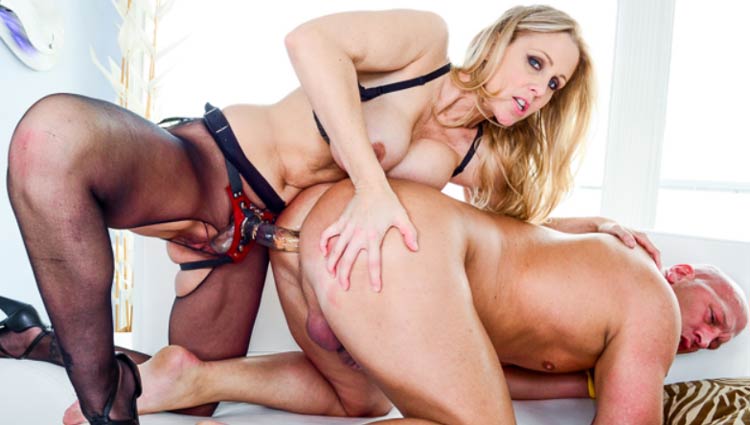 Technical
When you first get to the home page, you will be amazed at its design, probably as much as I have been. The site has quite a design, and to start off, you can see that from the purple and white background, which also has the images of the girls and the guys of the site, in action. What is more, after some browsing, you will notice that the rest of the site is also white and purple, and at the top of the page, next to the logo, you can enjoy the changing image, that is just one of the many previews on the home page.
Bellow the very essential menu bar, you can find a plethora of those previews, and each of them has a short description, as well as the duration, the categories that it fits in, and the rating. The rest of the site you get access to after joining, and you get to enjoy a variety of perks, such as good organization, great sorting, a search bar, and of course, great bandwidth. You will not experience any lag on this site, whatsoever, which is a great thing, considering what a problem can lag present.
Flicks & Chicks
After getting to the content, you will realize what makes is so much different from all the other content out there, and that is the sheer variety of it. You get to see hot girls with hot strap -ons, fucking guys in the ass. You get to see those same guys cum while lying on their backs. Sure, there are blowjobs here, too, and threesomes, where two girls fuck the same guy, giving him the ride of his life.
What is more, the content of the site is available in full HD, so all the juicy details can clearly be seen and enjoyed. What is more, the site also has over 26 DVD's, so you have a lot of content to explore, especially if you count in the regular updates. If you are not a fan of streaming, you can download the content and in the WMV and the MP4 format.
They also have a gallery of photos, where you can find over 7200 photos, all of which you can download, in the ZIP format. With over 24 bonus sites, there is a lot to explore here, as all of them have different content, available to you for the price of one site.
In Few Words
Free and unlimited downloads and hot girls fucking hot guys with strap ons, and afterward, they themselves get fucked, there is nothing lacking on this site. Go on and give Strap Attackers a visit, to see why they are one of the best sites out there.