Introduction
Like the name suggests, Strapon Slaves is a site that is dedicated to strapping up sex mates for fetish excitement. It is a femdom porn platform that explores various ways of how a female can enslave her male mates in sexual encounters. The models use a range of strap-on toys and techniques to extract the highest submission they can get from their male counterparts. It is about slavery and the sensual benefits that abound for femdom fetish enthusiasts.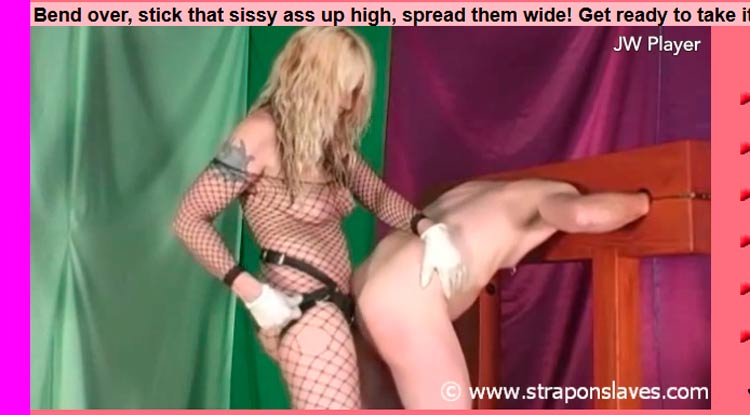 Technical
Strapon Slaves has a classic design and layout. The site has great visuals and a simple menu. I didn't find the background color inviting, wish they would use a warm color. From the homepage, there are graphics depicting men and women in strapons making out. What I like about the site is that there is a mobile version. In fact, I just watched a scene on mobile before I got to share this review. Users can access new and old files set in various WMV and Flash DL formats. I was also relieved that I could download as many files as wished while my membership was valid.
I watched several femdom scenes I haven't seen elsewhere else. I also liked the way the site brought me up to date on the various scenes. I was briefed on the anal action at hand before I got into the deep end of the femdom party.
Flicks & Chicks
If you have a knack for Russian beauties in slave stunts, you will get a treat of your life on Strapon Slaves. In addition, you are constantly provided with something new as the site updates content every couple of days. Overall, the site features 43 video scenes with an approximate playtime of 16 minutes each. The video files can be streamed with the flash DL at remarkable bitrate. You can also access the files in two WMV formats, i.e., WMV (3200k, 1280×720) and WMV (2000k, 640×480). Download the files to a range of devices including your mobile phone. There are 42 galleries to feed your eyes on. You can either view the pics directly or download them to your device. Moreover, the site provides the zip file download option. Downloading in zip file has always been my favorite approach to ripping video and photos from porn sites. It helps me organize my libraries locally.
My only misgiving is the fact that there are only 43 video scenes on the site. I would do with a few more. However, the fact that these scenes are played in HD and last a respectable 16 minutes each seemed to compensate for my insatiable appetite for more femdom anal fetishes. The fact that I could access several hardcore sex slave scenes with female dominating the action was satisfying for me. There is plenty to sample; from anal action to blowjobs and all. It is also exciting to watch how those Russian models torment fellow girls in fetish acumen. I enjoyed crystal clear videos; some of which streamed at bitrates exceeding 3200k. This is an aspect that the owners should consider reviewing so as to increase the payment options. Online checks are commonly available nonetheless, and it didn't take me time to process mine.
In Few Words
Strapon Slaves is a new but fast growing site that delivers more than you would expect. I loved the choice of Russian models who swept me off my feet with their Eastern Europe mannerism in sex scenes. There is a deliberate effort to keep improving the content and service. If you are looking for femdom fetish porn that presents scenes in refined form, you won't be disappointed on this site. The Russian girls understand their game. You just might get hooked.