Introduction
TeenCurves is a member of the TeamSkeet's pages, and that alone is an assurance that you will see some really nice fresh chicks on screen. TeamSkeet focuses mostly on girls who are new to porn, and so they have tight pussies, smooth skin and living angel-like faces. TeenCurves has its focus on curves: no matter what kind of action is going on, the camera is following the ass of the models. All videos are in high resolution, just like the picture sets. When accessing the site, you will be able to enter all sites of TeamSkeet. There are 22 sites featuring the skinniest cuties ranging from Europeans and Americans to Asians, Latinas, and other exotic beauties, you will certainly find what you're looking for. There are regular updates on all sites, seven times a week, so every day there is new content uploaded. TeenCurves and its sister sites are all professionals; there isn't any user-submitted content to be found. TeamSkeet didn't win any awards yet, but with the great content and excellent quality they're on the right track for some AVN or XBiz awards. Some TeamSkeet films and girls are nominated in multiple categories for the AVN awards of 2015. Professional companies don't need to place ads on their sites, and this goes for all TeamSkeet pages too, including TeenCurves too.
Technical
Opening the TeenCurves site in your browser you will see the focus of the site in that second. There are pictures, thumbnails all around, all showing perfectly shaped fresh cuties buttocks. It's clear that TeamSkeet's designers try to blow away the cloud what is ruling all porn sites: the dark, overwhelming color themes, which makes you feel like you are doing something bad in a dark alley with a cheap whore. The background color of the TeenCurves is a darker black, but the thumbnails are in a white frame, so the overall look of the site is friendly. One of the reasons why it's good to look at the pages is that you find only perfectly shaped hot girl on every picture. The layout is clear and simple: there is main headline with some hot booties and the name of the site. Look at that and you will know what this is all about. There is a main menu, with the most important thing to choose from: Videos, Most Popular Girls and Newest Scenes. You can navigate back to the homepage with one click, and there is also a Member Login and a Join button. Below the menu, you will find lots of thumbnails; in fact all videos can be listed, so you can choose any of the 200+ films on the site without turning pages one by one. The embedded player on the site is loading fast, and it won't freeze your browser. The streaming speed is excellent, but that's the least you can expect from a site, which provides you HD and Full-HD videos. All scenes have a photo gallery, so you can download you favorite moments in high resolution pictures. The TeenCurves itself don't have mobile site, instead it's accessible from the TeamSkeet's site. You can select the site, than browse videos sorted by Rates, Views or you can list the newest videos first. TeenCurves is all about booty and miraculous ass. The niche is very popular; there are dozens of sites which are focused on big bouncing boobs. The site needs to fight with really heavy competition, not just in the big niche (fresh girls) but also in the focused theme of the site (booty). As it endeavor's to be a top site, the TeenCurves has a constantly growing number of videos, to catch up with the other sites.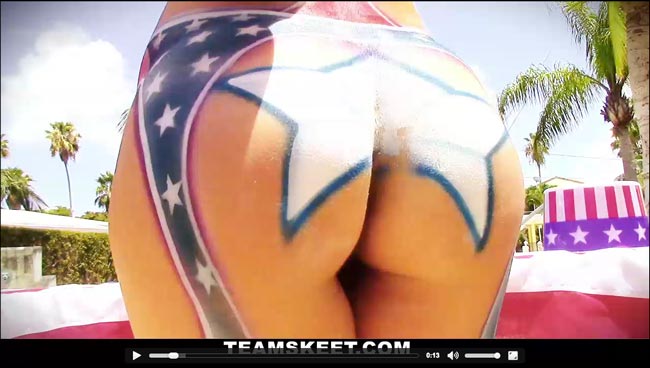 Flicks & Chicks
The gals on the site are all fresh in the porn industry. They have tight pussies and smooth skin, and first and foremost: big booties. These girls make a living from their perfectly sculpted bodies and their juicy round buttocks. TeamSkeet is always looking for the most enthusiastic chicks with perfect body, and they may not be porn stars, these girls will give you their best. The models featured in the scenes can do everything. They give blowjobs, then jump on the cock and bounce on it. They are opened to get oiled and banged from behind in their pussy, but there are lots of anal actions too. These chick like to move their asses for your pleasure, they twist and turn around from riding to doggie style. You can find interracial action, masturbation and even lesbians playing with each other. Watching to perfect chicks teasing and fucking each other can make any man stone hard. The videos can be watched online with the fast embedded player. The length of the scenes are varying most of them are over ten minutes; the average length is around 25-30 minutes. The overall quality of the scenes is excellent, every one of them is recorded in HD and Full-HD, and you can choose the quality of the video, suitable for your internet connection's speed. Also all films can be downloaded in multiple formats: HD, SD, WMV, IPhone, Ipad, 3g and Mobile video). You will find more than 200 videos listed on the site, and it's updated regularly. As soon as there is some hot ass action recorded, it will be uploaded to the site, and you can access it from the TeenCurves itself, or from the TeamSkeet site.
In Few Words
These girls are not fat, but they have big bouncing behinds. They are providing you real diversified pleasure, from blowjobs to anal, and you see their asses squeezed, spanked, grasped during some hard banging. When you register you will get access to 22 sites, so if you found your favorite chick with the perfect curves, you can go and look around and see her in all kind of action. There is great competition in the niche, but TeenCurves can become the leader in it if they continue on this track.