Introduction
Wicked is like the cream of the crop in the adult websites industry. It is by far one of the most popular websites around. Considering the tough competition in the porn industry, it is a big thing to be considered one of the biggest players in the field. They can be considered the queen and king of porn websites. And this high appreciation does not come by accident; they have a lot of experience gained in years of producing high quality adult content. Let's be clear. If you are looking for high quality, high definition porn movies (and a lot more) then Wicked is the place to go. The
The quality of the girls is without competition. I would not get your hopes too high if the girls would not be EXTREMELY HOT. The kind of hotness that gets your pole stiff faster than a supercar goes from 0 to 60. Perfect natural tits, bubble perfect asses, sweet faces…you name it and you will find it at Wicked. What you get, besides the
What you get, besides the high quality videos is the option to download them to your computer archived in zip format, high quality high resolution photos, unlimited number of times you can download the content from their website. Also, the videos are available in multiple formats so you can choose which format fits your needs best. The Wicked website does also feature sections like Cam Girls and Live Shows so you will get the full package if you join.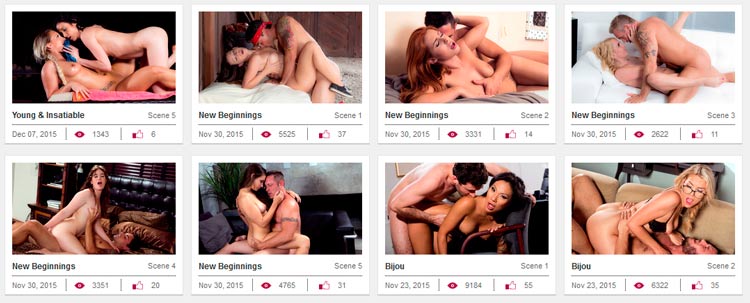 Technical
The user interface is extremely intuitive and you can find the desired content within a couple of mouse clicks. It is extremely straight forward and easy to get used to. The design of Wicked is extremely clean and somewhat minimalist, leaving you breathing room while putting the vast majority of content in a middle section of the website. Wicked also features a sliding header which shows the content that they consider needs to be promoted, under it you will find a section showing the most recently added videos. After
After that you will see a section which shows which videos were rated as being best by the user base. I also have to mention they have both full movies and just scenes, so if you want some quick porn action you will find it, or if you just want to enjoy a full movie you will also find what you need. As I previously said, the videos are downloadable and the most important feature in my opinion is that there is no limit on the number of times you can download the videos – unlike some other websites. Of course, as any modern day premium adult content website, their videos are mobile ready so you can enjoy their content on your Smartphone or tablet pc. They have a vast array of categories available so that Wicked fits the needs of basically anyone. If
If amateur content is your thing, they have it. If you prefer something a little more hardcore like double penetration videos, you will find content here. Did I mention that they have so many categories that you can actually choose content by the type of tits the girls got (you can choose huge breasts, natural breasts, perky breasts etc.) and you can even sort videos by the type of body you like? Yes, if you are into slim girls you got it. Same goes for curvy bodies. It's all there! Whatever you want, you will get it. The streaming speed is also great. Of course, you need your own connection to be at least decent, but on their side you won't have any problem.
Flicks & Chicks
Basically here you will find everything but the kitchen sinks. I'm joking of course but Wicked has both amateur girls performing along with regular experienced porn stars. The amateurs have that "girl next door" kind of thing going for them which is quite appealing for a lot of people who don't want to see Victoria Secret like perfect models. On the other hand for those who do appreciate a near perfect female figure, there are porn stars waiting for them.
The amount of videos available in all honesty is overwhelming. You will have content to watch for ages. One movie / series I found to be great is their new (pun intended) "New beginnings" series. The story is quite good, especially for a porn movie, and the content is great. You will see chicks getting taken hard from behind with some cum on ass endings, sex in the office or in a hotel and a lot more. If you are more into the fantasy type of content, another one of their recent movies named "Bijou" will get you inside a fashion world story with a lot of blowjob / pussy licking action completed with doggy style and reverse cowgirl sex ended with cum in mouth and cum swallow scenes.
For those who are drawn more by a great ass you will definitely be please by the likes of Jodi Taylor or Cali Carter – perfect rounded butts! But if you are more of a tits man then Cassidy Banks or Kendra Star will be on your top picks list.
In Few Words
All in all, Wicked is above anything a package. A package which is, without a doubt, complete with everything. You may find a lot of niche websites that can partly rise to the level of Wicked, but on Wicked you have it all. So why go around the web, lurking on five, eight or ten websites to get what you want and need when you can have it all at a single place.
High-quality videos, behind the scenes and bonus video content, live shows and cam girls, Wicked has it all. You would not be mistaken to name it a best bang for the buck deal, as it is totally worth it. Did I mention that you can even sort the videos by the type of panties you prefer: G-string or thong? What more could you want?