Introduction
I like to see a girl giving as good as she receives, and when she's got at least two dicks inside her, Asa Akira is really, really giving. From her home city of Tokyo Asa has come to the USA to show them how it's done. She brings something else to the table and that is usually in the form of hard, anal fucking. As an exotic beauty from the far-east, Asa is Asian king personified.
Technical
At first I didn't have much love for Asa's website. It is a simple production and isn't overly feature rich, but I guess this is one of the reasons why it has such good load speeds and responsiveness when browsing. You won't be hanging around for long waiting for you video to buffer as the overall speed of the site is great. The pink color theme for the page isn't too garish and is perhaps a nice contrast to Asa's auburn skin.
The main page is filled with an introduction video, a small bio section and the rest with all of Asa's content. Structured in 4 columns for ease of viewing and to get the most of the page's real estate, it doesn't feel too cramped and there is plenty of room to see what's going on.
The site is still fast and responsive on mobile devices, but less than optimal when it is trying to bring up video content. Perhaps there is another way around this, though another portal that they provide for mobile devices, but this wasn't apparent whilst I was checking their site.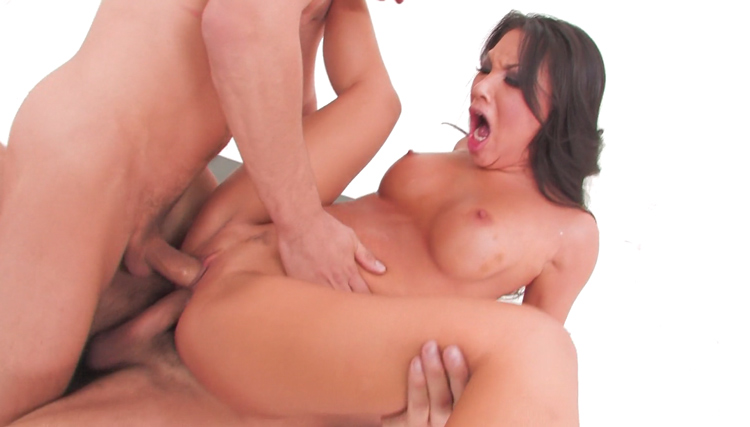 Flicks & Chicks
Just from a cursory glance through the Asa Akira content collection I can see the following kinds of action: Anal (of course!), Blowjobs, 3 ways, Girl on Girl, Gang Bangs, Bondage and a few toys thrown in for good measure.
There is a lot of professionally shot video on the site, but one of the more charming parts to it are Asa's home videos, which are intimate and give a different side to her, still a damn sexy side though! I would estimate her total collection of videos of reaching 200+, because I lost count about 160. They are long scenes, especially the Gang-Bangs and other ones with multiple partners, averaging 20-21 minutes and going as high as 45 minutes in length. They are generally all shot in HD, with high resolution photographs that match with each scene. One downside I found with the photos though is that there is no dedicated gallery that will let me just take in all the images to my hearts content and filter out the videos.
One interesting bonus feature to the site was that your subscription will give you access to the whole PUBA network of sites. Now this was a nice surprise as there are over 60 sites worth of content in the PUBA Network, and they are all at your finger tips with one, very affordable, secure payment.
In Few Words
I enjoyed ever part of my tour of Asa's site. She's got a real talent for fucking and I'm glad she made it into the world of adult entertainment. The site may not be the most feature rich, but it delivers where it counts, in quality content and gorgeous chicks.