Introduction
One of the finest mature porn sites that you should not miss it's BeaCummins. Enter the world of the ultimate cougar who will give you a one of a kind porn experience. Catch the high-quality videos and photos. There are solo scenes that will make you crave for more.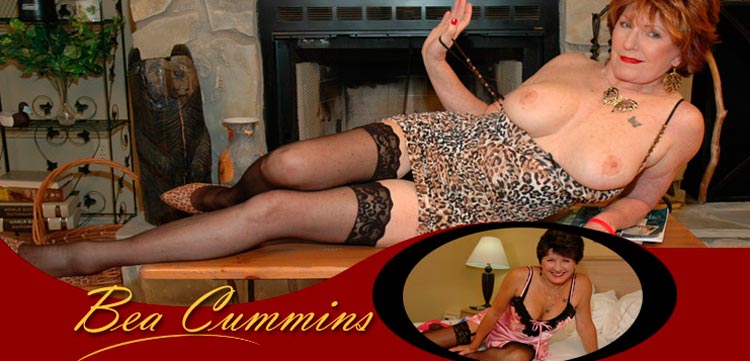 Technical
BeaCummins is known to be one of the best MILF porn sites. It has only one pornstar and amazingly she manages to outdo some of the porn sites available on the net. Her website is noticeable. It has a very fierce website as it uses red and black theme colours. It's impossible for you to feel dull. The site layout is very seductive. You will love the homepage. It provides your basic menus. As an introduction, you can read the well-written bio and introduction of Bea to all the guests. There is an enthralling slideshow of her in different places wearing various sexy costumes. That photos will really set your curiosity to check what more you can get from her.
To find out more, you can click on the FAQ link where you can get information from the common questions being asked to Bea. She has a direct link to her email address, so you can join her group. More or less, the site doesn't just give you high-quality videos and photos. It can also offer you tons of fabulous features like messenger and live chat rooms.
Joining the site is the best way to have full access to the content and unlock the bonus features. If you wish to check out the list of the video and photo galleries, you can click on Updates. On that page, you will have the long list of her precious videos and the sets of photos available for your sexual bliss. She has some like-minded friends too. If you want to taste other alluring MILFs, go to BeaCummins' Friends' page. You've got a pretty good gallery of the cougars who would love to please you as well. But still, the fun and adventure don't end there. If you want to take a rest of hanging around Bea, you can also visit other great MILF porn sites including Clips4Sale, NylonsOnHeels, Brandi4U and so on. The other list is on the site and you better go check it out.
Flicks & Chicks
The ultimate arousing scenes are on BeaCummins. The site has top quality videos. The solo scenes of Bea are all worthy to watch. You can see her wear various sexy costumes. She's been doing her stuff for quite some good time now. You can catch her stripping off her clothes, showing off her tender breasts, huge tits, and wet pussy. Boost your sensations as you watch the scenes when she moans, closes her eyes and bites her lips as she touches her breasts and gives a nice masturbation to her pussy. There are more solo actions you should discover on your own.
Bea is an amazing performer. She's been showing up in various well know porn magazines on the internet too. Through years of experience, taming guys is not that difficult anymore. She's an independent woman who knows what she wants and what to do. You can have a private talk with her inside a private chat room. You can demand her your sexual fantasies that you want her to do. She is more than willing to please you. Together, both of you can reach your climax at its finest. Talk dirty and be nasty, that's her favourite stuff.
The videos are available for streaming. It is safe and fun. There are no buffs and no viruses. You can achieve the full porn satisfaction seamlessly. The video time plays more or less 20 minutes. There are sets of photos included per video option. You can enjoy it through slideshows. The high-res photos are fabulous. Catch her girl-on-girl action too! BeaCummins got a decent amount of content to offer you.
In Few Words
BeaCummins is highly recommended for all porn lovers who want to pursue their cougar or MILF passion. Catch the scenes that will bring your sexual fantasies to life. You will never regret the membership.
"The site was closed. Take a look at this one: Fuck Mature"