Introduction
Of all the things that you can jerk off to, the prospect of fucking your teacher will probably give you immense pleasure. At a stage of your life when you fantasize about having sex with numerous chicks, fucking your teacher seems very appealing while being frightening too. However, with a site like BigTitsAtSchool, you can forget all your worries and relax while fucking your teacher.
BigTitsAtSchool is a porn site that fulfills these deepest fantasies. Featuring some of the most beautiful and famous porn stars, the themes will blow your mind away. There are male teachers fucking female chicks who need to be disciplined or the sluts need good grades in a subject and resort to fuck their hot teachers. You will also find female teachers seeking hot hunks in their teaching sessions and want to use them as their muse for specific lecture sessions. The ways in which the porn on this site is depicted will make you jerk-off successfully, night-after-night, and that's the price you pay for subscribing to this site.
You may be wondering that I am taking things a little far, but if you read this objective review that I have written for your benefit, you will realize that this site is indeed a game-changer for your fapping sessions. You will read not only about the sluts and videos, but also the design and features of this site which allow you to watch an uninterrupted show. The affordability of the site and other benefits associated with it will also be discussed, in the concluding section of the review. So, happy reading!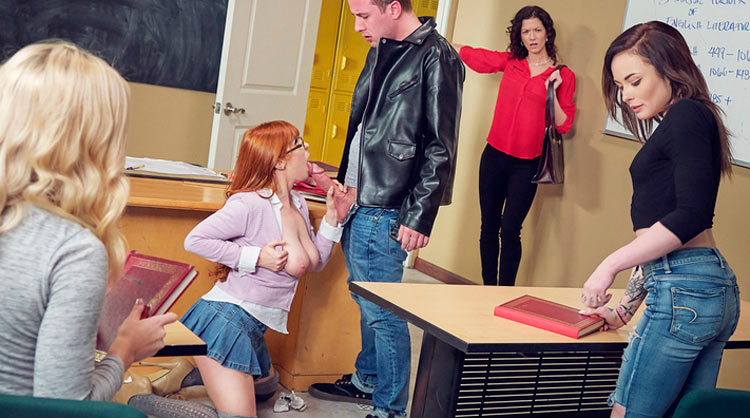 Technical
This site is a constituent site of the Brazzers network, a leading adult entertainment site in the world. Brazzers is famous for its high-quality porn, very popular pornstars featured in the videos and the innovative themes incorporated in their videos.
Till about a month ago, the site was accepting membership, but today, the site is merged to the Brazzers site. Hence, all memberships will be done with Brazzers, and at the price of one, you get access to all sites in this network. I will come back to this point again at a later stage.
Since the site is merged into the Brazzers site, the layout is a mix of the Brazzers and BigTitsAtSchool designs. Let us check out the design of BigTitsAtSchool. The design features a color combination of white and gray, with black and red texts. The design is simple and does not add a lot of flash animation. Lack of animation also indicates that the site loads quickly. The color scheme is attractive, and you will not get distracted from watching the porn videos.
There are 526 videos that you can enjoy and this number will only increase with time, as newer scenes and themes get added regularly. There are several pages of videos, and each page consists of 24 videos. The videos have a screenshot and the pornstar's name. Clicking the video will take you to a dedicated page for the video, which provides you with various details and statistics about the video, such as the pornstars, a brief description, and fuck stats.
At the top of the site, the Brazzers design element is seen. There is a black header with Brazzers on the left, a gray button with Members and a yellow-ochre button with Join Now on the right. Below the header, there is a tab section that takes you to different parts of the site. There is a tab for Scenes, for Pornstars, for Sites, for ZZ Series and a Live Show. ZZ Series and Live Show tabs are unique to this network, and allow you to watch a complete series of porn videos and a live show of sluts getting fucked in different situations. Overall, I liked the design of the site. Further, its features have no parallel, and this combination gives you the most pleasant experience of watching porn on this site.
Flicks & Chicks
In the previous section, I had pointed out a tab for Pornstars. Let us check this out now. On clicking the Pornstars tab, you will be taken to a page where the photographs and names of all the sluts are mentioned. In fact, the Brazzers is famous not only for the sluts but also for the studs and hunks who are casted in these videos. The pornstars are common to all the sites in the Brazzers network, and so, there are no specific dedicated pornstars for BigTitsAtSchool. However, this doesn't stop us from enjoying these sluts because that's why we watch porn. There are 1600+ sluts and 300+ hunks on this site. Each pornstar has a dedicated page, providing you with their personal details, vital statistics and highlighting their body types, boobs, turn-ons and others. Below, on this page, you will find the videos they are featured in.
The sluts are selected very carefully so that the site provides you with nothing but the best. They have amazing bodies and there is no best way to describe them. Where shall I start with, their breasts, nipples, waist, pussy, or ass? With smooth and flawless skin, these bitches are your dream come true. You can dream about them all night long, and you will not take your hands off your dick.
Breasts are so round and firm, you would love to grope and fondle them all night long, while the tits are the perkiest you can find. When the tits are hard and long, you would want to take the nipples into your mouth, suck them like a hungry stud all night long. Pussies are among the tightest and juiciest you can find. The sluts love to take hard dicks into their pussies. Taking cum and experiencing a hot pussy creampie is a reward they cannot deny. They also love to eat cum or take a cum facial.
Tegan James is a busty slut who is exhausted after a hectic day of teaching. She is seeking a place where she can spend some time alone, jerking off, but is disturbed by someone or the other. When janitor Derrick enters the room and sees her trying to jerk off, he insists on watching her masturbate. But now, Tegan has other ideas and gets him to finger her wet pussy. The fingering leads to a hot session with Derrick's dick. Their crazy sex climaxes with Derrick giving Tegan a warm cum facial while she washes her mouth with his jizz. This is BigTitsAtSchool for you.
In Few Words
Being part of the Brazzers Network, signing up to this site gives you access to 30 different websites in the network. Access to this site is very affordable. Apart from a one-day trial membership, you can opt for a one-month membership, three-month or quarterly membership or annual membership plan. You guessed it right, the annual membership plan is the cheapest you can get, and when pitted against the one-month membership plan, you end up saving more than 50% of your hard-earned money. Affordable, 30 sites at the price of one and many special features, aren't these sufficient to subscribe to this site?