Introduction
While porn is easily available on the internet, it is very difficult to find great quality lesbian porn at a good price. Dyked is here to give you exactly that. You stream high-definition videos of hot girls fucking each other for a very low price per month! Whether it is BDSM, boss and employee, age difference, or sex toy sharing, the website has you glued to the best girl-on-girl actions. You no longer have to look through long lists of hundreds of videos of amateur lesbian porn to find one that suits your interests.
This website features the best quality content and now you can enjoy bodacious, busty girls hungry for each other. Usually, the videos you find on the internet involve bad video making, homemade sex tapes, straight girls doing each other half-heartedly, or videos with bad lighting. This website eliminates all these problems and brings you videos that are simply flawless. You get to watch quality girl on girl action made with the best cameras and best actors who are not just acting but really enjoying putting on a show for you to satisfy your hunger for hot girls making each other feel good.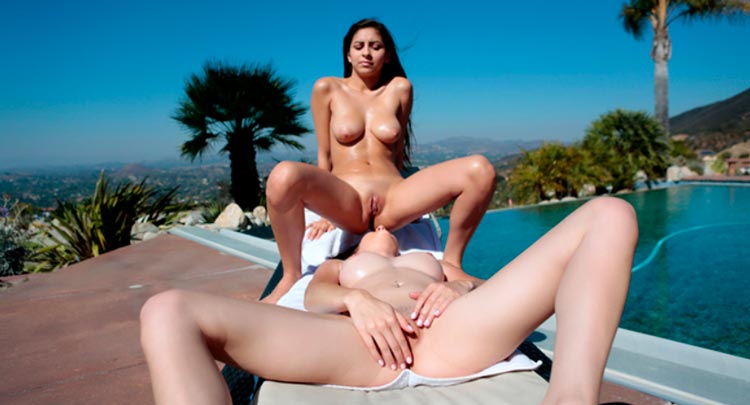 Technical
My observation is that most website layouts are usually very confusing with too many tabs and other stuff. The tab system is a mess and too many ads and tabs really put you off the website. Dyked has no ads at all and has a very easy to use layout. There are very few tabs that require minimal navigation. You can browse the list of videos which have large thumbnails and a clear description in the title so that you can pick whatever you're in the mood for and go through the videos without much trouble.
The background of the website is black and the text and outlining are soft yellows. All this caters to pleasant viewing and you can watch the video without straining your eyes and get distracted by the sharp, bright colours. The soft colours also help the video stay the main focus of the screen. The large and bold text is also viewer friendly and prevents any extra strain and effort for you. When you first open the website these girls are posing for you very tantalisingly.
Big busted girls are getting ready for an orgy while two other girls are already getting some action with each other! As you go further into the website, things get a little more graphic and clothes start to disappear. You can see smooth, round and large butts and tits just waiting for you to come click on them so the party can start! All you have to do is find the right video to kick-start your authentic lesbian porn journey!
Flicks & Chicks
Of course, the main attraction of this website are the hot, sexy girls having steamy sex with each other. They rip each other's clothes off and start licking, sucking and groping. What stands out most about these delicious girls is that they aren't faking it. Normally it's very difficult to find a lesbian video that involves girls actually enjoying the dirty things they are doing to each other on screen. Often these girls are straight and are only doing it for the camera without much enthusiasm.
But on Dyked these stunning chicks are hungry for a juicy pussy. They want their legs spread wide open and a girl between them running her tongue over their clit. You can watch one girl dominate the other and show her what she is missing by giving her tits some nice action and fingering her till she is shaking with the strength of her orgasm. All these girls are real lesbians and enjoy putting on a show with other girls. Another great fact is that most of these beautiful, sexy ladies are all natural. Their soft, perky tits and firm ass are real and their bodies are genuine.
The videos involve girls playing with all sorts of sex toys such as double ended dildos, vibrators, handcuffs, and other toys. Girls are spanked, bitten, licked, fucked and tied up for other girls and your pleasure. Role plays are also a common theme in many of these videos.
In Few Words
Dyked includes all that anyone would want from lesbian porn. This website is a must for anyone who enjoys lesbian porn, from men to women of any sexualities. Men who are usually no strangers to the world of porn struggle to find good lesbian porn. However, now they can find high-quality videos to suit their desires and fantasies over here, without a hassle.
Women who are bisexual or lesbian or sometimes even straight, who enjoy lesbian porn, are usually deprived of fantastic lesbian porn such as this since it is not common on the internet. They are often stuck trying to make do with badly shot porn that has a low quality. But now they don't have to worry! Dyked can make your wildest and wettest dreams come true. Watch girls taking dildos up their wet pussies as their tits are massaged and they moan out in euphoric ecstasy.
All this comes with the added benefit of an easy to navigate website with soft colours to make viewing easier. There are no flashy ads or any other click-ads to frustrate you or interrupt your internet connection. It's all smooth sailing once you sign up for the website for a very small amount per month. Once signed up, you can enjoy curvy, delicious women from all ethnicities, backgrounds, and sizes. But be warned! Once you start, there is no going back because their porn is fantastic enough to keep you addicted!