Introduction
EbonyTugs is a fine interracial XXX site featuring ebony bitches getting fucked by white cocks. This awesome porn site isn't just about sex and crazy fucking, for the ebony bitches want to milk the cocks dry, and that adds a lot of fun in watching such exclusive porn sites. The primary focus, thus, is on a hot handjob by these ebony bitches. EbonyTugs is presented by the TugPass Network.
You will enjoy watching these black bitches completely controlling white dicks, as they deftly use their hands to dominate these whiteys. When you get such awesome porn videos in high-quality full HD resolution, you will realize that these are the kinds of videos that will give you the necessary impetus to jerk-off to glory. You will also want to have such sluts dominate your cocks completely, and allow you to cum hard.
To relish such amazing porn contents, it is prudent for you to subscribe to EbonyTugs, and we've got a task cut out for us here. We've prepared this review of EbonyTugs so that your task becomes easier. You will find this comprehensive review aiding you in arriving at an informed decision regarding subscription to this awesome porn site. And before you complete reading the review, we're confident that you will decide to subscribe to it, at whatever cost it comes.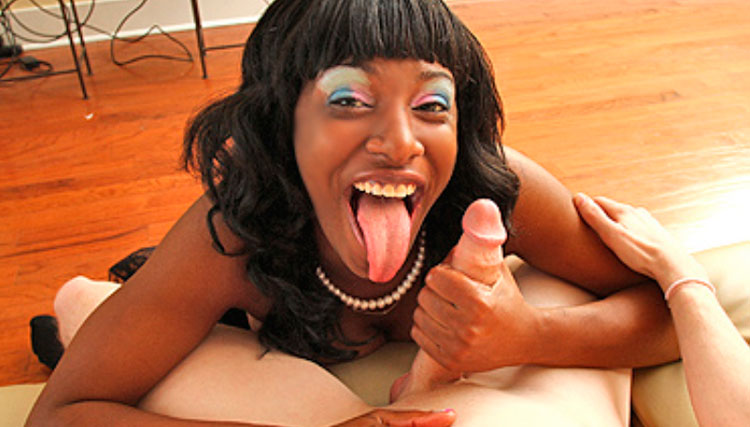 Technical
EbonyTugs comes with a very elegant and contemporary design that doesn't waste time in treating you to what it offers best. The slideshow is the first thing you will notice when you enter the site. The slideshow indicates a few sexy ebony sluts stroking white dicks with immense pleasure and satisfaction. You will also find the caption, which states that ebony sluts love milking white cocks dry, and the images are shown in POV format.
Above the slideshow, at the center, the logo of EbonyTugs is seen while there are links to various pages of the site between the logo and the slideshow. There is one unique feature of EbonyTugs called Create a Scene. Create a Scene allows you to create a script or concept or an idea and submit it to EbonyTugs. On clicking the Create a Scene link, you are taken to a new page with a form where you can enter your personal details and describe the scene you would wish to see on EbonyTugs. If your scene is approved, you will find your video in the members' area within 4 weeks of getting the approval.
After a brief description of the site, you will find a grid of thumbnails of the videos on EbonyTugs. The thumbnails carry a title and a very brief description. You can also download the video from the download link provided below the thumbnail. While most of the thumbnails are in jpg format, there are a few in gif format, which runs in an endless loop. There are 21 videos in the grid, and the videos are spread across a dozen such pages.
Another awesome feature of EbonyTugs is its accessibility from PCs, tablets, mobiles, PlayStation and even televisions. So, you can watch your favorite videos even when you are on the go. We've mentioned earlier that EbonyTugs is presented by the TugPass network, and as such comes at a very economical subscription fee. There are three membership plans that include a monthly membership plan, a quarterly membership plan, and an annual membership plan. Your membership to EbonyTugs also includes free membership to member sites in the TugPass network, 1200+ videos, and over 400 models. With a massive image collection, you are provided with unlimited downloads of your favorite videos on EbonyTugs. 
Flicks & Chicks
So, we do know that there are over 400 models adorning EbonyTugs. These sluts are the sexiest and most beautiful ebony bitches from around the world. The bitches are the owners of the hottest bodies and you will drool over them when they are naked. Let's first check out their bodies, before proceeding to describe what best they like to do. We shall end this section with a brief description of an exclusive EbonyTugs video.
The bitches possess the most awesome bodies you've ever seen. Their chocolate skin has a smooth and shining texture, adding to their sex quotient. The breasts are firm and round. The nipples are dark, akin to dark chocolate, and give an amazing contrast against the chocolate colored skin. The breasts are perfect for fondling all night, while the nipples are perfectly suckable. The smooth navels would make you go wild, and the navel jewelry enhances their sexiness by leaps and bounds. The cunts are pink, while pussies are clean-shaven. Tight asses would love to be pounded and invaded hard, and the ass-cheeks perfect for spanking.
By far, the hands and mouths are the most active parts of these bitches' bodies. They love to suck on white dicks, while their hands skillfully stroke these dicks in the most sensuous manner. This is the best thing that EbonyTugs will provide you with, and the amazing hand jobs will surely cast a magical spell on you.
Check out this video. Cock Eruption is an awesome video featuring a sexy amateur ebony bitch who loves to play with a white cock. She has a very pretty face and has run out of cream for her face. And what better way to make her facial skin soft and supple than taking a warm cum facial. Her horny mind is on the lookout for a horny white guy and finds Joey. She gets him to strip naked and starts playing with his cock, stroking it hard, and gets him to cum all over her face. She happily applies the cum all over her face, like a facial cream. Check out the glow on her face. You will jerk-off hard when you watch this scene. 
In Few Words
If you've found this exciting, then you will be in a mood to subscribe to EbonyTugs. You will not regret this action for you will get the greatest carnal pleasures when you subscribe to this awesome porn site. With your affordable membership plans, you also get access to 10 sites in the TugPass Network. And don't let this opportunity go, for you will want a slut to do the same to your cock too.