Introduction
The Live Privates is a site from the folks who run some of the largest and most innovative live cam show sites. If you don't want to join those, you can try your luck on this one; it might prove to be a good choice, because the prices vary from site to site, and you might enjoy some of the hottest performers' shows for better prices. When you enter the site you might notice that many girls here are somewhat familiar. The main reason behind it is that this portal is running with the same motor and is made by the same company as the top chat sites from Europe. It's quite certain that many girls are present at multiple sites, but you may also find some newcomers, who have just started, and they chose this site to register.
There are more than 64,000 different performers on the Live Privates, which includes guys, girls and couples too (lesbian and straight pairs); also some groups (threesomes) are present. Since it's a mainstream cam show site, it offers all the features that the top sites of this kind use to offer. The quality of the shows and the number of performers grows steadily, so it's certain that you can find here your type of girl really easily.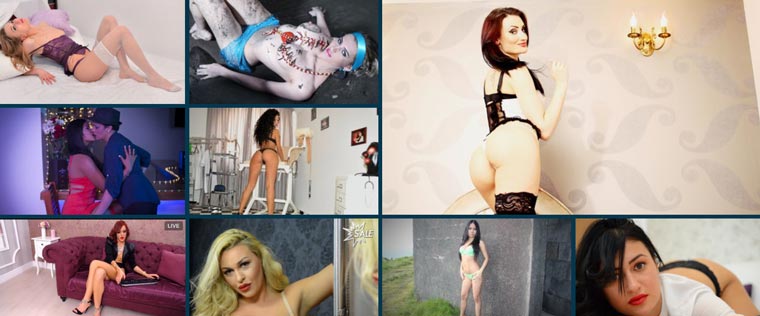 Technical
When you are just taking a look around the site you can see that it looks good, while it also offers free insight into the streams of the girls. The layout of the models' list is mosaic-like one, which is often referred to as tile-set view: the performers' thumbnails are in different sizes, and there is no frame between them. Since the site uses the latest technologies, you don't even have to click on any of these thumbnails, because as you move the cursor over them, the stream starts to play. It's fun, and sometimes you can peek into some really hot stuff too, like tit-flashing, which is not common in free chats. Registering on the site is free, though to enjoy the private shows you will have to load up your account.
To find the girls you are looking for, the site offers an advanced filtering and sorting options, where you can select attributes from hair color to show features. The site has some features for you like you can send virtual gifts for the girls, and you can set up an alarm, which will remind you when your favorite is online. Another important factor when it comes to live cam shows is the quality of the videos. Now on the Live Privates it's not an issue. Every performer, female and male alike uses high quality equipment. This usually means that you gain access to some really good HD streams, and even those that are not HD are very good.
Lagging hardly occurs, though you should do well to close other programs; especially if you go private. You can talk to the girls with the two-ways audio option, and some of the shows feature cam2cam too. The Live Privates is available on mobile devices too, so having a good flirt or sexy show is not an issue, even when you are out of the house.
Flicks & Chicks
You are going to be crazy when you start browsing through the performers' database of the Live Privates. Though the models are all available on other sites of the company, here you can also find a few, who aren't available anywhere else, thus they are exclusive. If you are just visiting the site, you should really open some performers' chat, or you could just move your mouse over a thumbnail to take a look at what's inside. Though the photos are all professional items, you will see that they show the reality, and the girls look that hot live too. There are professionals, which have been in this business for several years, and they are just as hot as they were at the time they started. These more experienced and highly valued girls usually have some upgrades, a bit of lip-enhancement and breast-implants are bound to be seen on them.
However, the rate of non-enhanced, full natural models is much higher. Seriously, if you like boobs, you will enjoy just opening the page: almost all thumbnails feature at least one flashing breast. And these pictures are amazing, you should keep your chin up, otherwise it will hit the ground. Since it's a live cam show site, it has all kinds of models, coming from different countries, covering all ethnicities. Even Arabic models are available. Naturally, no cam site can stay online without having a stable of the other genders. Thus, the Live Privates has in store for you gay and straight lads, and dozens of transsexuals. They look really good, and the trannies seem to be quite open-minded, and they feature many kinky stuff too. On the site, you can enjoy the performance straight and lesbian couples, just as there are several groups (mostly threesomes) who eagerly await to perform for you.
There are some videos on the site, though that's – naturally – not the main attraction here. These videos are archived shows, and almost all models have a trailer video that plays when they are not online. Apart from these, other types (actual porn) videos are not available. As far as the variety of the shows is concerned, you will be satisfied with it. With the filtering tools you can pick everything you like, and it's quite certain that you will find at least one performer who features your thing in her show. You can get some kinky elements included too, there are BDSM players, squirting girls too, just to mention a few.
In Few Words
The Live Privates is a neat site, and since it's run by the folks who are responsible for some of the largest sites of this type, it will remain always up to date. If you'd like to direct your porn movie, whether be it a solo or should it features couples or groups, you can easily do so. The best about the site is that you can join for free, and though the private shows cost credits, the free chat can help you find the girls you are seeking.