Introduction
Nubile Films was launched back in 2012, and it has an excellent collection of HD glamour porn that feature some of the most angelic porn stars on the internet. The chicks of Nubile Films are part of the new generation of models, who are between 20 and 25 years old, so you are in for some sweet fresh pussy. Both the size and the quality of this collection are worthy of your time and money, so if you are looking for a new porn source, you don't have to continue your search. To be convinced that this is the right site for you, just take a look at the next paragraphs of our review. We detail all aspects of the site, so keep reading and know all there is to know about Nubile Films.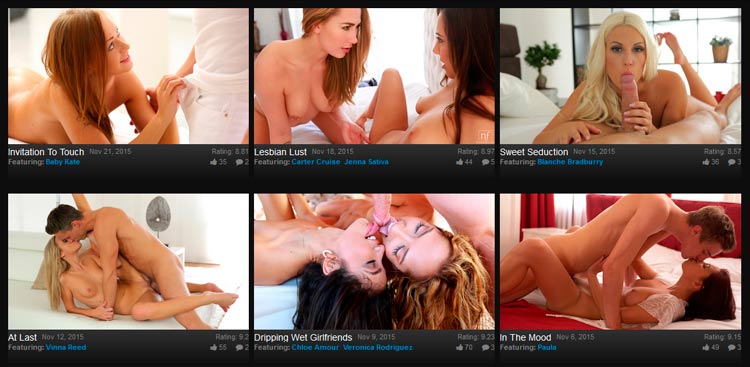 Technical
Such an awesome collection couldn't come otherwise than through an excellent site. The design and functionality of Nubile Films are matching the latest standards in the matter of internet browsing. No matter what device you use, from what platform you browse or with which browser, all pages of this site will load as fast as the ones on You Tube or Facebook.
Besides that, the buffering in online streaming mode is kept to a minimum, so if you have a decent internet connection, the movies will load in a couple of seconds and you will be able to skip through them without waiting for the whole thing to load. The dark color scheme of the site makes an excellent contrast with the style in which the movies were shoot, which has is a predominantly bright spectrum, with lots of natural lights.
Flicks & Chicks
The collection of Nubile Films is featuring a different type of porn. The cinematography of this collection looks fantastic, and it's done by professionals who know their way around a camera. The ladies featured in these movies are just as talented as the directors who produced them. The collection of Nubile Films takes regular porn and ads a dash of art to it, creating an erotic and stylish porn source, worthy of a gentleman like you.
The collection is featuring three main categories: solo, in which the angels of this site are pleasuring themselves with their fingers or hot sex toys, the lesbian category, in which you will find smoking hot chicks pleasing each other in erotic ways, and lastly, we have the hardcore group, that features one-on-one sex and threesomes in which you will watch a beautiful mix of kinkiness and love making. Put simpler, the Nubile Films is a site that's all about passionate sex, featuring the most intense and beautiful pornstars of the moment. It brings us over 400 videos, about 30 minutes each and more than 500 galleries, each featuring 60+ pictures. All content is available for online streaming and download.
In Few Words
The collection of this site has both the quality and the quantity required to justify the price of the membership. More than that, the membership of Nubile Films is highly affordable. But the passionate porn of the Nubile Films is 100% exclusive, so this site is the only place where you will be able to watch it.
If you want an adult entertainment source that will please you for many months to come, all you need is the yearly membership of this site, which costs $109.94. Two other memberships are available on this site, the monthly one ($24.94) and the three months one ($59.94), but with the yearly membership, you will end up paying less than $10 per month. There is no trial membership available on Nubile Films, so you won't be able to check the content and the member area before committing for at least a month. Even so, you have nothing to worry about because I heard no one complain about the quality of this site.