Introduction
There are many times that we want to party hard because we feel the need to unwind or we just want to have a good time after long days and even longer nights. Forget about the parties that you usually attend, we want to invite you to a wired full of a lot of hardcore parties, hardcore fucking and fun like you have never had before. On Party Hardcore, we got turned up, reckless and have fun like it is 1992. This adult site is ready to take you to the edge of the cliff and treat you to the best time of your life. You need to let anything that is holding you back from holding back go. It is most definitely to get down and naughty because this kind of hardcore partying is the best that you could ever get.
With only so many guys in the party, the models have to take things to another level and settle for lesbian sexual encounters. If you always wondered why women get over excited about having a night out with their girlfriends, then this site will answer all of those questions that you may have. Party Hardcore is one of the most famous reality porn sites that represent clothed female and naked males. Once the women get wild, they dispose of their clothes too. The site will treat you to a mix of European fresh faces and Milfs also cannot wait to get together and have a good time. All of this naughtiness could be attributed to none other than the PayServeNetwork. The site is decent in both quality and collection. There is no download limit when it comes to accessing the 400 scenes and galleries that have been made available for you here. You may have been to wild parties before but I bet that they are not as wild as what you see on Party Hardcore. The site could not have picked a better name for itself.
All of the videos on Party Hardcore are of top-notch HD quality. The viewing is up to 1080p HD and therefore, you can count on crystal clear scenes. Even the low-quality options are still of utmost clarity. For 20 minutes each, you will be in the presence of rowdy groups of people who are not afraid to have a good time. The content here features blowjobs, group sex, amateur sex and a lot more.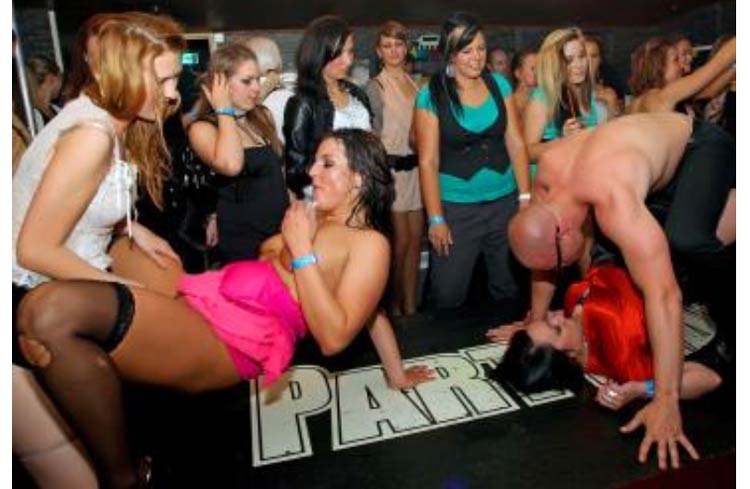 Technical
Party Hardcore was established in 2002 and ever since then, it has maintained an attractive design that ensures that you are able to access it easily. The site comprises of DVD scenes that treat you to all kinds of sexy acts. The DVDs are broken down to a total of 6 scenes, making it easy for you to download all that is found in this collection. The professional camera men do an incredible job of capturing all that goes on at the parties without missing out on anything. The models' converse in Czech language but worry not, the action is all that matters here. The flicks have an attached gallery that treats you to a couple of photos. The scenes are not dated but it is easy to notice that new flicks have been uploaded here. There are also links to extra bonus sites and clicking on them will treat you to, even more, action.
Flicks & Chicks
The best way to describe the models on Party Hardcore is by using the word, 'wild orgies'. They are definitely the party girls who know all about pleasuring themselves too well. As they party, they get the spotlight focused on them, maybe for the first time. They become overly hyped and excited when a male stripper takes over the action and exposes his big cock for all of them to enjoy. They just have to leave it and so they decide to take it and share it amongst themselves like a prized morsel of meat from a fruitful hunt. You will not be disappointed by the lengths that they are willing to go to.
They go border-line crazy with desire and they decide to give free blowjobs, get on their knees and get fucked doggy style or even heavy pet, each other. It is clear that they may have had more inebriation that they can be able to contain but then again, this makes them as excited as you see them here. You will be at the edge of your seat by the surprise of what is going to happen next. They especially love the well-oiled bodybuilders more than anything else in this world. If they had any secret fantasies, they take the opportunity to find fulfilment. It is a night of dreams coming true. These parties are certainly pirated. There are too many girls to count on this adult site. They will surprise you will their sexual prowess as soon as the camera starts rolling. They get transcended into a world of cum and lots of satisfaction. Forget all about scripted party scenes, the models and all that they do here is as real as it could ever get.
In Few Words
Party Hardcore is a 'live version' of the porn that you so much enjoy. The site is the true definition of ecstasy and enticement. All of the videos are on point and the party mood is contagious. The fun atmosphere and the combination of slutty women will motivate you to sign up for all of the right reasons. Just let the action overtake you because spending your time with these party goers is the best decision that you could ever make.