Introduction
Snap Leaks is a porn website where you can find a lot of categories of movies which are based on professional scenes even if the name of the website is Snap Leaks. You can see from the homepage that a lot of the porn actresses are campus girls so the audience. Most models are between 19 and 30 years old. .
Technical
Firstly, the home page is exceedingly crowded with pictures and words which try to guide you to different websites or categories, most of them purposed to convince you that you need to make an account. Visually I was convinced. The majority of the pictures contain horny fresh girls, mostly lesbians or bisexuals. The pictures are in a large form and they are explicit. It seems like they are in HD form but I am not convinced. All the words are very colorful and with funny and informal fonts which makes you think that the design is made unprofessionally. I believe this is the meaning and the purpose of the website builders. The website designer combined the principal website subjects which are amateurs and amateurs girls with juvenile fonts and colors.
The site's navigation is pretty decent. You don't have a lot of buttons and almost all the buttons you click send you to the log in page or to another page with a lot of pictures organized in a chaotic style. Basically there is no button you can push that can send you to an annoying commercial or to another website that you don't want to access. Still I believe something very important is missing. You don't have a search tab where you can try to find something with key words. I believe a lot of porn fans are visiting a website and search for some special category of movies which gives them their fantasy satisfaction.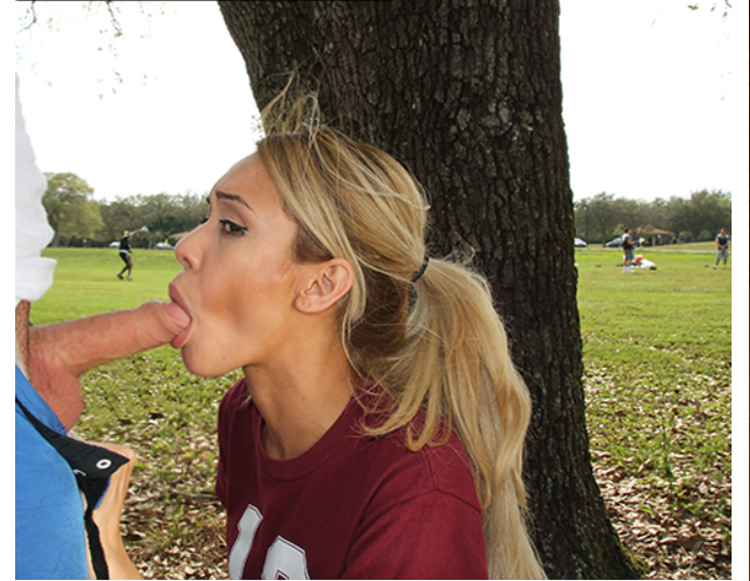 Flicks & Chicks
As I said before, the main subjects of the movies are girls. You can see just a few guys in the homepage pictures and most of them are perfectly muscled and perfectly shaved which gives you the impression that they could have sex with other guys too. Therefore, more than 80% of the girls I spoke about are college girls. You can't find, on this website or in all the other partner websites any kind of mature or middle aged women. You also can find all kinds of types of girls. There are white, Asian and black girls. All of them are looking very hot, dressed with short clothes so you can see a lot of skin.
In many of the pictures they are not naked because that can make you give the website a chance and make an account to satisfy your curiosity of how they look like undressed. None of the girls are amateur, but as a fact, few of them look like they can be as good as the popular porn actresses which a fan can have as a favorite. About the guys, it looks like they are totally not important in this porn website`s theme. They are just the thing that make the girls feel horny and it looks like they are just a usable item for them.
In addition, the movies are made in HD but you can't actually see short previous of the movies. All you can see are some clips made as GIF's. The videos are about 30 minutes, more or less, and you can also find an image gallery tab which you can access and watch but you can't click them into full size images until you subscribe. Talking just about Snap Leaks website, there are about 30 movies before subscribing, but you can also have a lot more if you have an account and access the other websites. The best thing if you have an account on Snap Leaks is that you have access to all the other six websites Gf Revenge, Dare Dorm, Crazy College GF, Crazy Asian GF and Horny Brides.
About the how to obtain an account thing. The page of the account intro is very simple. You give your basic identity information, the email address, and the method to pay. Also you can find a special kind of how to become a member: you can call them to make an account.
In Few Words
Snap Leaks can satisfy your horny fantasy if that includes beautiful, fresh women which basically are having all kinds of sex with different guys that apparently are not important at all or they are having sex between themselves. The design of the website is looking catchy and it shapes perfectly on the basic theme of the movies. A disadvantage of the website is that in my opinion all porn sites need a search tab. The site is offline. You can take a look at GF Leaks.