Introduction
All Internal is part of the Perfect Gonzo group of websites that's been online since 2003. This website was created by a couple of guys who loved porn, but where tired of seen the same old bullshit everywhere so they decided to create movies that would get them off. They first started with Ass Traffic, but as the years passed they kept adding more sites to their emporium, sites like: PrimeCups, Give Me Pink, Fist Flush and Cum for Cover. They have commissioned over 1500 HQ movies where you can see creampies, cum facials, fist fucks and blowjobs filmed in perfect angles.
They even pledge to research the best angles to film the movies. They also promise natural girls with real breasts and lips, bright and comfortable settings for the movies and encoding to deliver the best HQ possible for the movies. They assure you that they will not deliver any type of scam or crap that other websites produce daily and update often. They are about quality not quantity. The type of porn that they have is mostly men with women doing anal sex, ass to mouth, creampies, playing with toys and facials. The angles of shooting are varied and they use very different angles so the viewer can have different points of view of what is happening in the video, similar to experimental movies. The models are perfectly shaped, gorgeous, with long hair, mostly white, very natural, cute and sexy. The site is focused on real natural sex, has a lot of creampies, girls fuck everywhere on sofas, beds, floors and in every position. They
They gives you access to 317 models, 8.4 GB of Data, 70,000 screenshots, more than 57,000 pictures, 10 unique websites and 2 weekly updates. The website does not have any advertisements whatsoever, so there's no need to feel bothered by them at all. The girls are presented, like very willing and very satisfied women who are enjoying the sex very much, they like to be fucked, sucked, kissed, licked, fisted, toyed with and they specially like the creampies. You can see the many scenes with kitchen in the background in many of the movies, probably because this a semi-amateur websites that has really grown over the years and some things have stayed the same.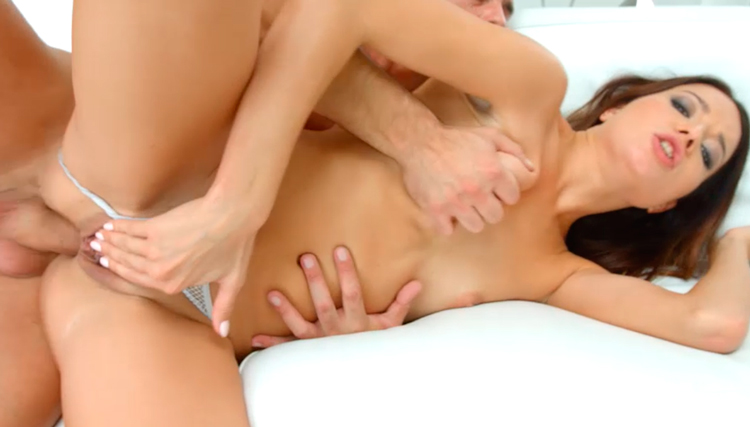 Technical
The site, has a big picture of a creampie in the header and a menu that mentions for instance: their movies, their models, their website, their blog and so forth. A short history about the website and what it has to offer, and then pictures and thumbnails of movies you can see. You can download the trailers, download the movie in HD or stream it. It works on your smartphone and tablet, so no worries about flexibility.
As you scroll down, you see pictures of more sexual positions, more creampies and more thumbnails for videos until you reach the bottom where you can see their favorite models; there are pictures of them and the logos of the 10 unique sites that they offer as part of the membership. The site looks clean and sharp, the videos look HQ, the angles in which they are filmed look interesting and the sex positions are unique. The videos are on a white background, which looks well with the bright colors of the videos.
The girls, as the site promises, are very natural. There are brunettes with blue eyes and pretty smiles, redheads, blondes, black haired girls, all very sexy and very enticing. They girls are enjoying getting fucked very much, they are smiling and flinching their faces while they're getting fucked in their assess by big fat cocks.
Flicks & Chicks
One of the hottest pornstar is called Kyra Queen. She has nice big breasts, has dark hair and blue eyes, she's very pretty in her movies, she gets cum on her tits, does some anal sex and gets a great big creampie. Another model called Samia Duarte, a gorgeous brunette that takes two cocks at the same time and big load of cum oozes from her pink pussy afterwards.
And finally, there's Jessyka Swan, a Dark haired, Brown eyes beauty who does a threesome with another girl called Anita B. The website features a blog that you can follow where they have behind the scenes stories to put some context to the movies. Some of the scenes can be really naughty and in your face, specially the ones concerning creampies, they're right there. One video for instance, that is a Feature Update on the front page, is about a girl that first places a dildo in her ass, then does a blowjob to a man, then she gets fucked in the ass by the guy while she uses a vibrator on her clit until the guy cums and she gets a creampie on her ass. The locations of the scenes change between sofas, chairs, beds and floors.
The girls are lovely and very aware of their bodies and they use them with confidence and assurance in themselves, they know how to move and move their partners into pleasure. They know how to make a guy cum and happily make the viewer burst.
In Few Words
The biggest advantage this website has is simplicity, honesty and quality, they promise you natural girls, no scams, no crap, just pure natural, real sex with real girls with high quality equipment and good film, its all about the pledge, the honesty, passion and care they put on the website and films.