Introduction
Taboo Sex Diary is a very naughty site with a collection that not so many networks have the courage to approach. Taboo sex or family sex has a huge stigma in our society, but that doesn't mean men from all over the world don't want to watch some hot and kinky chicks getting banged by their step-daddies. Taboo Sex Diary gives us just that. The site was launched less than a year ago, on September 2014, so it didn't have that much time to prove its quality to the porn fans out there. However, it's part of the Fetish Network, a well-known platform where even the naughtiest of men could fulfill their kinky fantasies. The collection of Taboo Sex Diaries as the rest of the content in the Fetish Network, but the taboo videos are making up through some exciting background stories. Even if the action doesn't happen in real households with real families, you will surely be made to believe that. I saw many fantasies and role-play action on all kinds of sites and I wasn't impressed every time, but the acting of the Taboo Sex Diary is really convincing and it will make you believe that they really get banged by their step dads.
Technical
Taboo Sex Diary is a very new site and from the moment of its launching, it was optimized to serve all needs of the modern internet user, while maintaining classy interface to offer a great user-experience and easy navigation even for the men with really poor computer skills. The design and layout of the site are pretty straight forward. Since this is a fetish site and its part of the Fetish Network, the color scheme was carefully chosen to inspire a kinky feeling. What better mix of tones for than other than black, red and white. The site has a boxed and flat layout, to work well with any devices so that you could have a great time browsing the collection from both computers and touch screen mobile devices. The few ads on the site are as non-intrusive as possible. There's a banner in the footer of some pages, which lets you know about the existence of FetishGirls, a community of kinky cam sex hostess that will do anything for you. The other advertisements are two banners placed in the background of the site, which are meant to let members know about the free live shows they can assist. The site is pretty ok, even if it has a highly simplistic flash player, with no like buttons, no film strip and no comment section.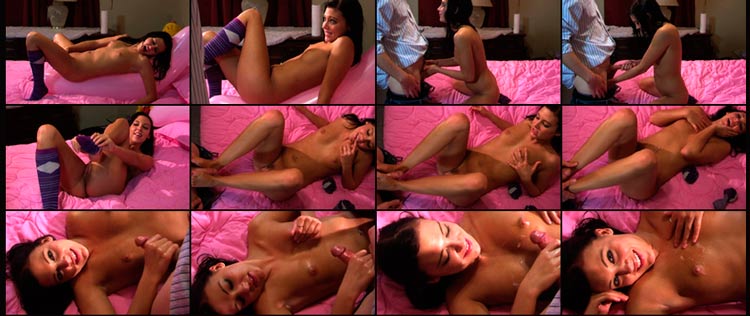 Flicks & Chicks
The most important thing about a porn site is its collection. Every porn collection must have a convenient rapport between quantity and quality. Of course you want as many porn videos you could get, but is it worthy to have thousands of 3 minutes low quality porn clips? So, with adult entertainment, the secret lays in quality. The fact that it takes more time to produce quality content and also since the site was launched last fall, makes the collection of Taboo Sex Diaries a rather small one, having only 30 episodes. The episodes come with a video of about 25 minutes and a small photo gallery of screen caps. However, since this site is called Taboo Sex Diary, each video comes with a short description written as a journal page, in which the chick that gets banged in the video is detailing how she got to be bend over and ravished by her step-daddy. The streaming is pretty acceptable, with a format of MP4 (480×270; 849k) and a MP4 (480×270; 720k) download option. All in all, the collection might not be that big, but for a true fan of the taboo fetish, the action within it is definitely worthy. More than that, you will get a super awesome bonus once you become a member of Taboo Sex Diary. The porn stars of this site are pretty cool, they are doing a good job around the cock and their acting is acceptable when it comes to playing the role of a naughty step-daughter. The fact that they are not famous porn stars of high profile doesn't even matter at this point. What matters is that their performance is good. Since this is a taboo sex website with stepdads banging their stepdaughters I would have expected some 19 years old chicks. Most of the models in this collection are over 25 and I think some of them are even over 30. The collection promotes exclusively one on one sex and no model is featured in more than one episode. That means you will get 30 models on this site. The model index is inexistent, so you won't be able to find out more about the chicks in these videos from some kind of profile. After looking throughout the entire collection, I can say that this it lacks diversity. If you are into white chicks, this is your lucky day, because white and average looking chicks are all you'll get with this site. Bottom line, the models of this site a decent, even if they aren't the main thing for which you should join the collection.
In Few Words
Even if the collection of the Taboo Sex Diary is small, the membership they offer is certainly worthy. If you have a naughty mind and you're full of fetishes, you must check out this offer. The Fetish Network can be your main porn source for years to come, since it features over 3,000 exclusive movies, all on forbidden fetishes and taboo fantasies. The only downsides of this network are that the upload is irregular, the galleries are mostly composed of screen caps and there is no organized model index. Other than these things, everything is perfect. There is no trial membership available at the moment, but trust me when I say you have nothing to worry about.