Introduction
Asian girls may look innocent but deep inside they are hiding their innermost demons. In bed, they are like a succubus that can take on any fantasies a man can think of. One of the man's sacred fantasies is BDSM. There are Asian women that are curious about the agonizing and pleasurable world of BDSM. They seek to discover the kind of sex that makes them tremble from agony and pleasure, make them moan for delight and make them beg for more.
Asians Bondage is a website wherein you can watch Asian women as they succumb against the pleasure of spanks while their hot bodies are tied up with ropes. Watch as these breath taking women squirt their cum out while being tightly bound and their pussies get drilled with dildos hard. There is no better website out there than Asians Bondage for your pleasurable BDSM experience never seen before. Their videos are updated regularly and you'll be looking forward to original content every time.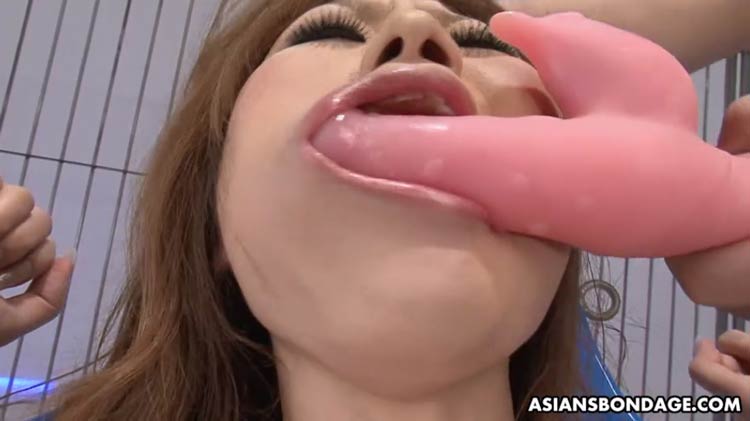 Technical
The website immediately asks if you are applicable to enter the site by a pop-up window. Just click the option that says you are of age and is allowed to enter the website. Once you click the option, you are immediately brought to the home page of the website. The site contains some information on it and it has a banner full of pictures of naked Asian women bound and gagged and also sucking dick which totally looks hot. As you scroll down the home page, you will see some thumbnails which of a video which contains women bound and getting rammed by sex toys or dicks in their hairy pussies. Some information regarding the thumbnails is stated in the left side of the main thumbnail.
There are about eight featured thumbnails in the homepage. In one of the featured thumbnails is a girl wearing a uniform and being pleasured by several vibrators in her sweet spots like her clit, her nips and right above her pussy. The look on her face suggests she's feeling very much pleasured from the vibrators coming from different direction. It's like a pleasurable agony from maximum pleasure.
The page is easy to access as since there are only three menus present in the homepage. The first menu is the "Members" section wherein members may access the website. Once you click on the "Members" menu you will be redirected to the members log-in page where you are asked for your Username, Password and will be required to input a word captcha which is easy to read. Another menu is the "Next Tour" which allows you to view more thumbnails or pictures of girls who are bound, whipped and pleasured. The pictures can turn any guy on and make them jerk off immediately. The next menu is the "Instant Access" where in you may register if you wish to join the website.
Being a member has a ton of perks perfect for any guy who would like to explore their hidden fetishes for BDSM. Any guy has their unique desires and preferences when it comes to sex. And for those guys who found their inner Christian Grey and like sex inspired by 50 shades of Gray then AsiansBondage is the right website for you. Girls bound and gagged while wearing cute cosplays can turn any man on. Asians Bondage contains hundred percent hardcore BDSM sex that can be your new favorite fap material of the week to relieve some of that pent up stress. Maybe you can even pick up new ideas and spice up your sex life and the forth coming nights from the videos you may watch in the website.
Being a member of Asians Bondage will give you access to MP4 formats of the videos that you can download. The site is also compatible with iPhone, iPad, and iPod that is a huge convenience for the members. Streaming is also available for those who are not a fan of downloaded videos and also members can access photo galleries containing the hot models of the site. Zipped photos are also available for easy download to save storage space. In Asians Bondage there is 100% satisfaction guaranteed and the site is absolutely safe. Moreover, there are regular updates for the members and there is 24/7 Support for the convenience of the members.
Flicks & Chicks
The Asian girls of Asians Bondage are 100% cute and are definitely hot. Their hairy pussies and huge tied up tits are amazing. They may look cute but they can definitely take hardcore to the next level. The models can be angonized with pleasure with dildos, gangbanged by dicks into all their holes and even be whipped and spanked in their tits and asses.
One of the featured videos, the Hot Wax Torture can make any dick salute. The girl is bound tightly while she gets pussy fucked hard. She can't moan easily though as she is gagged by a gag ball. She takes on discipline like a good slave and let her pussy be fucked hard. Moreover, as her pussy gets pounded, hot wax drips to her body. She looks like a hot mess, literally. Red hot wax drips and dribbles on her body while she gets pussy fucked hard. She comes from the mixed agony and pleasure. The way her face contorts with mixed feelings can make anyone fap.
In Few Words
This site is a 10/10 when it comes to uniqueness, extremity and the excitement build up. Their girls are also hot which is an added plus. The way they would moan is a huge turn on. The sex is hardcore as the girls can take any agony, from hot wax to spanking. When it comes to BDSM, Asians Bondage is the best website. This website can make anyone's night a fun and exciting one thanks to these Asian ladies.
"This website is offline! Choose another one among the best bondage porn pay sites."