Introduction
Evil Angel is a very professional site with a large amateur category; however, even the amateur movies are shot by the site's own studios and streamed in super High Definition movies so there's no lack of quality in the scenes. Although the site's main thrust is anal sex, they have plenty of other ass-related erotica available; it's not a one-trick pony. Some of the more edgy items they showcase are pegging, among the shemales, and fisting by both men and women. Double penetrations are popular too, whether they're of the mouth and pussy variety or the pussy and bum hole kind. The site provides new updates more than 100 times each month to its amazing back catalog of anal and shemales scenes and photosets; you'll never be bored as a member of this site!
And it's been going for more than two decades so it isn't an exaggeration to say their library of porn movies is 'amazing'. An annual membership won't be enough time to see all the history and watch all the monthly updates too. As with most membership-focused sites, Evil Angel doesn't carry any advertisements, well, except for promotions of its own content. Evil Angel is a member of the Gamma Entertainment (Gammae) network, with over twenty equally raunchy other sites; there are occasionally opportunities to access those other sites from your Evil Angel subscription.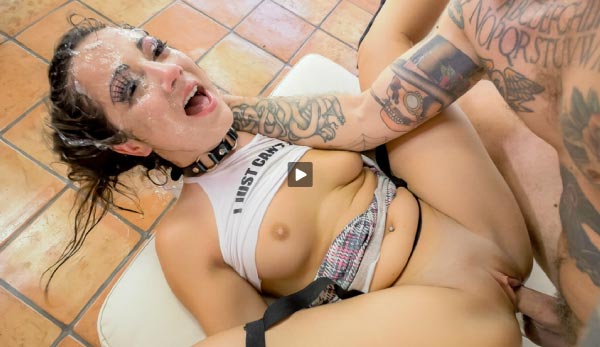 Technical
Evil Angel's focus on mainly anal sex puts them squarely in the middle of what is undoubtedly the most common of the hardcore sex sites genres. Any site determined to prove its edgy credentials has a significant anal sex category so how does Evil Angel shape up to the competition? Pretty well, I'd say. Their models are among the best about, the movies are sharp and focus on all the right things, and the sex is steaming hot so the site has to be counted as one of the best. To be sure you get to enjoy all their 1080p HD movies, they come to you via sharp, quick-streaming or downloadable videos and they come to your PC or mobile devices (including Xbox and PS3) so you're never without them, wherever you are. They have nearly 700,000 photos in photosets that are downloadable in zip format, which means you have them in seconds. The site's design is a complex collection of headers, banners, and sections, each carrying important parts of the pages. At the top, a static header shows the title and provides a Menu button and a Search facility, something a site with this much content does need.
Immediately below the top bar is a header where a slideshow of movie scenes flick through highlights and highpoints of the site, such as it was the winner of a number of Adult Entertainment Industry awards in 2014 and 2015. Scrolling down the page brings the visitor to images from the latest movies and each image is a link to a trailer from the movie. Immediately below these images are a set of photos and links to upcoming videos, which also play clips from the movie when selected. Midway down the page is a set of pictures of many of the site's pornstars; to see the other 3000+, you need to select the Browse All button. Below that set of pictures is another set of photos showing the Latest Updates Photosets. The page footer provides a Site map links collection, a Categories Links list, and links to the social media sites they appear on, which is Facebook, Twitter, Tumblr, and Google+.
Flicks & Chicks
The Evil Angel site has a library of over ten thousand scenes in about 1600 movies and you are free to download all of them at any time you're a member. Categories on Evil Angel have their own page for easy selection and include: Anal Sex Videos, Big Tits Porn, Cumshot Porn, Deepthroat Blowjobs, Fingering Gonzo, Natural Tits, and Cunnilingus. Additional genres include Face Sitting, Lady Boy, Rimming, and Shemale and Tranny. Evil Angel both produces its own movies but it also sells movies from a total of 30 or more Directors and studios, so their stars are widely seen and known throughout the web. Male stars like Spencer Fox and John Strong, for example, and women such as AJ Applegate and Francesca Le appear on other sites and in their own porn movies. The site also features interestingly odd movies such as the topical 'vampire porn', in a series called Voracious, and an animal costume-play movie called Analmals – When Good Cats Go Bad.
The site's hundreds of videos are titled as bluntly as their sex is hard. 'Get Her Ass Fucked' is a good example that needs no further explanation and the same is true of 'Monster Tits'. With this being the 'dark side' of human sexuality, tattoos and piercings feature a lot in their movies and on their models. The 'girl-next-door' these are not. They're the girls who like vampires, like toys, like butt plugs and tails, and also like oral and anal sex more than they like the ordinary kind. If a variety of women is what you like in your erotica, Evil Angel will provide that too. The girls are all colors and races, big breasted or flat-chested, big bootied or tight tushed, blondes or raven-haired and everything in between, including a lot of colors that nature didn't think of.
In Few Words
If you're looking for a site with a wide range of edgy, hardcore sex scenes and scenarios, then in Evil Angel you've found soul mates because they love all that stuff and are happy to do it all for your enjoyment. Production values at Evil Angel are top-notch and the models, male and female, are attractively hard-bodied, especially all their 'interesting bits'. They have masses of content and update the content many times each day. For lovers of sex on the edge, this is a site you have experience. Once you do, you will want to join – I promise.