Introduction
ExxxtraSmall is one of the sites in the TeamSkeet network; in this case it focuses on the disparity in size between the girls and the men they're having sex with. Membership at the site also gets you access to the rest of TeamSkeet's twenty-two niche sites so it's good value. The quality of the movies and the beauty of the stars also make this site good value. Every movie is in razor-sharp, fast-streaming High Definition format and they also have high resolution photosets to complement the movies so you won't miss any nuance of the action.
The 1000+ girls on the site all look like newbies, which is great too, because you're seeing someone who is still fresh and yet hungry for sex in all its various delights. Not only do you get to watch these hotties on your PC or laptop, you also get access to their mobile site so you'll always have a cute chick in your hand wherever you happen to be. There are no restrictions on how much you download either; you get to download as much as you want, when you want. Between the site's library of movies and pictures and the weekly uploads, that 'unlimited' feature really means something.
Another great feature of the site is 'Suggest Your Fantasy' where you get to inspire a new video to be added to the 1300-plus videos already on the site. This feature ensures the members always have something new they know they'll like as well as a wider variety of material they might find they hadn't thought of but quickly come to like. The site has a Customer helpline for any difficulties you might have with them, though I doubt that would happen, and regular weekly giveaways as a reward to members, all this and no annoying advertisements makes this a site that has to be high on anyone's must-have list.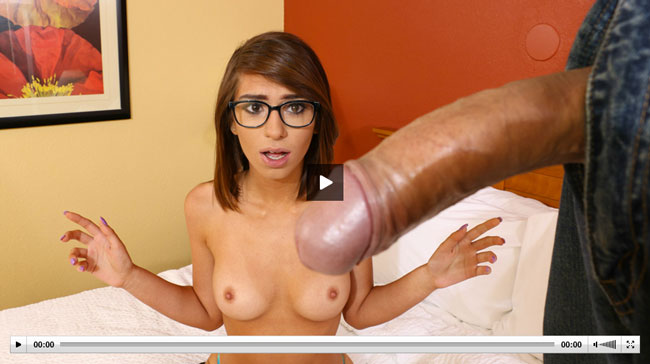 Technical
The site is in a niche that has a narrow but loyal following. This really turns on people who like the disparity of size between a man and woman. As a woman I knew in such a relationship told me many years ago, 'it's great! We have to get horizontal just to talk.' This particular site, however, transcends the boundaries of the niche by focusing more on the cuteness of the girls and less on the perceived discomfort they experience when accommodating their boyfriend's big dick. It's a kinder, gentler approach and one that finds a wider audience. Most definitely a winner in its class.
The site is laid out in a very modern style, all photos or Gifs and practically no text. The header, for example, has the site and network name, some taglines like 'Its Too Big' or 'Under 5ft', and an invitation and link to join, all against a montage of cute chicks in various states of undress and sex participation. Immediately below the header is a menu bar that would take you to the Videos, Member Login, Newest Scenes, and Most Popular Girls, as well as another link to the registration form.
The site's footer simply contains links to their Admin pages and other information. Below the menu bar is an almost never-ending selection of photos and Gifs that appear as you scroll down the page. For members, the links attached to the images and Gifs are live but for a casual visitor they only take you to the sign up form. You have to be a member to view their videos.
Flicks & Chicks
The site's girls are selected by size and beauty to be desirable partners for the site's large, in every sense of the word, men, which means they are universally cute and lovable. Though the site describes them as porn stars, their fresh, innocent appearance makes them more like newbie amateurs just setting out in the porn business.
The videos and scenes play on the model's amateur appearance with descriptions like, 'It Can Barely Fit in Her Pussy', 'Do You Want to be My First?' or 'Look Dad, I'm in Porn'. In all the 1300 or more videos, the girls are overwhelmed by the much larger man. While Exxxtrasmall focuses on this one aspect of sexuality, TeamSkeet's network of niche sites include a wider variety of categories.
Some of those are; 'Her Freshman Year' where the girls are learning to live away from home for the first time, 'Self Desire' with its focus on masturbation's many facets and pleasures, 'She's New' in which newcomers to the porn industry talk and act out their thoughts and desires for the camera, 'The Real Workout' where the gym becomes a highly desirable place to go instead of a grim workhouse, 'Step Siblings' which is self-explanatory, 'Solo Interviews', which is another site dedicated to a first-timers introduction into the world of porn, 'This Girl Sucks' where blowjobs and facials are the order of the day, 'POV Life' for lovers of that most intimate kind of filming – sex as seen by those taking part, 'Titty Attack' and who wouldn't want to be roughed up that way, and 'Oye Loca' a site where Latina ladies strut their stuff, among many others.
In Few words
While this site focuses on quite a narrow niche, straight male-female sex between couples where the man is larger than the woman, it does it in a way that makes the concept appealing to anyone who loves beautiful girls and sex, which is almost everyone, I'd guess. Similarly, the site's movies are likely to be enjoyed by almost anyone. They're of the highest quality imaginable, both in cinematography and locations, and the girls who star in them are all adorable, even when behaving in the naughtiest ways imaginable.
As well, having access to twenty-two equally fine sites showing even more of the same cute chicks is an additional bonus. These sites also focus on edgy kinks and they also do so in ways that make them sexy for all of us. Having this many cuties indulging in this much hot sex and in the nicest possible ways makes joining a must-do for anyone who loves fresh chicks and sex.