Introduction
Are you looking for a porn site that allows more interaction between you and the model? Are you tired of always being the odd one out or just the spectator looking in? Yes, we understand. Watching porn movies even those with point of view perspectives can be a bit boring at times. Don't you wish for the ladies to hear your voice sometimes, and follow your every command? Or how about talk to you or chat to you back? If you are wishing to flirt with these ladies every now and then, then we have the best treat for you! We have found a porn site that allows you to do just that – Flirt 4 Free. It is a website that allows you to access webcam chat rooms and live sex on cam.
The website provides different services, and each service can be purchased using your credits. First of course, there's the standard or private one-on-one video where you can chat with the girl and she can show you some action via live video chat. Celebrating a special occasion that calls for a very special model? Then their most popular models using high-quality web cameras ensuring a crisp and clear image quality are available on Premier Chat. If you are not in the mood for a chat though, and just want to watch, then that's fine. You can go on Voyeur mode where you can take a look into other on-going chat sessions. Though of course, to keep the privacy of the other users, you won't be able to hear the audio nor see the on-going chat session.
Aside from those mentioned above, there are other services available like Party Chat, Multi-User, Combo, and many more. For more information on each of these services, you can easily refer to the porn site's rates page. So are you ready to join in the fun? If you are, then you may become a member for free! No, we are totally not joking. As an additional bonus for having interest in trying out Flirt 4 Free, they provide new users with a hundred and twenty credits to spend on wherever they want. But of course, with the different services that the site is currently offering it would not be a huge surprise for your credits to run out easily so they also offer a VIP Membership option as well that is good for 30 Days. This offer comes with a full three hundred credit. Plus not only that, some features even come in for free when you are a VIP member, which means that even if you do choose to avail of that service, your credits will stay intact and unused. You can use them on more important things like, tipping a model, to get her full attention.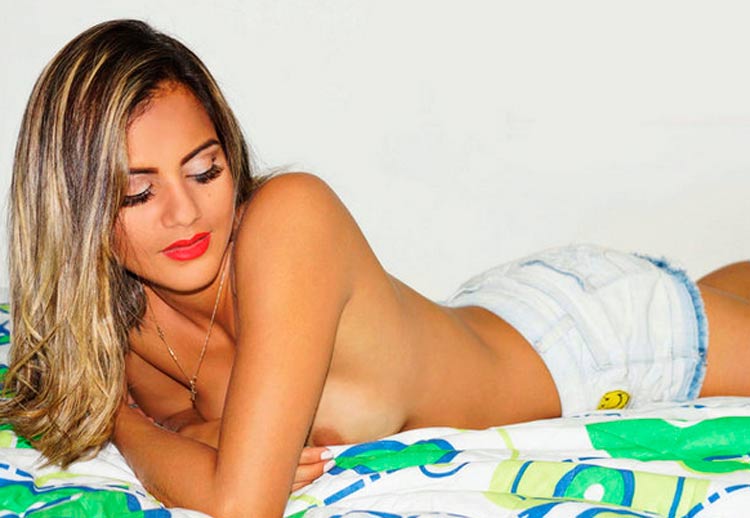 Technical
The website is very straightforward. The website design is simple with the plain black background and the different thumbnails of the ladies on the page. You will see nothing else, no ads, no other distractions, just the ladies. Scrolling down, you will see the newest models and the special shows currently in the works. Keep in mind that you would be able to join these too with your credits, either as an additional user or through the voyeur option. Then another scroll down will show you the latest updates on the site such as their top model of the week and their
Then another scroll down will show you the latest updates on the site such as their top model of the week and their scheduled upcoming shows usually featuring one of the best premiere models. Though the thumbnails might look plain with only the photo of the model, her name, and a sign if she's currently on a show or not, hovering over it will show more information about her. You will see how much credits a chat with her costs per minute. It also shows her category, which is like an area of specialty, such as bisexual or big ass.
Aside from her category and cost, it will also show you a link to her profile and an icon that will allow you to add her as one of your favorites. In this way, you would not need to search for this girl again in their ocean of model selections. Finally, there are links as well that allows you to either notify, call, or email the model.

Flicks & Chicks
The ladies selection on this site is ridiculously out of this world. It is honestly one of the widest selections we have seen of gorgeous models available for live video chat. They are also available in different languages: English, Czech, Russian, and more. The list is composed of nine languages in all which tells you of how varied the nationalities that they have really is. Having said this, there are different beauties here, and we are sure that you will find someone to fall in love with: blondes, brunettes, Asians – your choice.
They offer a pretty good compensation package, plus, it will also give any new model a good boost on her online presence in the porn scene so it's no wonder why a lot of girls are applying. The videos, on the other hand, may vary in quality. However, the site also ensures that the videos are all clear and well-lit. If you want to make sure that you are going to get the best video quality available, then you may opt for the premiere chat instead.
In Few Words
Overall, signing up for a VIP member on this site will return no regrets. It is also not a big surprise why Flirt 4 Free have also won numerous awards including five XBiz Industry Awards, a Cybersocket award, and many more. The different features are also something to look forward to. It is truly what sets them apart from other sites that offer live sex on cam. They go beyond that and ensure that every member is fully satisfied. This site truly makes sure that a member does not only casually chat with a model, he interacts with her on different levels.