Introduction
Some people really like women, their breasts, their figure, tits, and pussy. Some other people like men, their muscles, their chest, their hair and their cocks. Some others, though, fall right in the middle; some people just love ladyboys, the perfect mix between a woman and a man. For some people, that is just the perfect combination.
For those who really like that middle point between the genders, Hello Ladyboy is the perfect site. Here you will see just how cute these angels of nature can really be.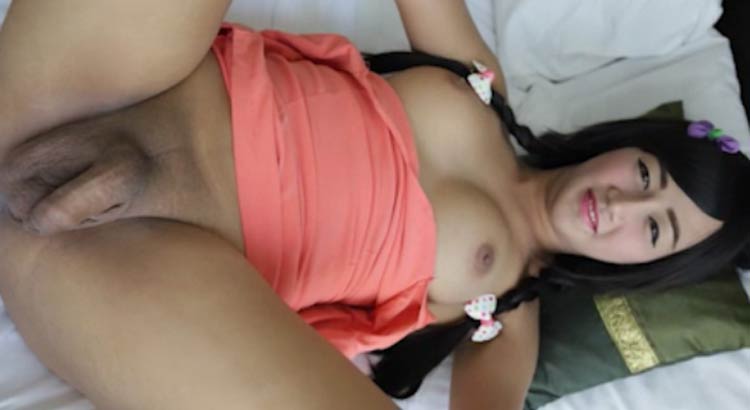 Technical
The designers and developers have chosen a very unique and cute look, obviously influenced by manga and Asian culture, regions from where most of the models on the site come from. In order to achieve this cute look, the team decided to go for a very nice and incredible use of color. The color scheme used comprises of very light and bright colors, there is nothing dark in here. The use of graphics such as flowers and cute toys is the order of the day. It certainly works in favor of the site by keeping a theme and a very identifiable attitude.
You will not find and empty spaces or useless link on this site, everything work with an objective in mind, this approach is very welcome and something some other sites should take notes from. You will find the "Video "menu, from where you will have unlimited access to all the exclusive premium content on the site. Every single video ever uploaded to the site is in here, there are no excuses for you to miss even one. The "Photo" menu works in the same manner but here you will find thousands upon thousands of amazingly high-quality pictures, you will spend many hours just browsing them, there are so many! And they are all good.
Hello Ladyboy is also up to date with the newest technologies, thus it has made the site available on mobile devices of all kind. The translation is amazing and you will not find any missing content or features between the mobile version and the desktop PC version of the site. The content has also been optimized so it would fit the screen of mobile devices, be it a mobile phone or tablet without losing any kind of image or sound quality. All brands are compatible, as well as all operating system. Android, iOS, Windows, you name it.
Flicks & Chicks
All models on the site are some of the most beautiful and cute ladyboys you have ever seen. The angels are ready to put themselves on the fire of the best one on one hardcore action on the net. There are really very few things these cuties are not ready to do.
All videos come in beautiful Full HD 1080p image resolution, you can choose between download or stream the videos both options are amazing it just depends on your preference. Image quality and load times are always good, as well as production values. The average running time for each video is around 20 minutes or more.
In Few Words
Hello Ladyboy is the perfect site for the ladyboy fan, these cuties are ready to have and so are you once you buy your membership. Do not miss this incredible deal, as prices are quite nice, you will not be disappointed.