Introduction
Do you know, Asian sluts are among the best that you can come across in the world of porn, but there is something unique about Japanese chicks. Japanese chicks are quite submissive and are ready to do what they are very good at, submissively giving the most amazing blowjob to the hottest dicks in the world. The site that caters to this aspect of Japanese sluts is JapaneseSlurp, and as the name suggests, it focuses on blowjobs and cum facials. The high-quality porn that JapaneseSlurp offers you is beyond comparison and you are sure to jerk off royally to the high-definition videos and movies that JapaneseSlurp offers.
The porn available on this site is truly top notch in every way, and it will allow you to attain a sexual experience that is completely and utterly out of this world. When you come to the porn on this site, you will have orgasms that are far better than anything you have ever experienced before, and it is for this reason that you should pay attention to this site and all that it's got to offer, because chances are that you will not be able to find a site this good anywhere.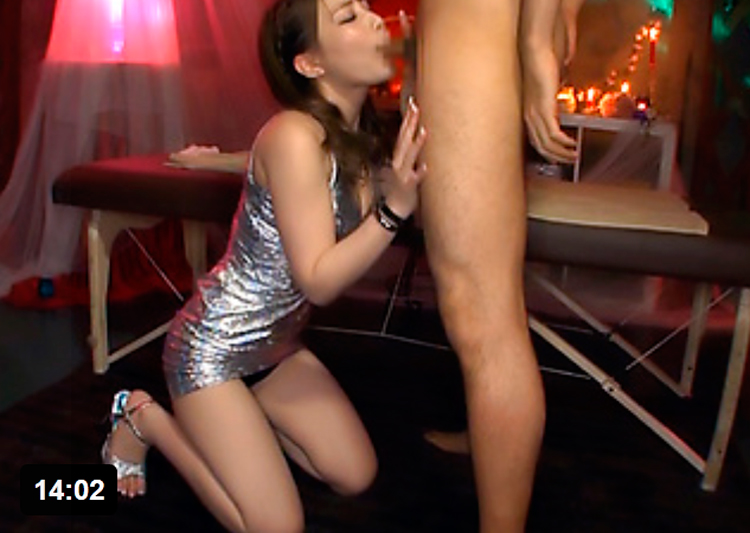 Technical
There are a few unique aspects that stand out in JapaneseSlurp. These include the color scheme, the design, and layout of the website and of course the technical details. Let us look at these separately. The color scheme is pleasant, and this is the least that we can say about the colors that have been used on the site. The website is divided into three sections, the Header, the middle slideshow and the main content comprising of the list of models and the videos that you can enjoy. Maroon is used in the header and covers tabs such as Home, Videos, DVDs, Models, with pink buttons for searching, logging in and signing up.
Below the maroon header is a slideshow of some of the hottest models that JapaneseSlurp offers. The slideshow comes in pink, orange and blue colors. Below the slideshow, you will find thumbnails of videos that JapaneseSlurp has to offer. The thumbnails are only limited, but they do give you an idea of what these videos are. Below the thumbnails, a brief caption describes what the video is about. You also have the option of sorting the videos based on rating. The rating button is placed strategically at the top right corner of the white section. Let us come to the final part of this section.
There are more than 6000 videos, 1400 models, 2200 DVDs, and access to about 22 sites in the JapaneseSlurp network. If you are worried about your subscription fee, then relax. For the cost of one site, you get access to 22 sites in this network. Isn't this amazing? The site also features more than 2250 DVDs. What is unique about these videos is that they are all based on blowjobs. Japanese sluts are excellent in giving blowjobs, and at the end of these DVDs and videos, the bitches are filled with hot jizz and cum.
Flicks & Chicks
One of the most famous Japanese pornstars, Ikumi Kondou features in a hot video where she shags her boyfriend. Ikumi and her boyfriend slip into the bathroom and she starts giving a blowjob, hardening his flaccid dick till it fills her mouth and makes her go crazy. She then slowly strokes his already hardened dick, till he cums on her. You can see her holding his hot jizz in her hands, ready to lick, taste and consume the warm cum, to her satisfaction. This is only one of the videos that have been described, and there are several such videos to suit your needs.
Additionally, the girls on this site are going to leave you feeling very satisfied as well, because they are all Asian. This is something that you would not have been able to find anywhere else in the world of porn, so the fact that you are getting it here is certainly something that would allow you to feel very good indeed. If you were at all worried about the porn on this site, you can put all your fears to rest. There is so much porn available here that you are going to be amazed because this site has really put a lot of effort into trying to make you feel as good as possible.
The diversity of the porn that is available on this site is truly breathtaking and will leave you feeling like this site has pretty much everything that you are ever going to need from the world of porn. The focus of all these videos is blowjobs and cum facials. In all, the porn on this site will leave you feeling like you have finally found a long-term solution for all your jerk off needs, a solution that is completely and utterly out of this world because it will leave you with no reason to go anywhere else at all in the world of porn.
In Few Words
With most porn sites, you are going to get bored after just a few days or a week at most, but with this site you are going to be able to treat it like a long-term experience. It is for this reason that you should subscribe to this site and try to make the most of all the amazing porn that is on offer here. This site is extremely affordable as well and will allow you to enjoy yourself completely, so take advantage of this site and subscribe as soon as you can. Every second you spend uselessly will be a moment you spent missing out on one of the best sites that you will ever be able to find on the internet!