Introduction
Almost everybody loves Asian chicks but Asian chicks grow up into Asian MILFs and it turns out they're hot too. If you're a lover of mature female bodies, then 'MILFs in Japan' is a site you need to investigate. The site is one of the Erito network of porn sites, each site having a sexy theme, such as costume play, which is where girls dressed in cute outfits get drilled every which way, TeensofTokyo are cuties who make Tokyo their home and the bedroom their playground, and 'EritoAV Stars', a site where top Japanese porn stars show us what they can do. As well, membership in 'MILFs in Japan' and the Erito network includes free entrance to another current porn preference the live webcam, where you can ask the models what makes them tick For such a moderate cost, you get an awful lot of contentment.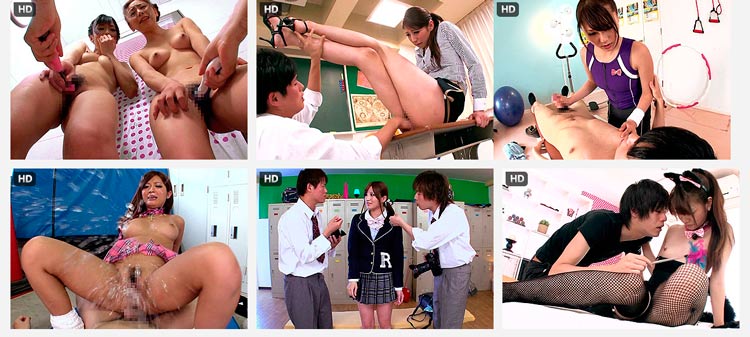 Technical
The Erito network, which includes MILFs in Japan, has three other sites, 'Erito AV Stars' showing Japan's hottest porn stars in hot sexy porn action, 'Cosplay in Japan' where cute Japanese chicks have sex while dressed in costumes an increasingly popular genre, and 'TeensofTokyo', which features fresh Japanese chicks doing what comes naturally at that age. All the sites have different categories of porn within them, such as Fetish, where helpless girls restricted by cords or leather and latex costumes, Geisha where beautiful, graceful, submissive girls pander to our basest desires, Classroom and Pigtail, where cute chicks model cute hairstyles that also remind us of days gone by.
MILFs in Japan and all Erito sites have the Restricted to Adults label, which helps members in parental filter, and they're also signed up to the U.S.C. 2257 Record Keeping Requirements Compliance Statement, which ensures the models were adult at the time of being filmed and photographed. In common with most adult sites, MILFs in Japan warns casual visitors that entering the site will expose them to adult content. By entering, the visitor agrees they are old enough to see sexually explicit material. Entering, however, doesn't get them to see very much d d they have to become members to do that and for that, they are required to present age identifying documentation, such as a credit card.
Flicks & Chicks
The site has 60 thumbnails on the Home Page, each showing what the ladies have learned through their adult experience. Those life lessons include categories like Anal where the ladies' tighter orifice is probed by pricks and toys, hand jobs where our MILF catches a stud's cum on her face or tits, blowjobs where his cum is found in her mouth, and group sex scenes where MILFs and girls enjoy the pleasure each can bring to the table, or couch, or bed, or pretty well anywhere. Asian girls are best known for their diminutive size, including their tits and bums. MILFs, of course, have had more time growing, and the result is often surprisingly big tits for such cuties. It's a popular category on all the Erito sites and MILFs in Japan in particular. The contrast between doll‐like bodies and full, rounded breasts is something worth seeing.
There are plenty of the pint-­sized titties too, in case you might feel you'd be disappointed. MILFs in Japan is an all-­day, all-­year profusion of porn, including Japan's addition to sex games – bukkake. Perhaps because MILFs feel they have a lot to catch up on, this unusual game, where multiple men cum over the naked body of a single, usually kneeling, chick, seems to appeal to them. Maybe because they grew up in simpler times, Japanese MILFs tend not to follow the modern practice of shaving their pussies, which makes MILFs in Japan a godsend for folks who love pussy peeking through wispy, downy hair. Don't worry if that's not you because the site has plenty of shaved bare pussies as well. You'll find enough of both kinds of the lady on this site. MILFs in Japan has classroom and office scenes because most MILFs today are in the workplace, and both these locations are their natural setting. The difference, of course, is the chick is the teacher or the office manager, and both changes expose us to different kinds of erotic possibilities, which are imaginative MILFs exploit correctly.
Naughty teachers seducing boys and managers attracting their staff may be frowned upon in real life, but they both play a big part in the whole world's fantasy life. A further 12 images on the site's Home Page show scenes from the other sites in the network, including such pleasures as girls in cheerleader uniforms and bunny costumes being pawed by lustful suitors, and flexible fresh chicks servicing more than one man at a time.
In Few Words
Look into MILFs in Japan, or the other Erito sites, with the $1 two day Trial period. Alternatively, dive right into the sites with a 1d month membership for $29.99. Or spend some time exploring the 3d month package ($59.95) or the one-year membership at $119.88. Apart from the Trial, all these memberships can be extended for as long as you wish. The Trial access needs to be converted into one of the other types of subscription. To create your account, use their online form and pay by credit card or check. Registration and payment are through secure and discreet systems to keep you free from prying eyes. Membership of 'MILFs in Japan' gives you entrance to all four of the Erito sites and their live cam girls.
And remember, you can watch everything on your mobile devices as well. If you love Asian girls, you'll love Asian MILFs, and if you love Asian MILFs, you're certain to love 'MILFs in Japan' as well. Why not 'suck it and see' with a membership today that makes your tonight really special?
"This site has been deleted, read something about ERITO".