Introduction
One of the most widely followed and subscribed BDSM porn site is MyBDSMGF, which is presented by the GF Network. MyBDSMGF features kinky homemade and user-submitted BDSM porn videos, in which amateur sluts subject themselves to insane slave situations with their boyfriends and masters.
Some sexual fantasies are full of dark and mysterious scenarios, and these come alive in BDSM porn videos, and when the BDSM is genuine and realistic, there is nothing to beat it. While there is an element of darkness and mystery involved when done in the right way, BDSM can add a lot of kinkiness to the overall sexual relationship between couples, and this leads to very intimate sex.
The descriptions given above in this overview is what you get on MyBDSMGF. There is a lot of intimacy between the amateur girls and the guys who treat these chicks as slaves and a lot of intense BDSM scenarios that we will describe later in this review. This review has been written so that you can take a decision on whether MyBDSMGF will meet your requirements, and how you will be able to enjoy a lifetime worth of kinky porn contents not only from MyBDSMGF but also from the GF Network.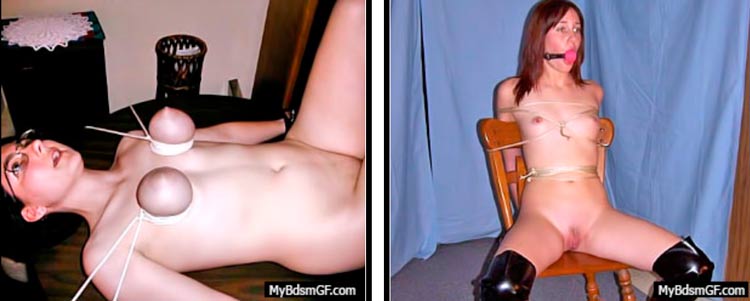 Technical
The creators of MyBDSMGF have put some real thought into making the website. What they have done with the website is really intriguing. They have kept the entire website really clean and simple. The website really focuses on keeping the entire content at the center of everything. As soon as you hit enter you will be welcomed with a collage of really hot pictures of girls being tied up, gagged and used in different ways. The collage shows naked sluts blindfolded, suspended, tied and have their pussies and nipples stimulated, which also creates the theme for the rest of the site.
Check out the layout of MyBDSMGF. It is beautiful and features a grid of 84 large video thumbnails that will create a magical effect. The thumbnails give an explicit idea of what to expect, and the screenshots selected depict the most interesting part of the video. There are sluts treated as slaves in many ways, suspended, caged, electro-stimulated and dildoed. There is nothing superfluous, and everything is so genuine, you will fall in love with the layout and the thumbnails.
Upon entering the site, you will find that the color scheme is simple, consisting of four colors – black, gray, red and white. White is used as the main background color for the body, while gray is the background color for the text. Red is used as the color of the text and white and black is used for links. These colors are wonderfully interwoven as they contribute significantly to make the contents stand out. In all, there is a nice combination of colors which is free of flashy features and aggravating adds spoiling the whole experience of watching porn. Black, red and gray are usually associated with BDSM, because of some obvious reasons. Red is suspense, while BDSM requires a guy to have shades of gray. Black shows the darkness associated with BDSM, especially when it comes to sensory and orgasm deprivation.
Before we move to describing the girls and videos, the most interesting part of the review, we shall check out the affordability of MyBDSMGF. MyBDSMGF is amazingly affordable, and light on your pocket. With two membership plans ranging from a one-month to a three-month plan, you also have access to a host of sites from the GF Network, as well as tons of photos, videos and free live cam sessions with the sexiest amateur sluts in the world. What more could you ask for?
Flicks & Chicks
Let's now come to the most interesting part of the review, that is the girls and videos. Surely, you want to visit such sites because you want to see a slut being used in insane ways, listen to her shrill screams as waves of agony and pleasure rip through her body. It must be said that the girls are truly hot, and you will fall in love with them from the time you visit this site. They have the perkiest titties with candy like nipples which love to be stimulated with clamps, clothespins, and electricity. Haven't you heard of electro-stimulation? Yes, this stimulation gets the sluts to scream, as they get their pussies wet.
The pussies are pink, wet and juicy and love a rough spanking and stimulation with dildos, vibrators, and clothespins. The tight asses only need one thing, a thick round and huge monster cock invading the holes to bring the sluts to orgasm. Dominating the sluts is the most pleasurable thing in the world. These girls are tied, clamped up, bound, ball gagged and made to be submissive by their Dom's. All girls are sexy, beautiful and innocent looking. They get multiple toys shoved in them at the same time and they are flogged while being made to use the vibrator on themselves. The videos have girls tied up and put into cages, some of the girls are even hog tied up and they are made to lie in really uncomfortable positions with the ropes digging into their skin and a dildo is put deep up into their pussies.
No matter how intense and vehement the situation is, the sluts are more than willing to go beyond and experience the kinkiest pleasures, not only for their themselves but also give pleasure to people like you. Such BDSM scenes will take your jerk-off sessions to new heights, and immensely satisfactory. You will want to visit this site, every day, without fail, till you drop exhausted.
In Few Words
MyBDSMGF is a BDSM porn site like no other that brings together amateur and BDSM niches in a very intricately woven mesh. Real chicks, in a very realistic BDSM situation, is always something people like, and MyBDSMGF gives kinky boyfriends and girlfriends the opportunity to share their most intimate BDSM videos to the entire world. Great content in terms of quality and quantity, exclusive amateur girls, most engrossing BDSM sessions and an amazingly affordable fee make MyBDSMGF a must have site in your porn collection.
"This website is no longer online, choose another one among the best bondage porn pay sites."