Introduction
Despite its ugly name, this is a great site. Instead of the professional porn stars, you see on almost every other site, this one is gifted amateurs strutting their stuff for the camera. I'm a sucker for amateurs, partly because I always hope to see someone I know and partly because sex is more exciting when you know it's being done for pleasure and not profit though I do like the for-profit motive too.
The other great thing about amateurs is the variety of ladies you see. Porn sites tend to select their girls carefully, and that's great because I love hot chicks, but real girls come in all shapes, sizes, and colors and those you'll find at Wife Bucket are no exceptions. No matter what kind of beauty turns you on, it will be here on Wife Bucket, its blog, or their site Swingers Guide.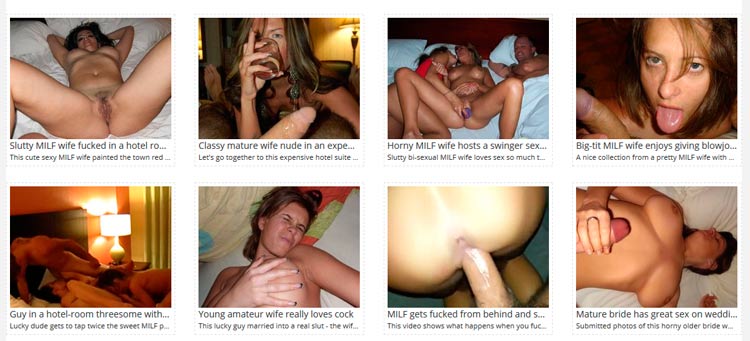 Technical
Wife Bucket is a site for amateurs to show themselves off to the public, nevertheless, the site takes precautions to keep onside with the rules. They are part of the RTA (Restricted To Adults) group to support effective parental filtering and they state clearly that all models, even the fresh looking chicks, on the site are adults even though they are exempt from the U.S.C. 2257 Record Keeping requirements by being outside of the USA. In addition, their Privacy Policy tells you exactly how they protect the information you give them when you join.
Flicks & Chicks
As the name suggests, the girls on Wife Bucket are the more mature age ranges, not that there aren't some brides for us to enjoy, but generally they're MILFs or those approaching MILFs hood. What they all have in common is a desire to get naked, have sex and have it shown to the public.
What makes Wife Bucket so delicious is that a lot of the submissions, and you can send in your sex videos and images too, are sent in by the women themselves. My favorite page is the 'Before and After' page where women send photos of themselves dressed, looking like butter wouldn't melt in their mouths, and then a photo of them naked or proving that if butter wouldn't melt cum can. They say you should never judge a book by its cover and that is even truer for women. The sweetest, prettiest of outfits can hide the raunchiest and naughtiest of bodies as effectively as their angelic faces mask impish minds.
There's something for every taste on this site with amateur contributions from all around the world including places you might expect, like Thailand, to places and peoples you definitely wouldn't, like an Arab couple or a whole section of self-submitted Arab MILFs proving that under those robes are some hot women. From creamy complexioned Euro beauties through all the colors of the rainbow to ebony goddesses are on the site all day, every day of the year. They have horny girls masturbating, couples having fun in their homes or outdoors, girls playing with girlfriends or men friends in one-sies or groups. There are male clothed, female naked (or nearly so) couples in their gardens or out on streets and beaches. These ordinary women are as raunchy or perhaps raunchier than their pornstar sisters.
Another thing that makes amateurs better is the shapes and sizes on offer. On Wife Bucket, you'll see hand-­sized titties, always a pleasure to hold, all the way through to bold, generous boobs that need two hands to hold just one. You'll see pert tight bottoms you long to pat and full moon round bums you ache to smack. There are girls sucking cock, girls eating pussy, and girls licking bumholes! And speaking of bum holes, I didn't know so many everyday women liked anal. In fact, 'liked' is too tame a word. We see their tight puckered bums being stretched wide by giant dildoes and pounded raw by lovers' cocks.
Wife Bucket began with MILFs and cougars way back in 2009 when the owner, a mature woman herself, decided she and the other women her age were just as sexy as the hot chicks everyone raves about. She was right. The site has grown steadily as other women from around the world have sent in their own sex videos and photos. What they lack in photographic technicalities they more than makeup for in honest hotness. Today, Wife Bucket has the original MILFs section and also Arab MILFs (where else could you see that?), Interracial MILF sex, Real Amateur Swinger Parties, and Before and After Compilations.
In Few Words
You can look around Wife Bucket with a 2a day membership for just a $1 but with this much truly different content you're better of with at least a monthly membership for $24.96. It's worth it for the 'Before and After' and the 'Arab MILFs' sections alone. The three-month membership at $59.78 would be my first choice or even the annual membership at only $99.95. The movies are homemade so no Hia Def here but the subject matter is so good you don't care about that. It's like seeing yourself or your neighbors on film, and that's a turn on you won't get on many other sites.
Btw, you can follow Wife Bucket on Facebook, Twitter, Google+, Pinterest, and Tumblr. This site gets a huge recommendation from me and if you love amateur girls giving their all, then I think you'll agree. Spend some time today at Wife Bucket and you'll be a fan like me.